In the great tradition of the founders of this site, who tried to help and cajole the LGWM team into coming up with a plan for Wellington – to really get it moving – I thought that seeing as the semi-final FOUR possible solutions are presented to Wellington (starting next week on Monday 1st November), that I'd put my best flipper forward and see what the Eye of the Fish thinks may happen. Although there are Four options, possibly one involving Light Rail, and a couple proposing yet more Buses (although somehow magically faster and better, despite still being just a bloody bus), I'm going to skip that boring conversation for now. Some people will be getting very excited (for or against) over a tunnel under Mount Victoria. Not me. A new tunnel NEEDS to happen – the current one is substandard and unsafe, for everyone involved. We need a new tunnel, no matter what – the real question is how, and for whom? I'll leave that for others to argue. For me, at least, the most interesting thing at present is the proposed route. From what I understand, this is the probable scenario in the actual city: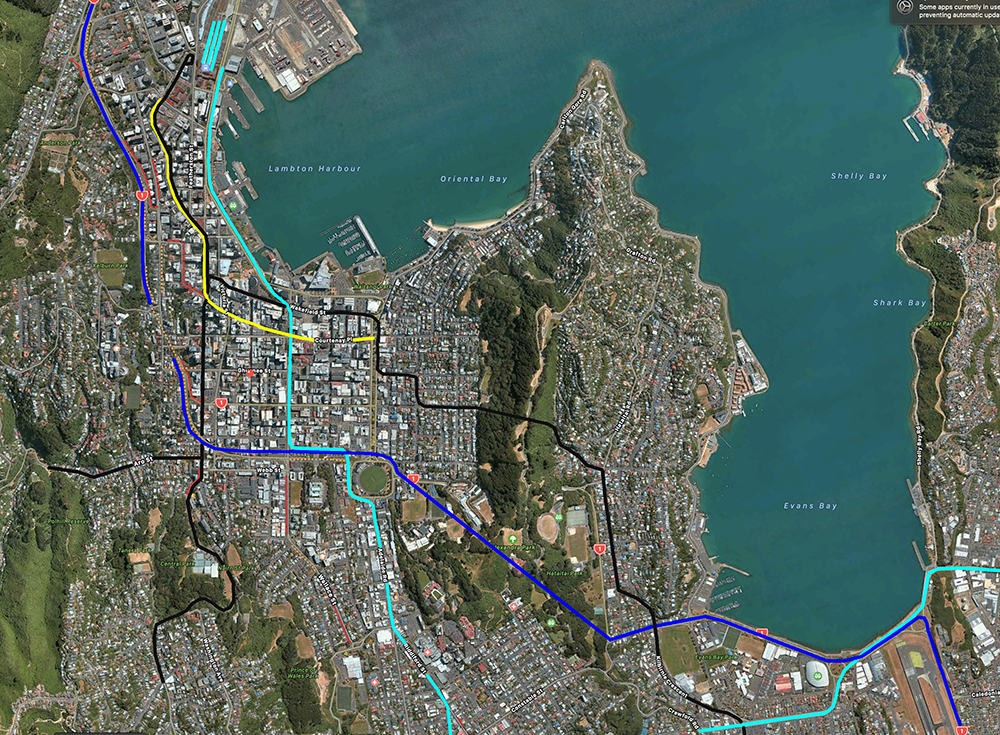 Yellow, of course, is the Golden Mile, while Black is used here to indicate the main (regular) bus routes. The snazzy new High Speed Rapid Public Transport (let's just call it "Light Rail" for now, shall we, while we still live in hope?) is that sort of turquoise light blue colour that snakes through the city. And the darker blue indicates the undoubted proposed route of the SH1 vehicle traffic. I don't think there is anything too contentious in all that – the Devil is in the Detail of course. This is all drawn from the leaked photo that appeared a couple of weeks back, and that Clr Daran Ponter has already denied as being final. But seriously folks (I've discounted the silly "long tunnel" as Ponter recommended) we are likely without a doubt to have "Light Rail" along the Quays, coming up Taranaki Street, which then does a magic wiggle and links to Adelaide Road. Let's have a closer look: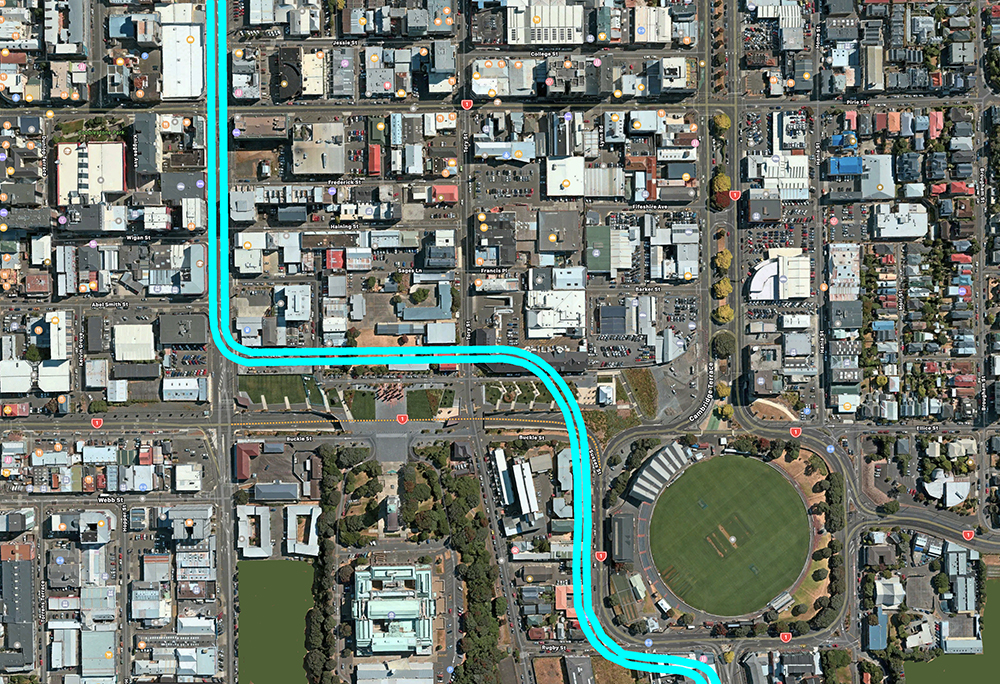 Unknown at this stage exactly where, of course, but I've been looking at this area over the last few weeks and it seems there is a possible route down the side of Martin Square and then curving gently past the end of Pukeahu Peace Park to go down Sussex St – or hopefully, demolishing the world's ugliest buildings in that poor beleaguered street.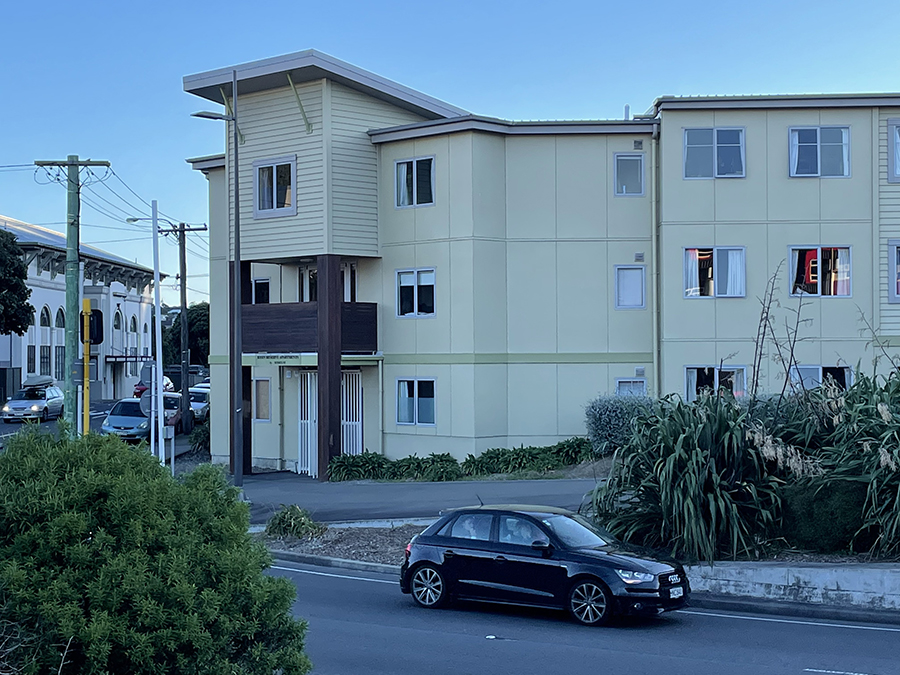 That's because, of course, we need to get SH1 going UNDER Sussex St, heading west: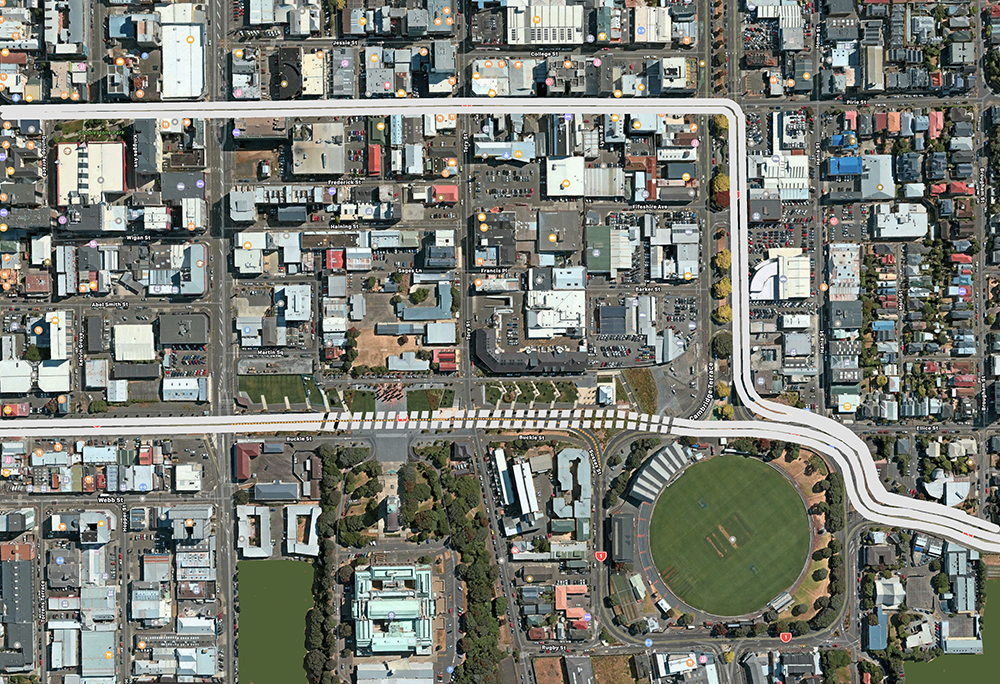 But of course that is shown keeping the SH1 going down Vivian Street, still, like it does now. I hate this – it ruins the Cuba St experience and the road is too narrow to do that safely – I'm guessing that what LGWM really wants to do is have both East and West routes going through there, with quite a bit of the Eastbound route being in a cut and cover tunnel like this: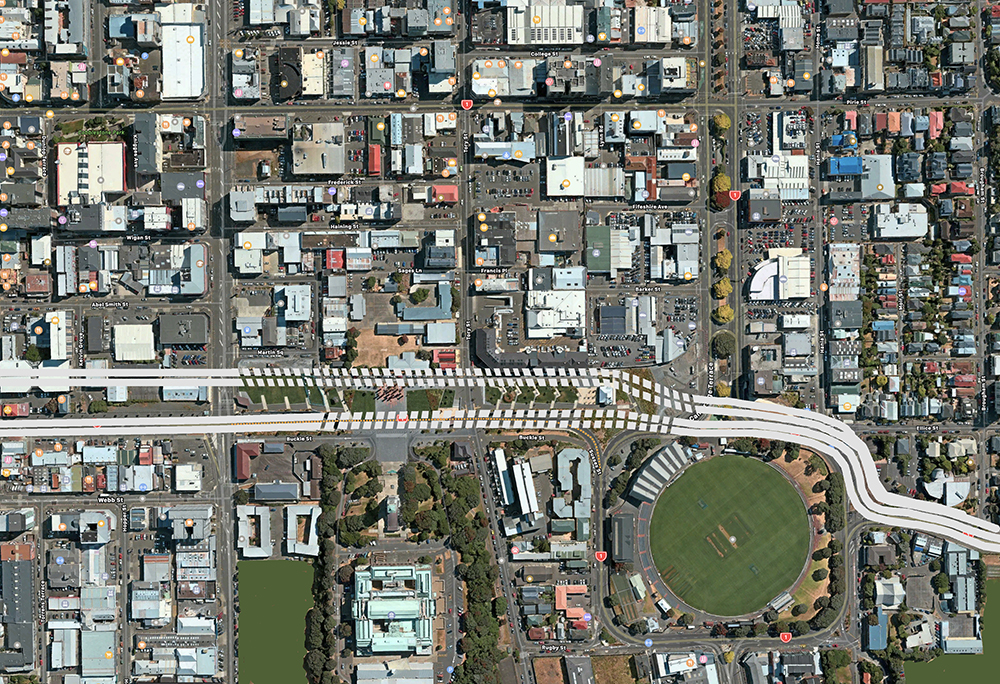 See? That actually works quite well – and very simply. But then again, what is missing at present is a Cycle Plan for Wellington. Remember in the Basin Bridge Debacle, where the various assorted "experts" were proposing a high-level aerial bike way running east-west, across the Basin, towards the Motorway? It never really made much sense to me. As far as I know, the main routes for cycling are more of a north-south desire line, and while Cambridge Tce is great for a Cycle route, I'm also picking Tory St as my personal favourite. So, I'm proposing something like this: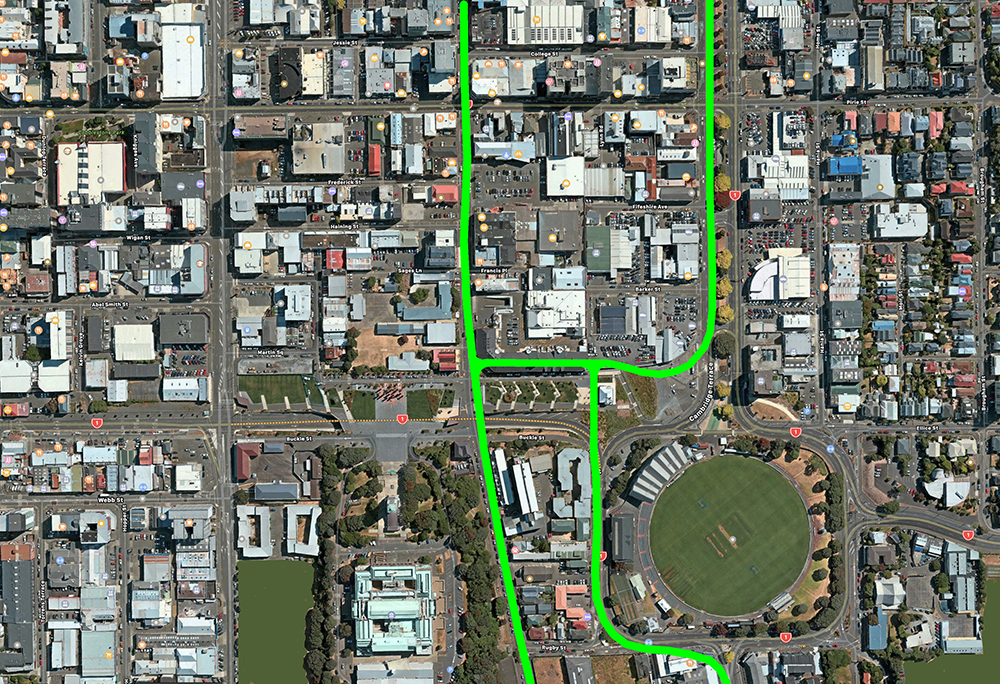 Those cycle routes will of course link up with Courtenay Place, which from what I understand from the existing "Transform" Golden Mile plans, is to have a cycle lane and bus lanes. Less so the back and forth in front of the War Memorial – forgive me if I'm wrong, but bikers really don't want to be aiming for the Terrace Tunnel, do they? Well, do they, punk?
Anyway… so you may be asking to yourself – "Well Nemo, I get your logic so far, but what about the cars? Its all about the cars!" And so to you, I answer that yes, you'll still be able to use your car – probably on a local car route something like this: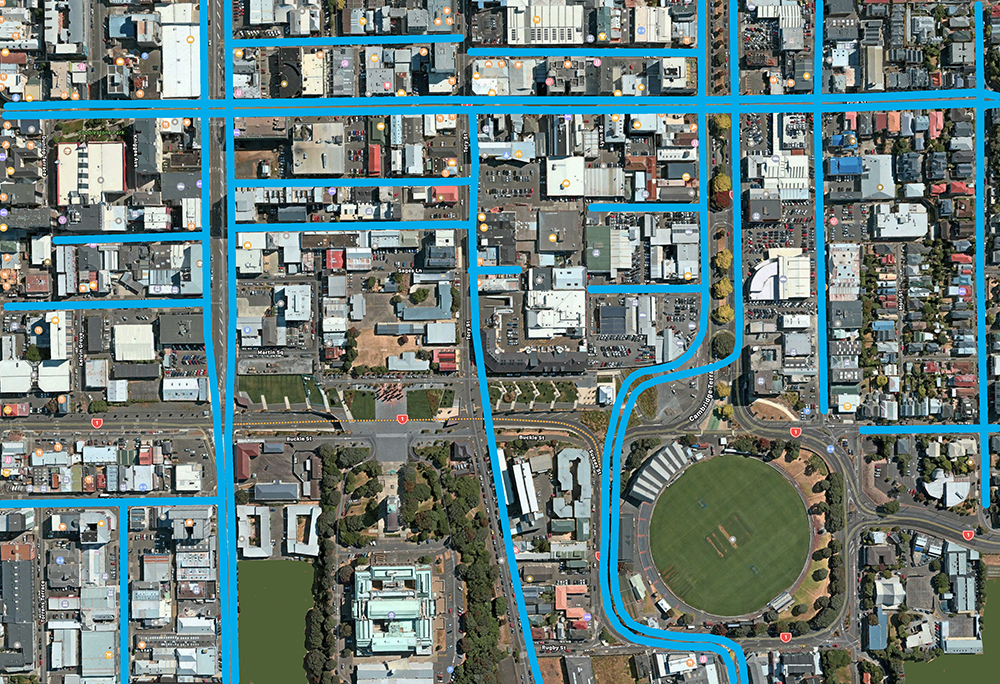 So far, nothing too contentious, right? But what about the green space? Wasn't the WCC just this week debating Green Space (by the way – did anyone watch? what was the result? did anything happen? I've seen nothing reported in the news). So as they are promising a / some dramatic new major green spaces, I'm going to hedge my bets and say, that they will extend the Pukeahu Park after all this work is over, to make it into a green strip through the city. Perhaps something like this: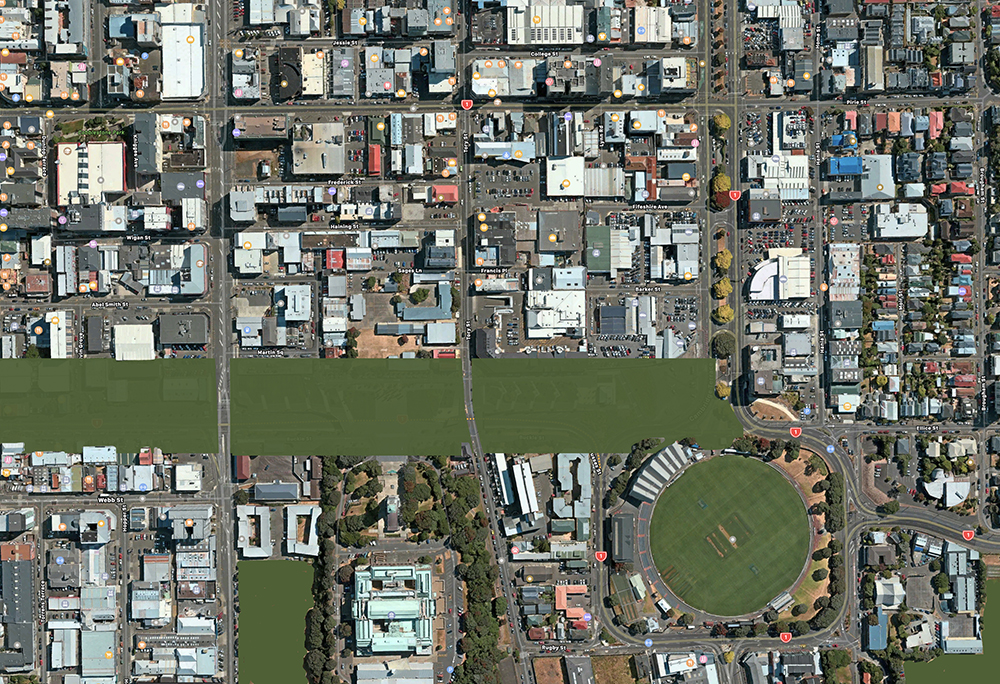 So, what happens when we put it all together? I've left this to last as I know that it will frighten the weak and feeble minded, but realistically, this effort of mine of at least 2 whole hours on Photoshop, should hopefully sum up the collected work of LGWM, NZTA, GWRC, and WCC's collected 5-10 years on this project. It's not that hard. Its very logical. Here is the finished product: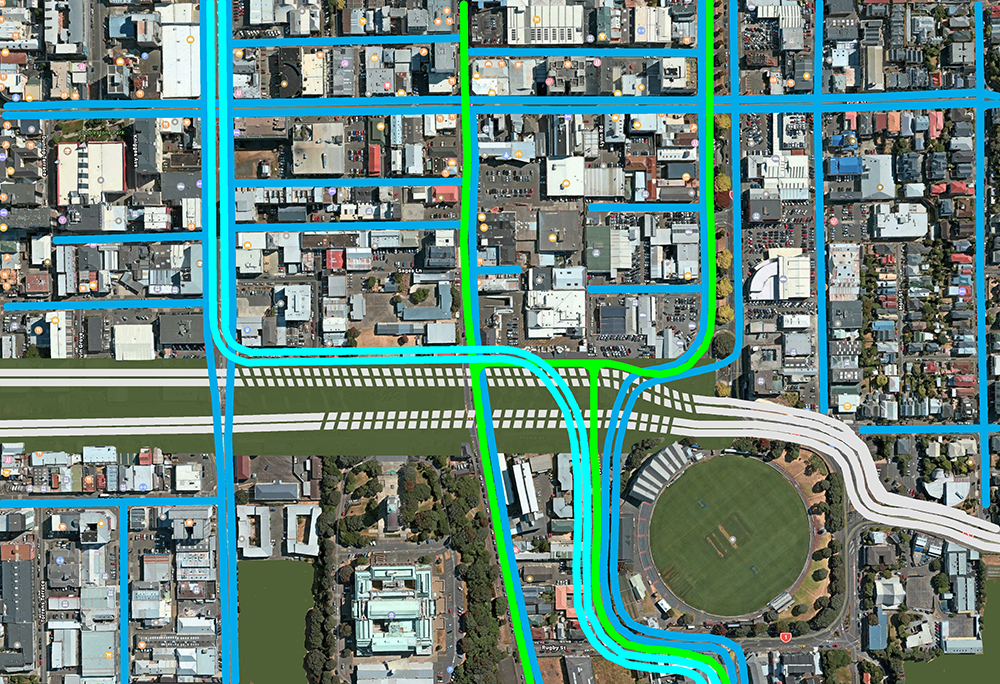 See? And there is already a route of properties, owned by NZTA or WCC, that allow all that to happen, straight away, along the "back" of Pukeahu Park. It has been sitting there in plain site for the past 7 years or so – carefully waiting for its day to come. That day is now dawning.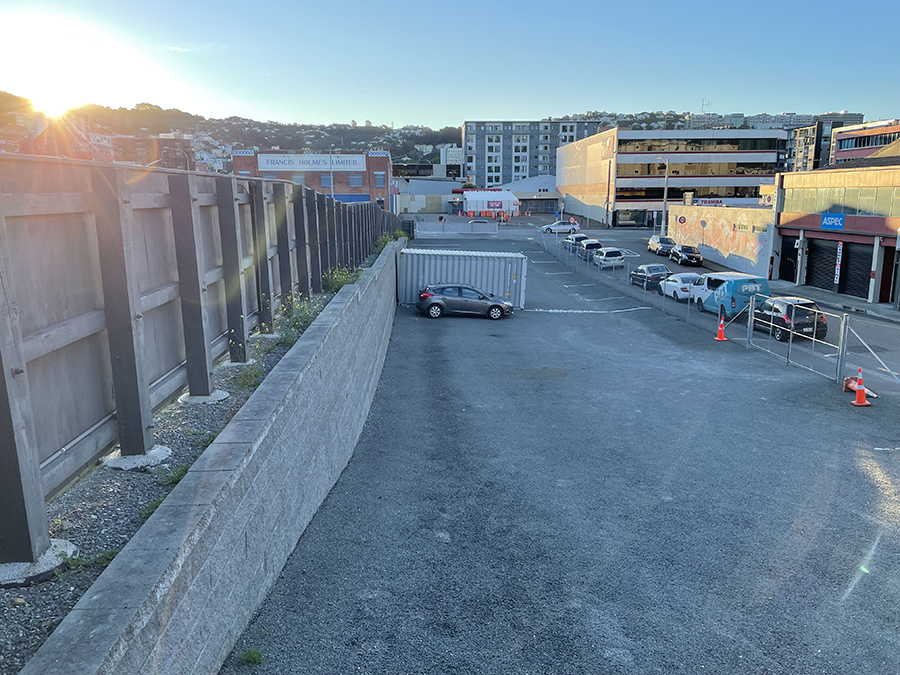 The new East-bound SH1 route, combined with the new "Light Rail" route, will turn into this yawning gravel chasm (carefully left out of the Pukeahu green lawning a few years ago – was it by Annette King?) and then straight on through the Covid Station car park: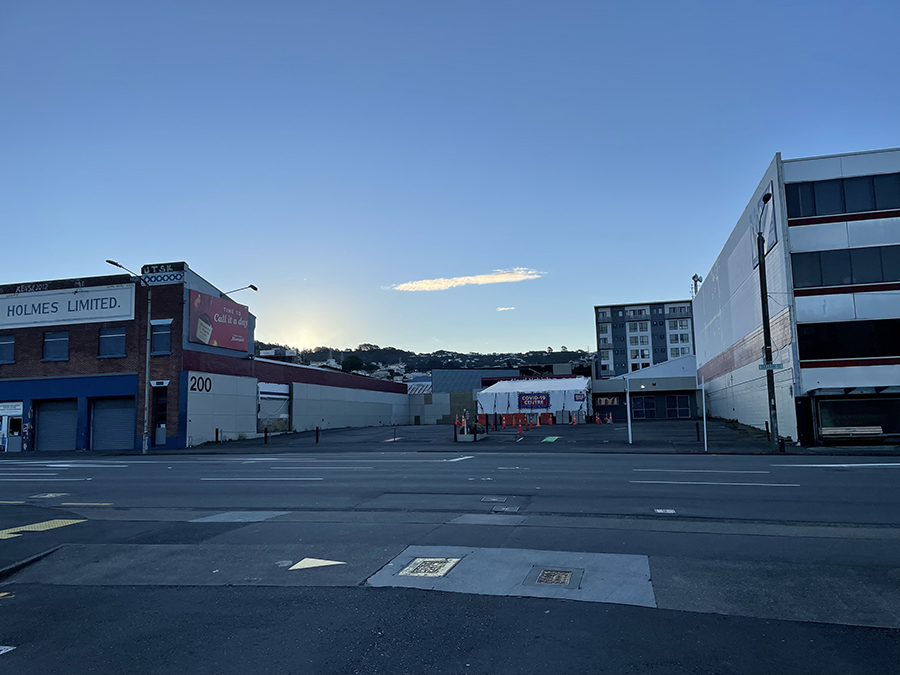 … and thence through / under Te Aro till it joins up with the Terrace Tunnel onramp. There are a few more tricky parts to negotiate along the way. There's the former Temple of Taste from Tuatara Breweries that sits in the way – but, that has been moved once before, so it sits on a sled, and can be moved again, relatively easily. Personally, I'd rather take out that ugly PoMo building on the right. Time to Die !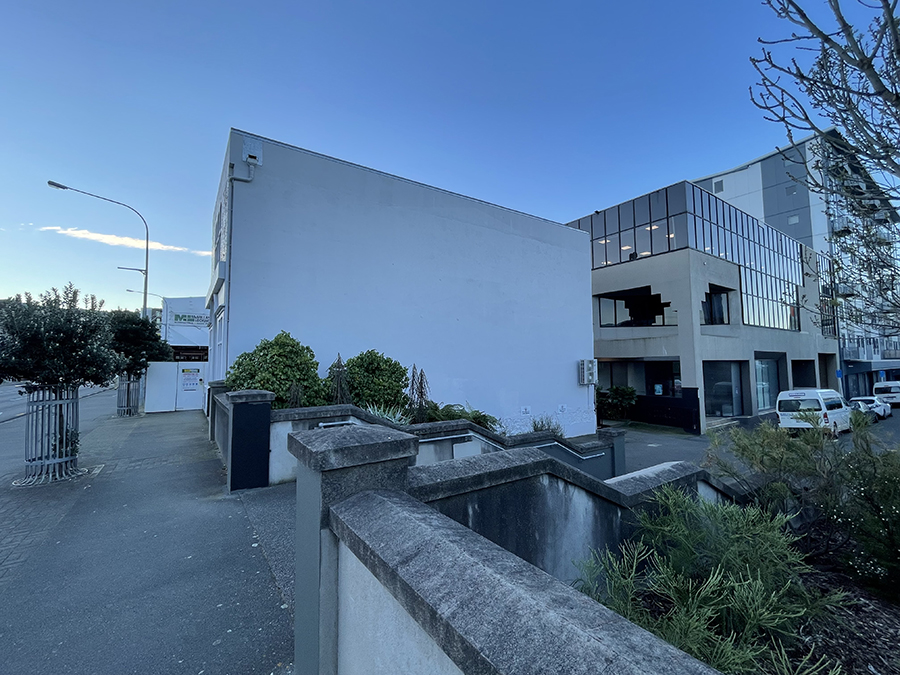 Then there is Cuba St and Tonks Ave. This is where it gets a bit trickier. Depending on your route, you could try and go though / under some old-looking buildings (cute, but basically completely rebuilt by Transit in the early 2000s, so not real heritage).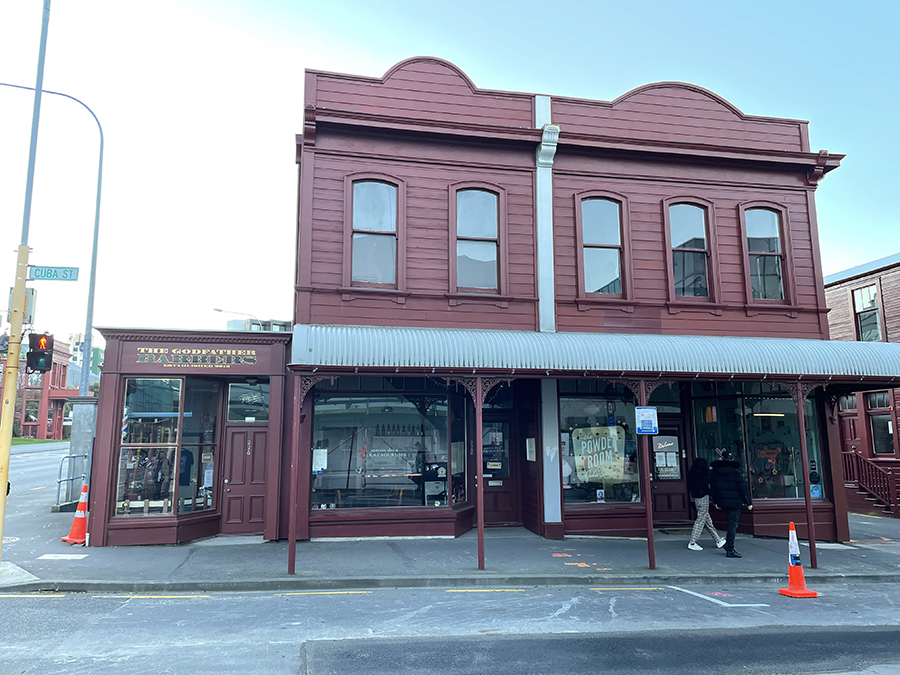 Or… you could demolish an OpShop (sorry Alice!) and a small HeyDay brewery. I know which one I'd put under the hammer… The width of these two architectural disasters is just perfect for the two lanes of traffic that NZTA will want to put through here – cut and cover, so it will take out nothing of value, and will get roofed over after, so that Wellington will get its Cuba St AND its Vivian St back, for the people. Cars: underground. See – they've already started digging…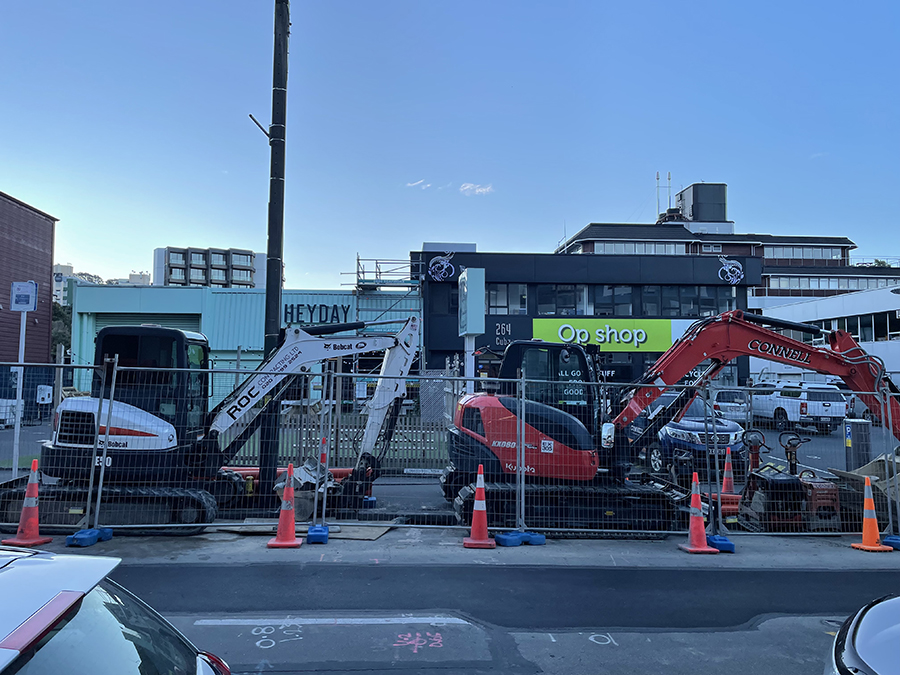 But seeing as all this is well known and not really a secret, I'm a trifle baffled as to why the WCC is letting the Buddhists build a temple that will pretty much sit right in the way…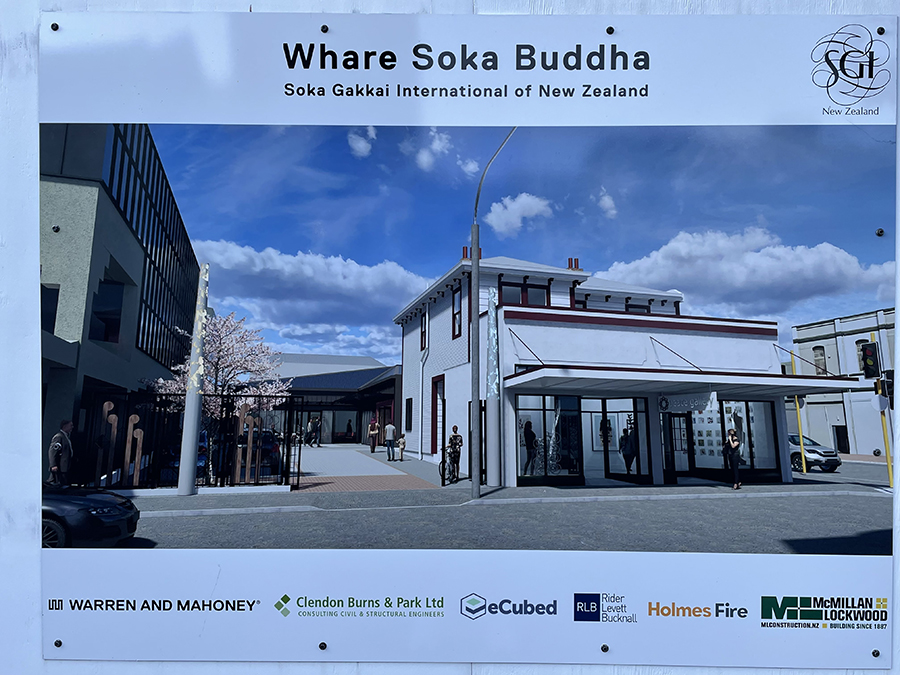 So, what do you think? Have I got it right? Let me know in the comments below.
Please note: if you are from LGWM, and haven't thought of this route, then that leaves you with the weekend in which to get your scheme updated. Pretend its all yours! You're welcome!