The WCC sub-committees are going flat out at the moment, consulting wildly on this and that and approving all manner of things – I can hardly keep up. I'm glad I'm not a Councillor or the Mayor, having to read this amount of paperwork each week is fairly exhausting. Mind you, they get paid for reading it (and I'm fairly sure that many of the Councillors don't read it anyway!) but I just spend my time reading this "for fun" and for free. What a fool I am. Anyway – this week the Council is going to be looking at matters Green and Blue.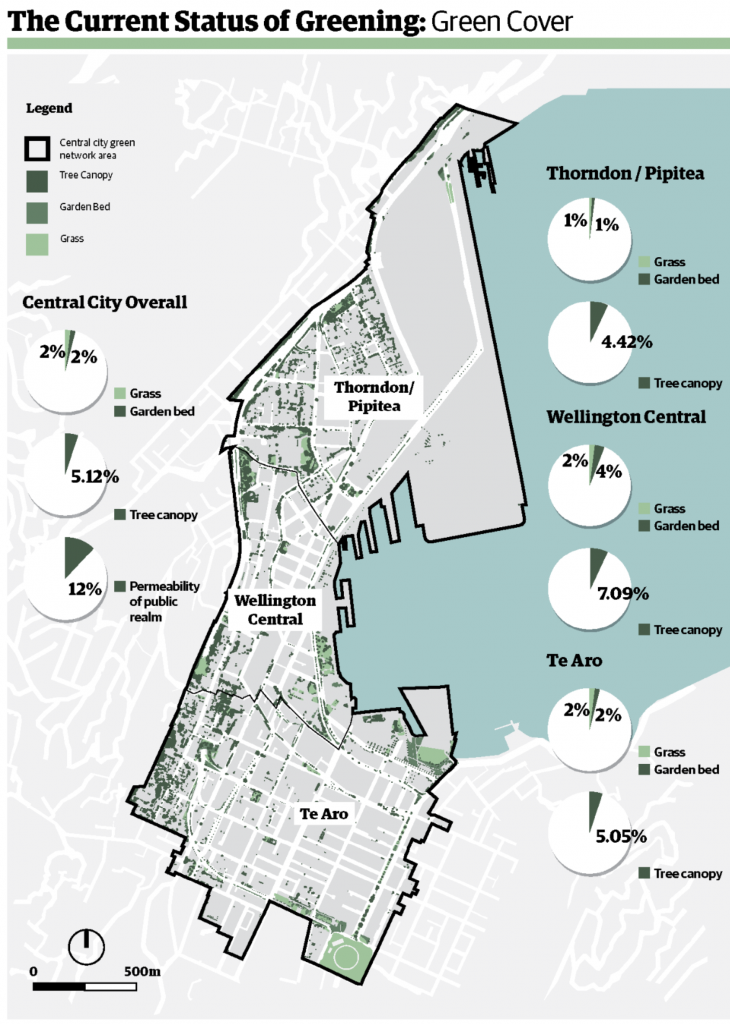 There's a draft Green Plan for Wellington – the report is available on the agenda of the PŪRORO ĀMUA committee – but it is a bit hard to read in parts, so I thought it may help if I pulled out some sections to make it easy to pick up on. But even more importantly, there is a major piece of work relating to the Wai of Wellington – ie what's up with our waters. Te Whanganui-a-Tara Whaitua Implementation Programme And Te Mahere Wai O Te Kāhui Taiao
Its a huge undertaking and unfortunately the text is quite small and hard to read in places – but it looks into the health of all the streams that pour into the harbour, which are important to Maori (all of them, I guess?) and which are polluted / likely to get better / worse. It's fascinating.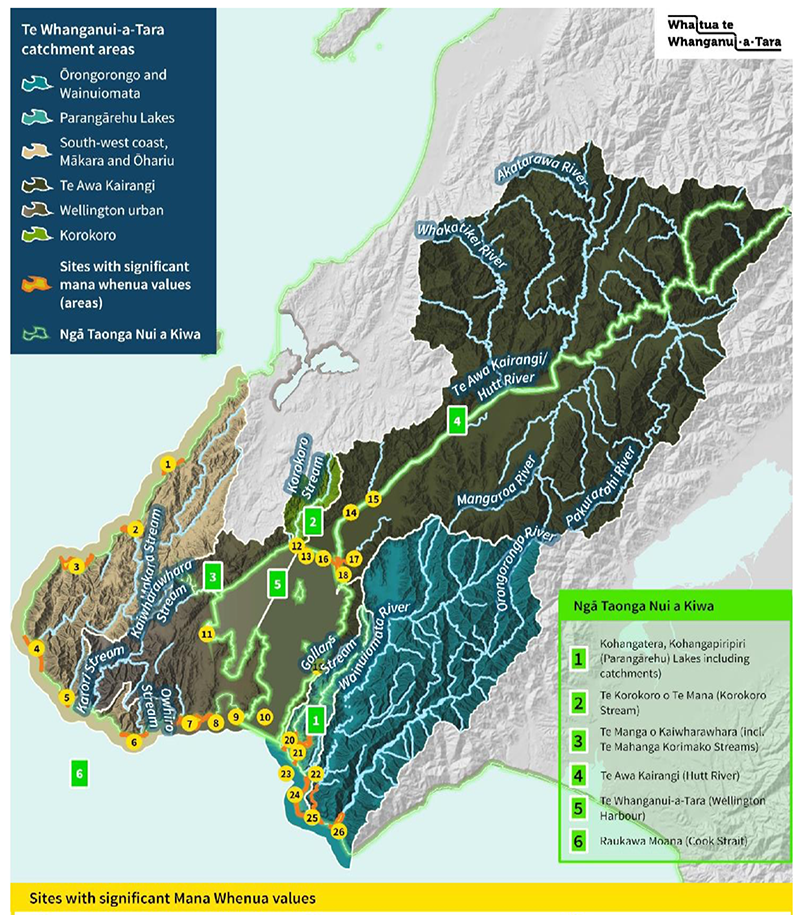 But it is going to need a lot more reading from me to see exactly what it is saying. In the meantime, here's a few pics from the draft Green Plan, which proposes to 'green' the city via a series of small gestures: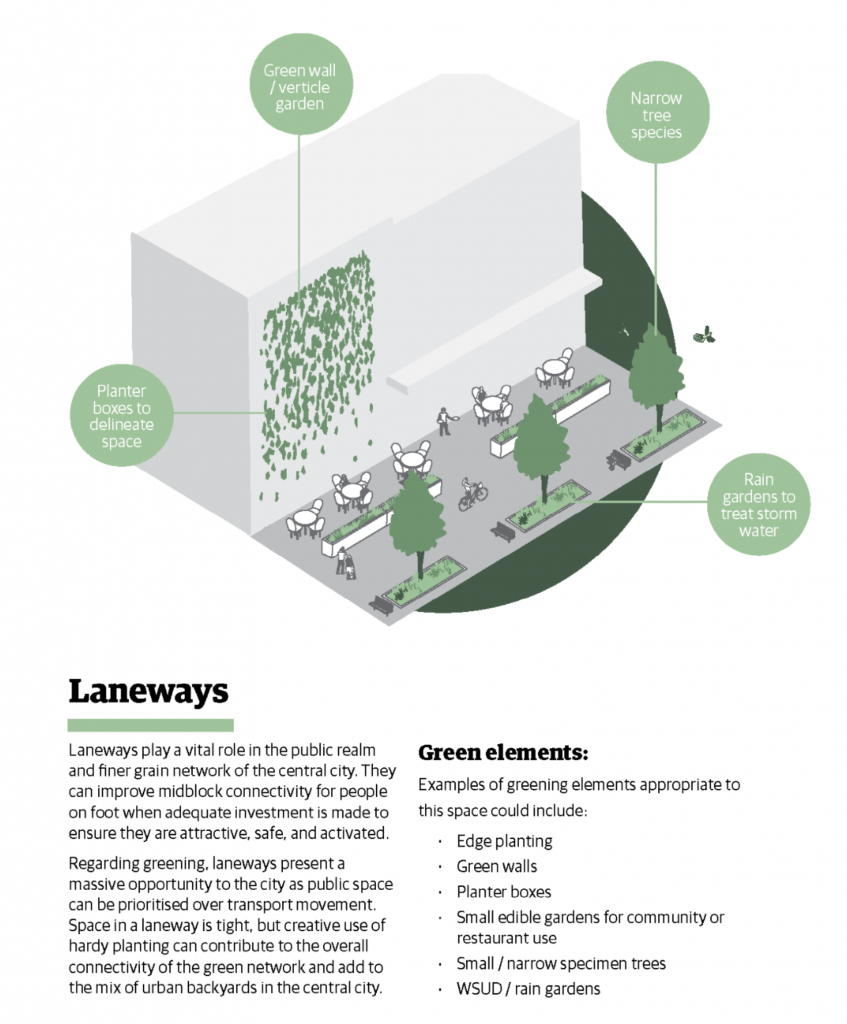 Laneways are a perpetual favourite of Wellington Council, having seen how well they have rejuvenated the city of Melbourne, where they are seriously rivalling the main streets as desired routes and places for people. Not so successful here so far – the former Urban Design person at WCC, Anna Harley, was keen on renovating the Opera House Laneway but I can't honestly say that has been a great success yet. Others, slightly more so: Lombard Lane perhaps?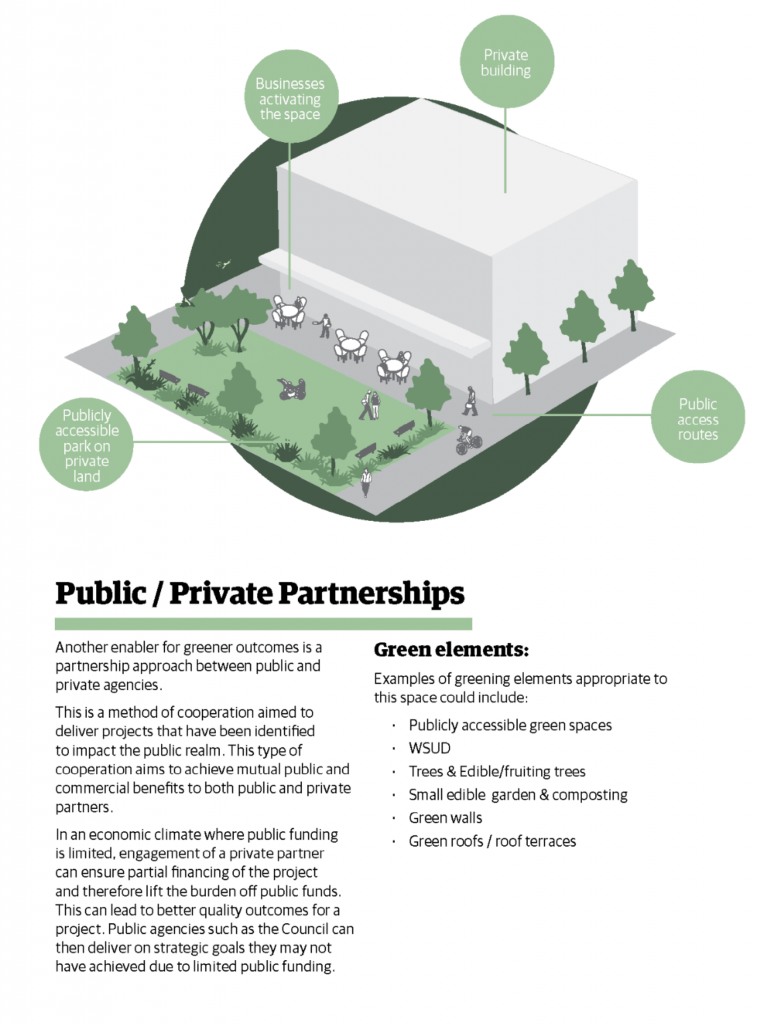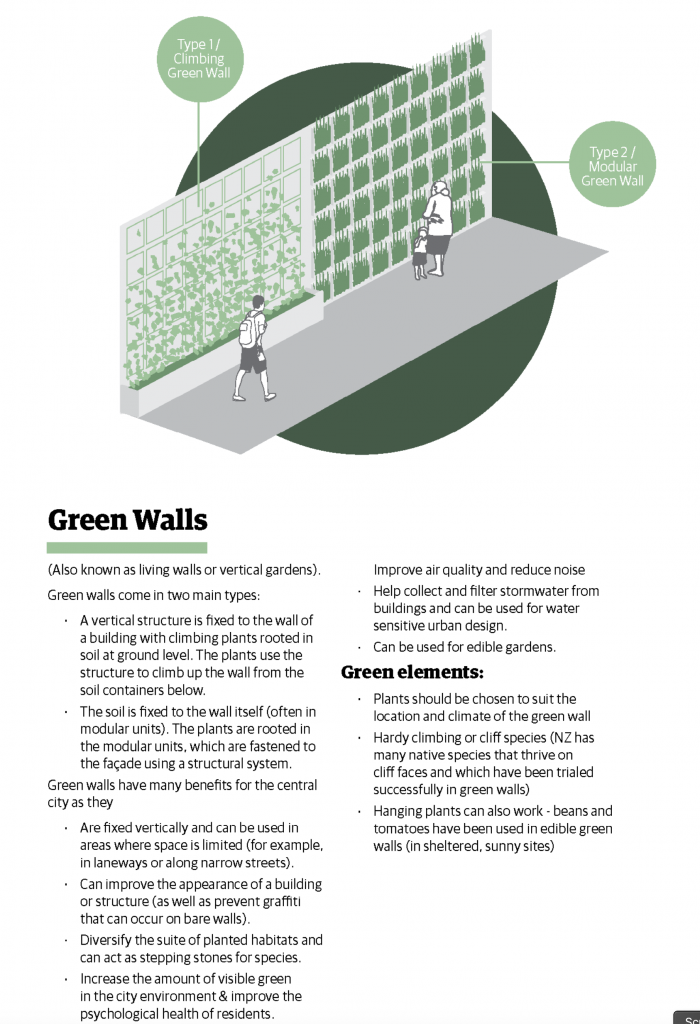 Green walls have also had a dodgy history in Wellington – there was one in the School of Architecture a few years back, but it died. And I think the one on the south side of the Library entry from Civic Square is also dead, or at least halfway to certain death. No use proposing these things unless you have the know-how and the ability to do the maintenance. For a start, I think that both sunshine and water are important – without that, nothing lives.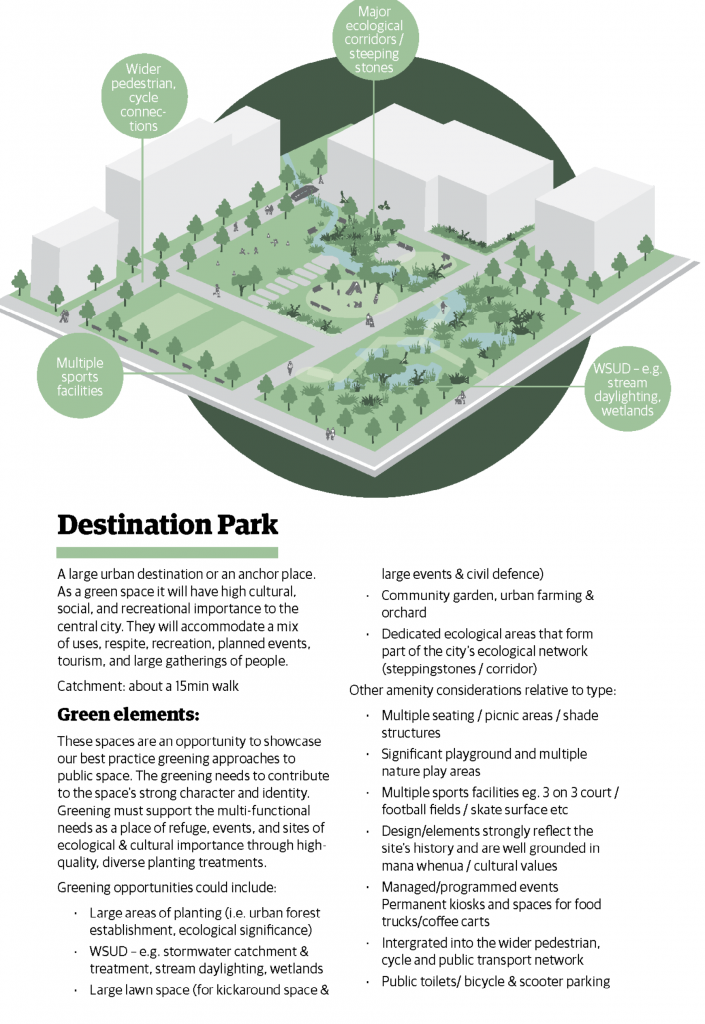 A Destination Park is of course something that we all want more of – and are least likely to get. We're lucky with the Waitangi Park, and to a lesser extent with Pukeahu Park, but the stand-out peak performer has to be the Midland Park, enjoyed by hundreds or even thousands each day.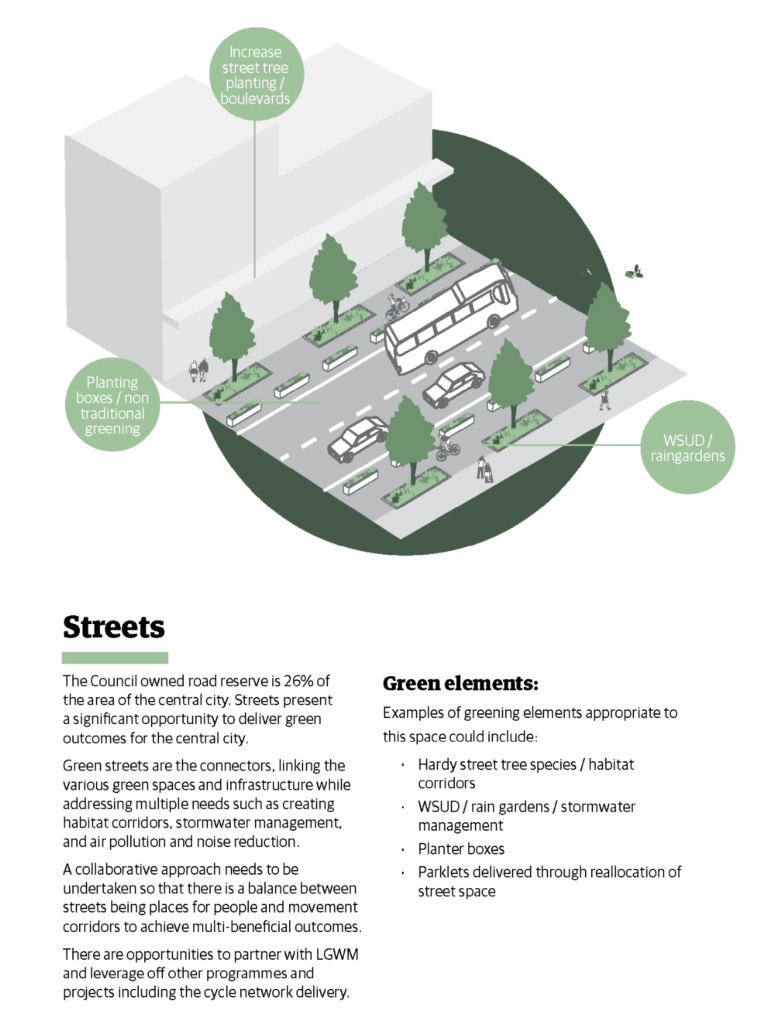 Streets are the one that we all want to see of course – lots of luxurious street cover to help break up the wind, help shad us in summer and reduce the temperature of the city, and generally make the city a far more comfortable place to be in. I remember back when Kerry Prendergast was Mayor (shows how old I am!) and she promised that soon Taranaki Street would be a "grand boulevard" of trees down to the waters edge. I'm still waiting for anything more than a Covid test centre to be planted on that street.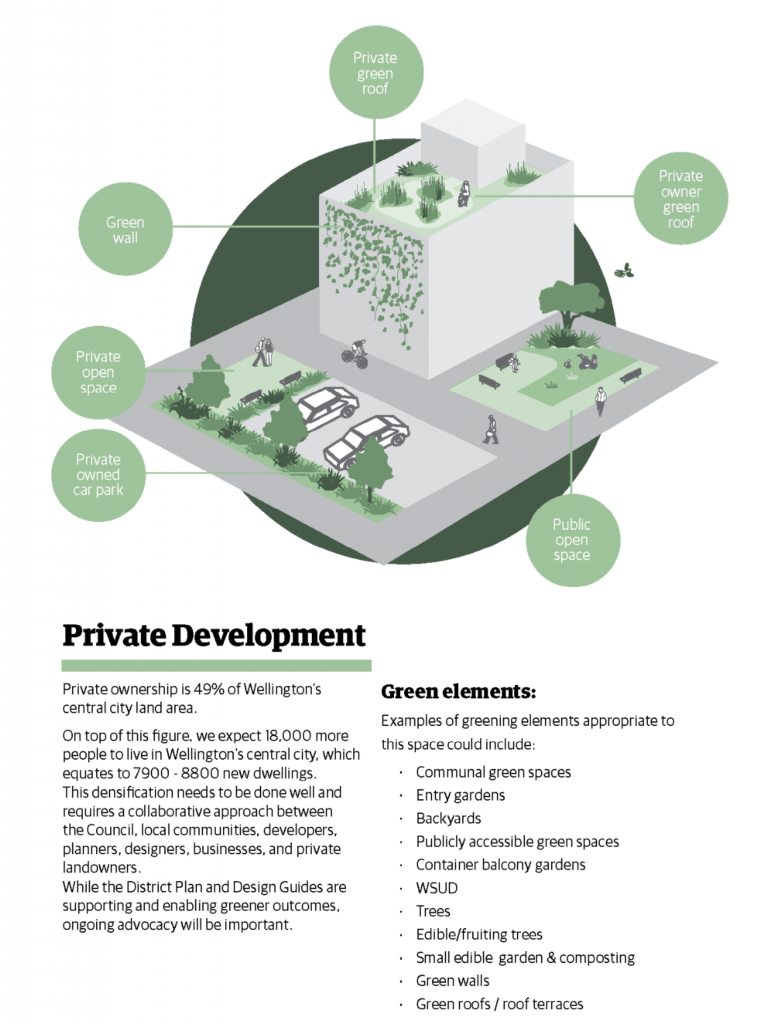 The emphasis on Private and Public/Private schemes is a bit of a cop-out to me. Come on WCC – its OUR city and we want some decent public parks, not just places where the corporate security guards can kick you out of you look a bit too untidy.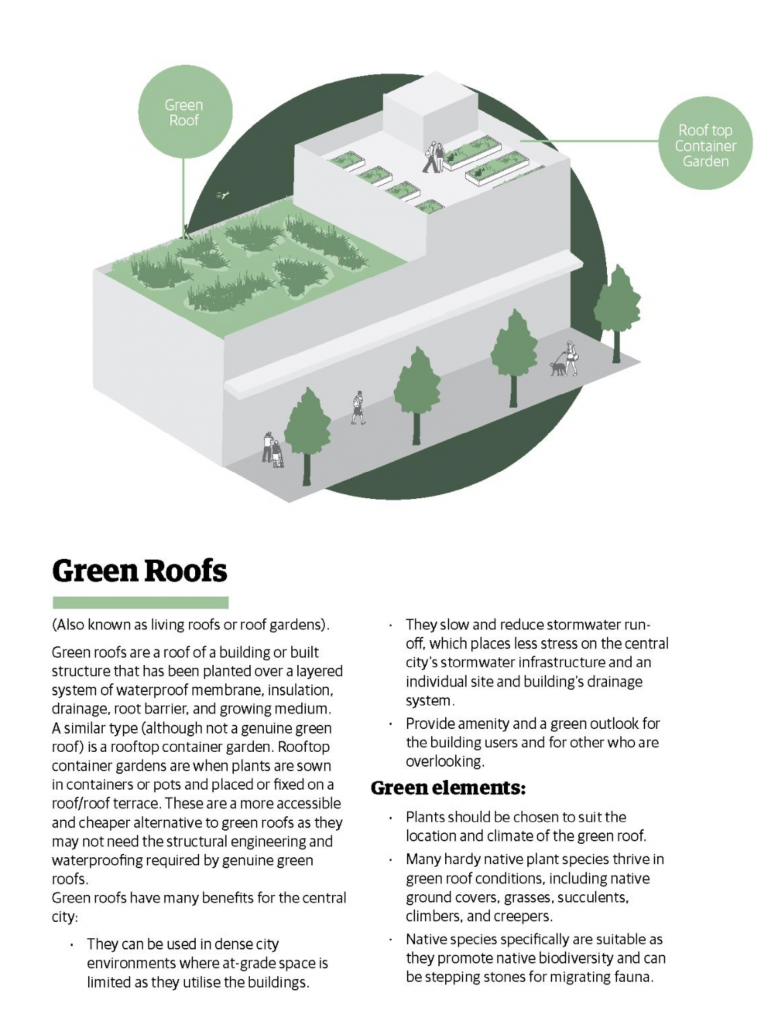 Green roofs are a classic cop-out too. Perhaps necessary for our feral pigeons to roost in, green roofs don't really add much amenity for the human city dwellers like me. I know, I know, they filter the rain water and slow down the rate of rainwater return – but in a Windy City like ours they are all a bit useless, prone to taking off into the sky at the moment a big gust hits. Does Massey University still have its green roof, or has that peeled itself off into history?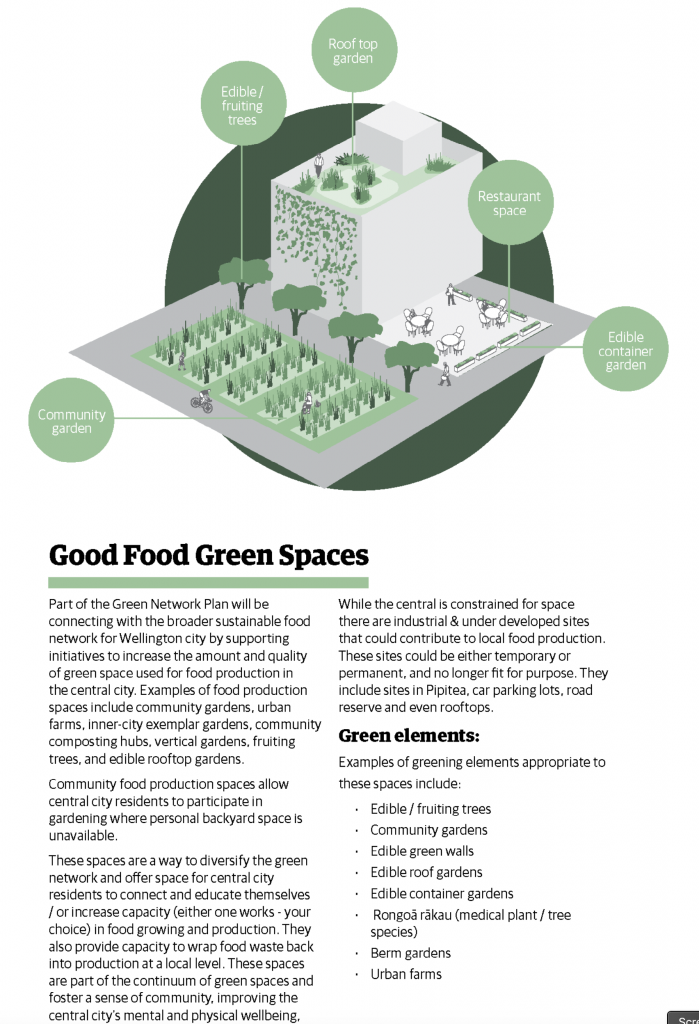 I don't know about you, but I'm a little cautious about taking food from a city street, owing to the amount of lead in petrol deposited on these trees, the sheer amount of dog urine, and other canine by-products. Its a nice thought, but the reality is less than ideal.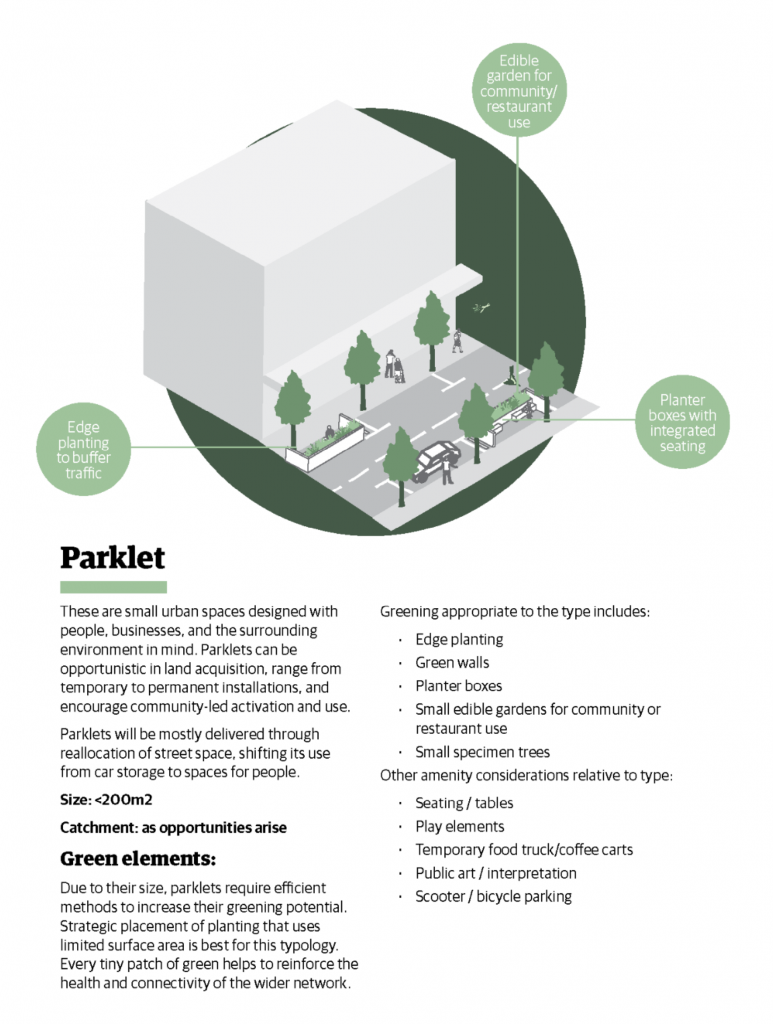 And so, ultimately, we are left with Parklets – the sort of Park you're having when you're not having a Park. Yeah, they're ok, but having a postage stamp of space that is barely big enough to walk your dog (and fertilise the lawn) is no substitute for decent public space, like a full-on real public park.
Last word of course must once again go to the most perfectly positioned of potential public parks: Swan Lane. At long last the Swan Lane Urban Design Team have proposed some change – we are still waiting for the Council to compulsory purchase the site from the present grumpy owner and make it all happen. Is now the time for a Campaign – Swan Lane – Make it happen !! ?