We've been waiting for years for this and although it is not yet official, at long last we are seeing some progress. This was a scoop leaked by the Dom Post – and I'm keen to know more, so I'm posting it up here. While I'm sure that LGWM have gone through millions of alternatives, and fully evaluated tham and argued endlessly over them, for the last several years, this is the first time we've seen anything concrete.
Well, not real concrete, of course, but actual lines on actual paper, in a virtual sort of way. One option has the much puzzling "long tunnel" and the other, therefore, is shorter. Let's have a look at what they may mean in real life.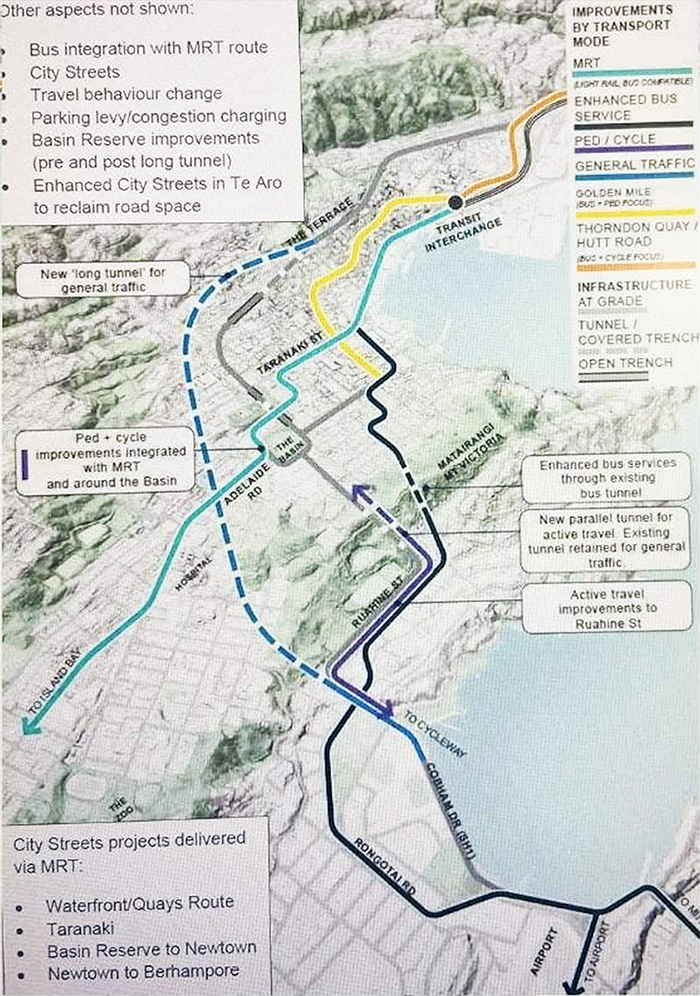 With the "Long Tunnel" option shown above, we can at long last see some evidence of a "masterplan" for traffic routes in Wellington. There's the MRT (noted here as Light Rail, Bus Compatible, whatever that means) as a turquoise line running through the plans. There's the Golden Mile in shiny Yellow, of course. The dashed blue line is "General Traffic" which connects from the Terrace Tunnel, in a long, curved, low level tunnel or covered trench under south Te Aro and under Adelaide Road and under Mt Victoria to link up on Wellington Road in Kilbirnie. That's one way of getting rid of the traffic ! But how would they build a tunnel that long through the centre of Wellington without destroying everything along the way?
Interestingly, we also see for the first time, some real indications of a purple pedestrian / cycleway, which supposedly goes through a "new parallel tunnel" with the existing Mt Vic tunnel kept for existing car users. Local car users that is.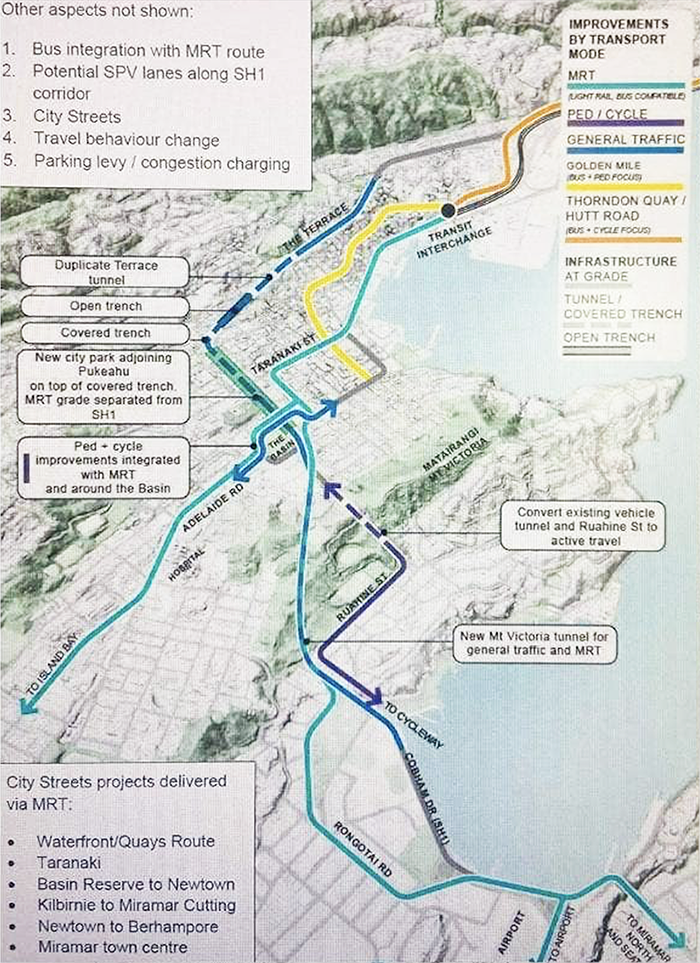 This is the other version, which I'll dub the "Short Tunnel" version, given that it proposes a new tunnel on a diagonal route for both General Traffic and also for the MRT. What is interesting here is that there is a proposed "new city park adjoining Pukeahu on top of covered trench" and that the MRT would be grade separated from the traffic on SH1. Indeed, it looks clear that the MRT will tootle along the edge of the Quays, then turn up Taranaki Street (remarkably smoothly – I'm not sure how that is actually achieved in real life), and then appear to crank down what looks like Haining St to Tory St where it seems to split into two separate lines – one to Miramar and one to Island Bay. I desperately want to lie this one and for it to work, as I can't see that giant long tunnel option working, but it really doesn't seem right to me yet, either.
Hmmm. Maybe give it time…
Are those the only two options that LGWM are going to give us? Surely not! Surely David Dunlop and the team learned their lesson at the Battle of the Basin Bridge, where the tiny community organisations thrashed the mighty Government-backed lawyers and got the Basin Bridge quashed? Is this perhaps yet another cynical attempt to make Wellington froth at the mouth over very little, while they quietly have a third option up their sleeve anyway? Who knows?!?!?