The Eye of the Fish was recently spending some time down in Te Wai Pounamu, on the shores of Lake Wakatipu. Along with several hundred other architects who jetted in to Queenstown for the NZIA New Zealand Architectural Awards, those of us that actually got there were pretty much a captive audience – bad weather stopping several flights from getting in or out – getting close to the tarmac was a bumpy enough experience for most, but close enough is not good enough. More about the awards on another day – but today I thought that it would be interesting to discuss the architecture of Queenstown itself.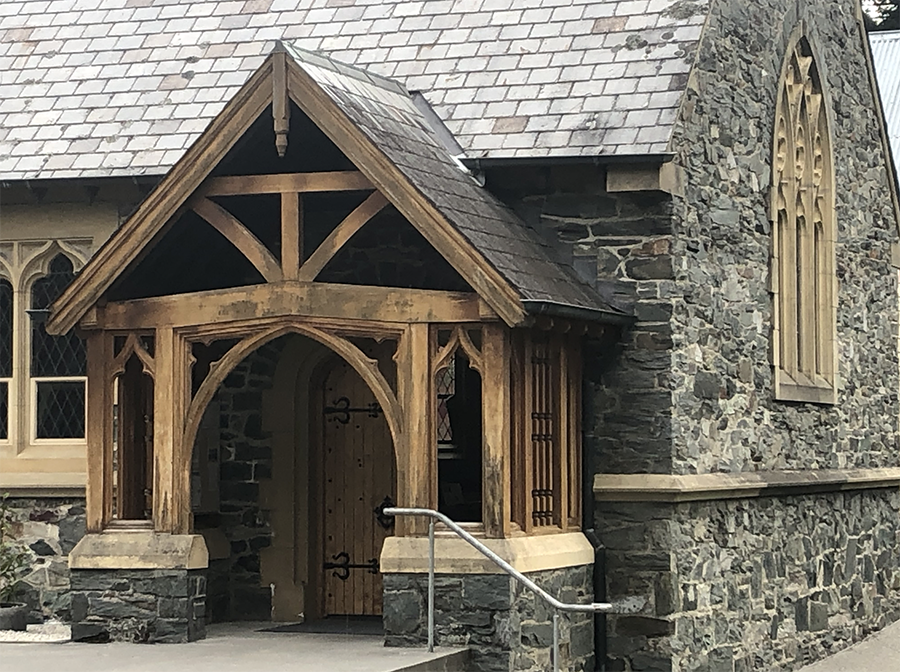 The residential architecture is, for the most part, pretty polished. There is still a smattering of old weatherboard bachs, looking suitably weather-beaten after about 80 years of harsh Alpine weather, but for the most part the strict appearance regulations of the QLDC stipulate a consistent palette of dark / black metal tray cladding, stained board and batten, and of course the inevitable schist. Pitched roofs are de rigeur, for the most part 35 to 45 degrees, with flat roofs frowned upon or outright banned, and none of those hideous 27 degree hip roofs that new Wellington suburbs seem to love so much. Surprisingly, there are very few A-frame houses left here any more – my memories from visits in childhood were that A-frames abounded in Alpine conditions, perfect for shedding snow – but perhaps that was just the 1970s. Or have I already gone on enough about A-Frames?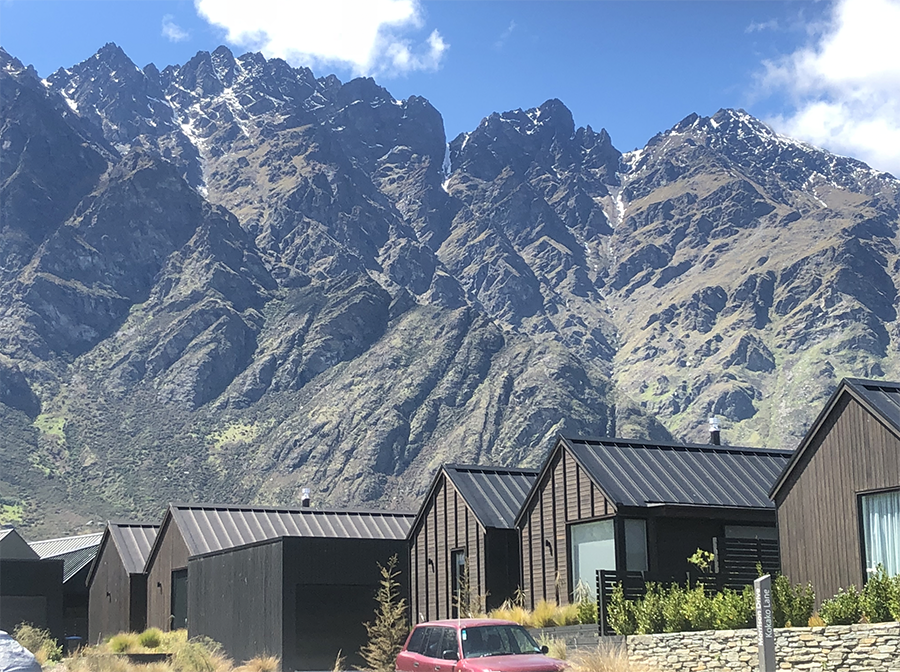 Jack's Point is strictly controlled by QLDC and other covenants. Yes, it is all a bit too much same-same-but-different for me at times – but it is consistent and presents a unified front to the town, which others try to copy. It looks good. The natural surroundings, of course, look Remarkable. The same cannot really be said for the commercial architecture of the town, which for the most part is simply rather Confused. There are some good bits: mainly the older parts.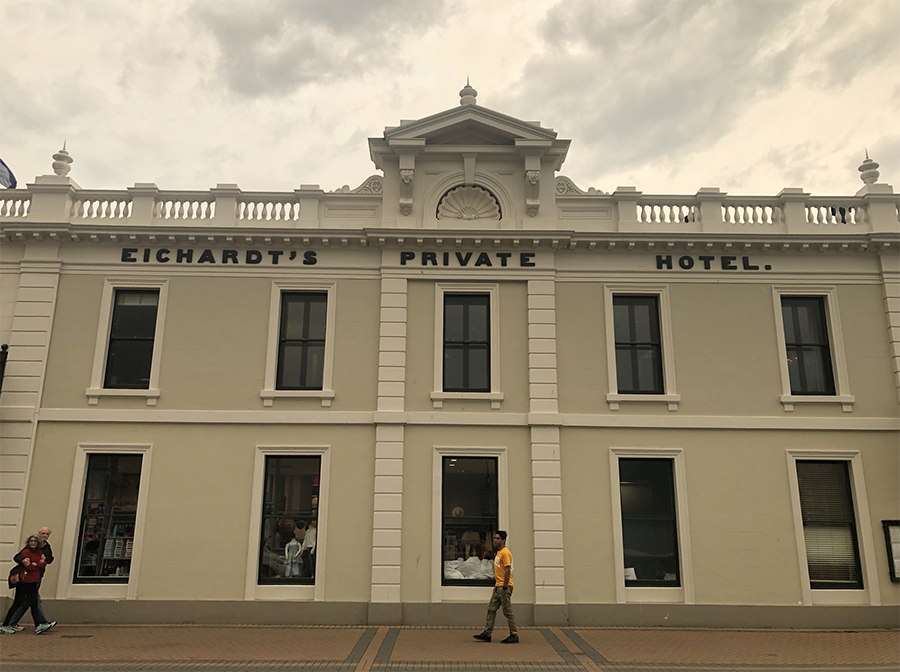 I'm not really sure what the regulations are over the CBD buildings down there, but they must be difficult to adhere to. Is there even a CBD, as such? Clearly some of the buildings are quite old, like Eichart's Hotel, still standing on the waterfront, resplendent in creamy painted stonework like any sturdy Victorian building of its era. There are also older buildings made of schist stone, beautifully narrowly stacked and in some cases carefully bagged with plaster and painted. Its a look that some modern buildings try to replicate, sometimes successfully, sometimes much less so.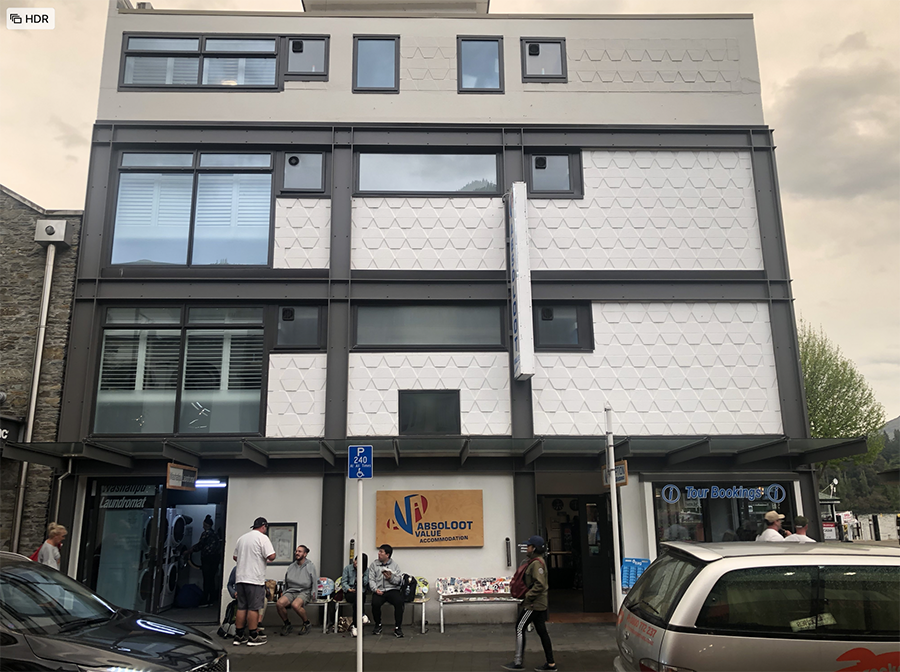 But the regulations that stipulate or recommend using schist as an external cladding are only sporadical successful, with some stone applied in an unnatural fashion (applique / glued to the outside / oriented the wrong way) and still others which really can't make up their minds on how a roof should work.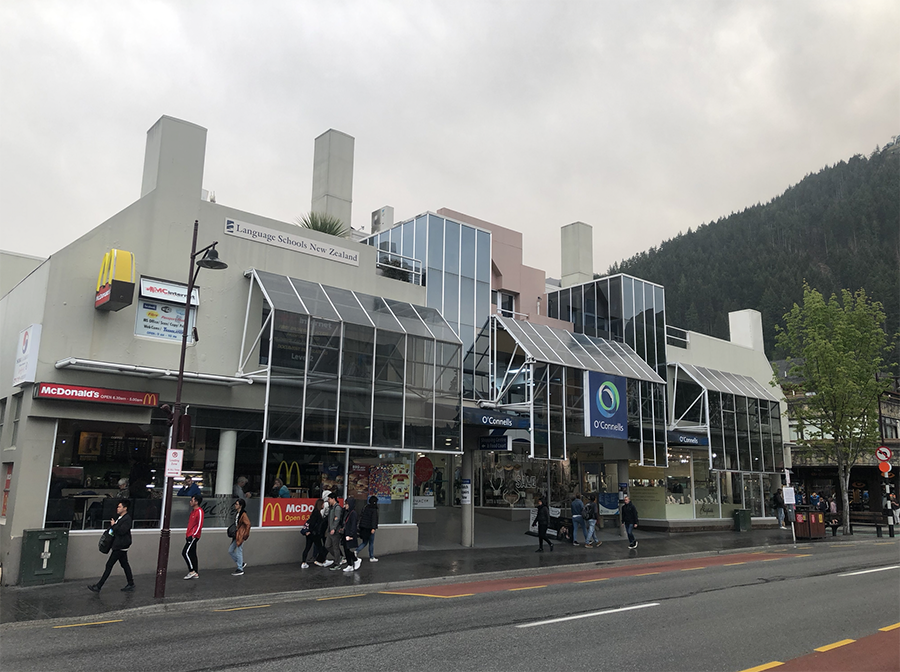 Facades are of course the key way for the building to express itself to the world, especially for retail, and particularly as really there is no need for upper floor offices – most buildings are just 2 storeys tall except for the "SkyCity Casino" which soars to a mighty 4 levels above ground. Perhaps they burnt down the wrong Casino? Then again, some of the other buildings in town are truly bizarre. This one below for instance – a cross on the chimney/lift tower – is that a church? Or just a non-performing verandah?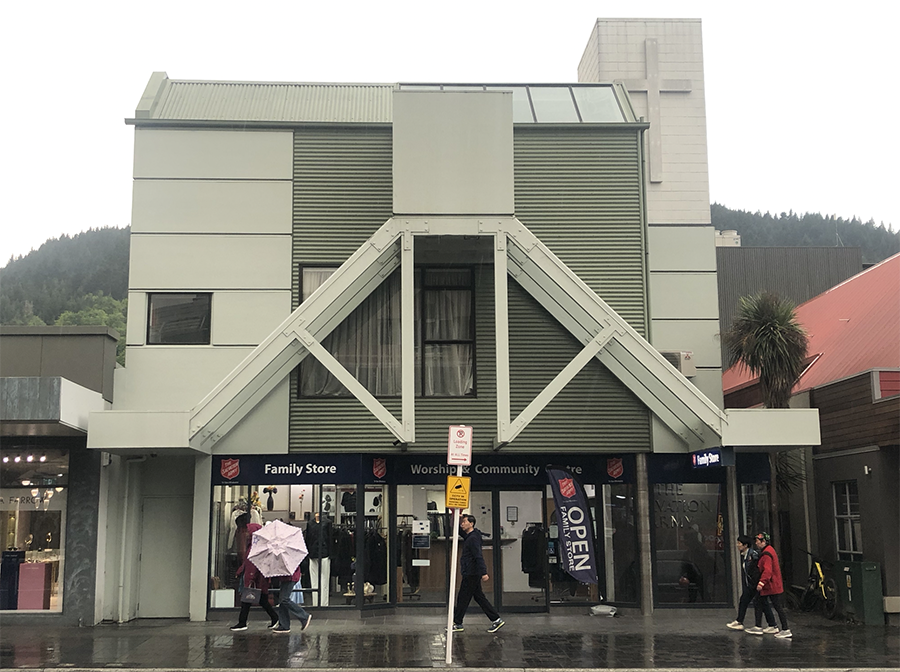 If it was a church for the Salvation Army once, then perhaps the worshipping of Mammon has truly taken over down there. It's so bad that there must have been a famous architect involved. Is it an early Miles Warren experiment? Or a John Blair po-mo moment? An ironic verandah, perhaps? It's all pretty small scale stuff down here though – curious then that so many of the buildings have got it all so wrong. I mean, what the fuck has gone on with this house below? Truly ugly, mind-bogglingly mad.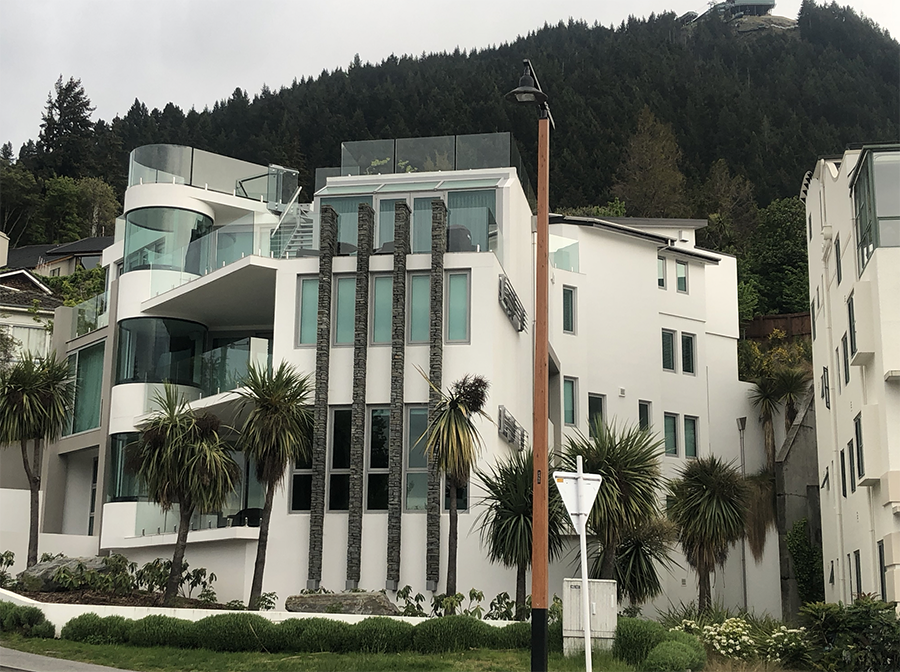 Some buildings are simply channeling the Wild West / Goldrush aesthetic, with timber storefronts, but this is done so much better in Arrowtown, which still retains a full Western film-set vibe, courtesy of stringent attention to detail in things as simple and mundane as schist gutters (no concrete curbing here!) as well as a general atmosphere where the whole town pulls together. There's even a hitching post for your horse, should some varmints come riding into town. Mostly though, them varmints are tourists.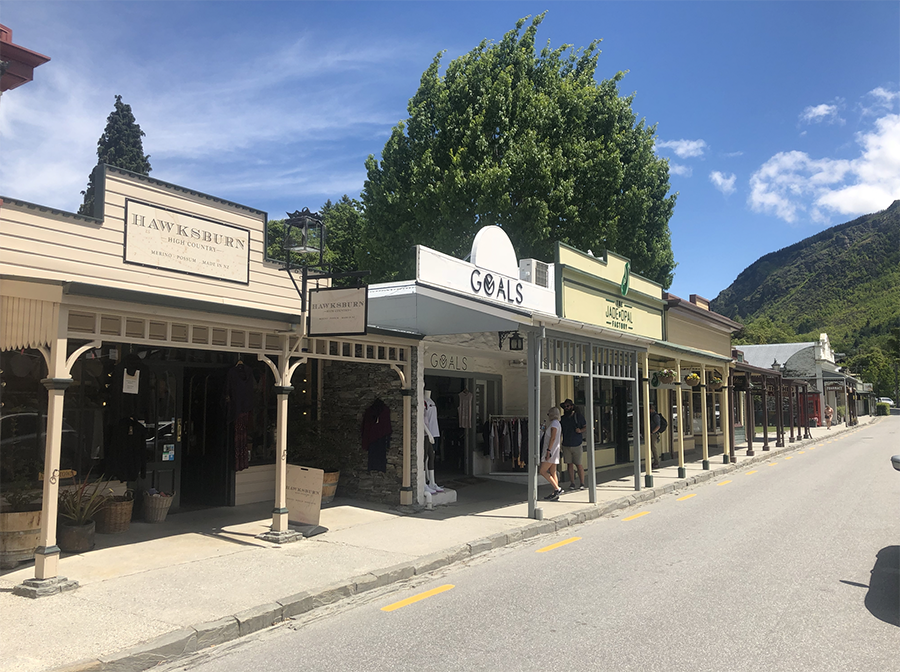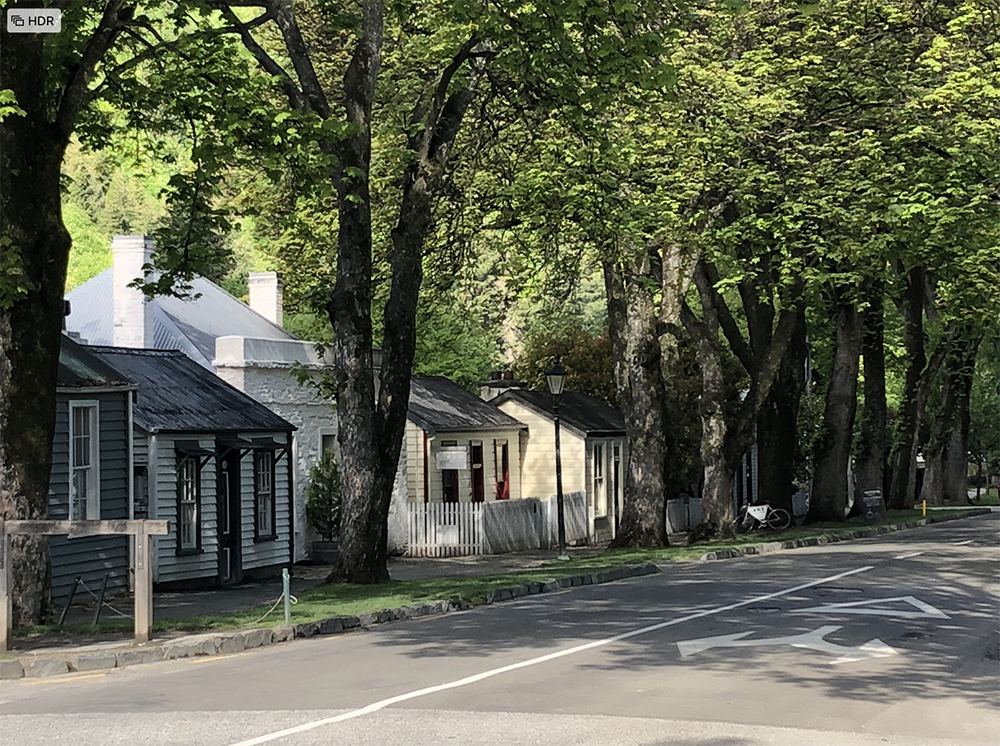 Queenstown, on the other hand, has no such coherent architectural integrity. Anything goes, evidently, in an awful dismal mismatch of architectural response. Here (below) the Louis Vuitton shop appears to have three malevolent alien eyes spying out over the town, not really sure why, with a row of colonnade posts marooned without a roof or a reason.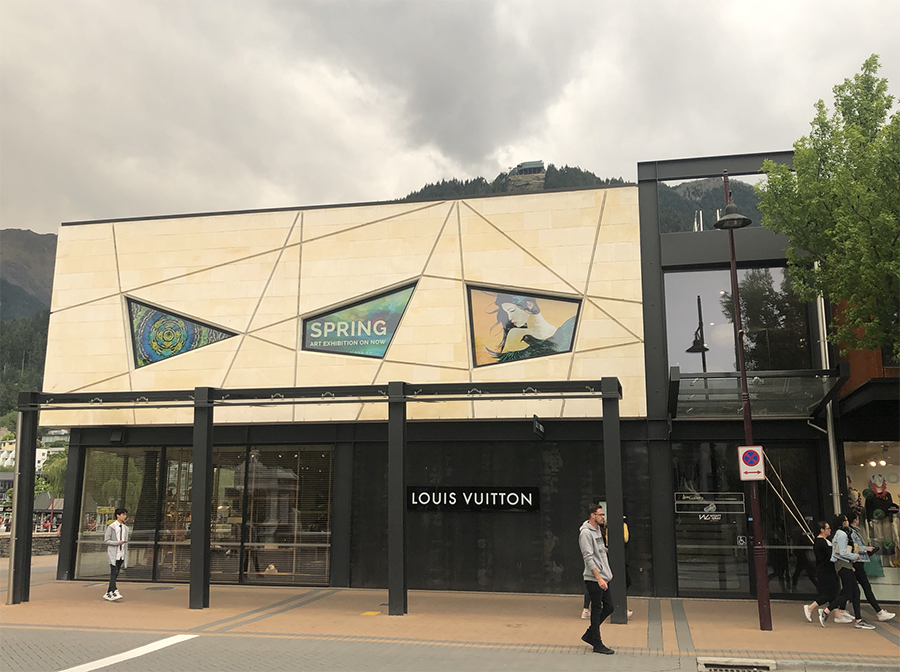 I could go on, but taking pot-shots at bed Queenstown architecture is like shooting fish in a barrel. Not really sporting, and hard to miss. True, it is difficult to compete with such grandeur in the natural surroundings, and perhaps the best thing to do is not to try to compete at all. Quiet, simple, demure, letting the majesty of the mountains do their own talking?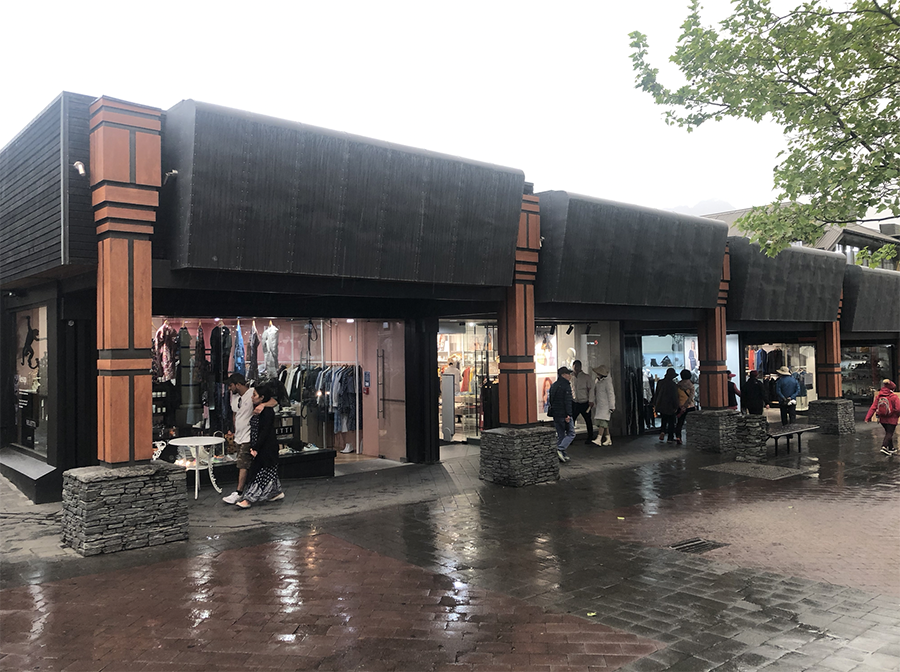 I mean, seriously, what kind of rubbish shop front is that one above? Apart from looking like it has been modelled in Minecraft, it's just fnugly in a big way. But of course: the real issue here is tourists. Way too many of them, and nowhere for the locals. In fact, I think I was the only native English speaker in the CBD for most of the day. Also: shockingly few Maori – admittedly, Queenstown was never a great hotspot for Kai Tahu in the winter months, but they did make it up here over the summer. But when I was there? Nada. Seems like the qualification you need most of all in Q town these days is a Bachelor of Linguistics.