Following on from the diagram that Eye of the Fish published a short while ago, it has come out that this is, indeed, more or less exactly the route that LGWM have proposed as well. The binding issue is, of course, that they have still not done three things:
A) Agreed on what type of high quality PT we are going to have; and
B) Agreed that SH1 needs to go underground along the route of Karo Drive; and
C) Agreed who / what / how / when someone pays for it.
A), I fear, may go on for some time yet, but in the overall scheme of things is less important right now. Whether it is a tram or a bus or a train or something in between right now, none of that matters so much as the route it is going to take. There was some confusion when the LGWM sample pix came out – was it showing a train up Taranaki St, or was it showing a high-speed bus heading to the Basin? In a way, both of those were right – and so was the Fish. I've tweaked my original Basin diagram a little, so it now looks like this: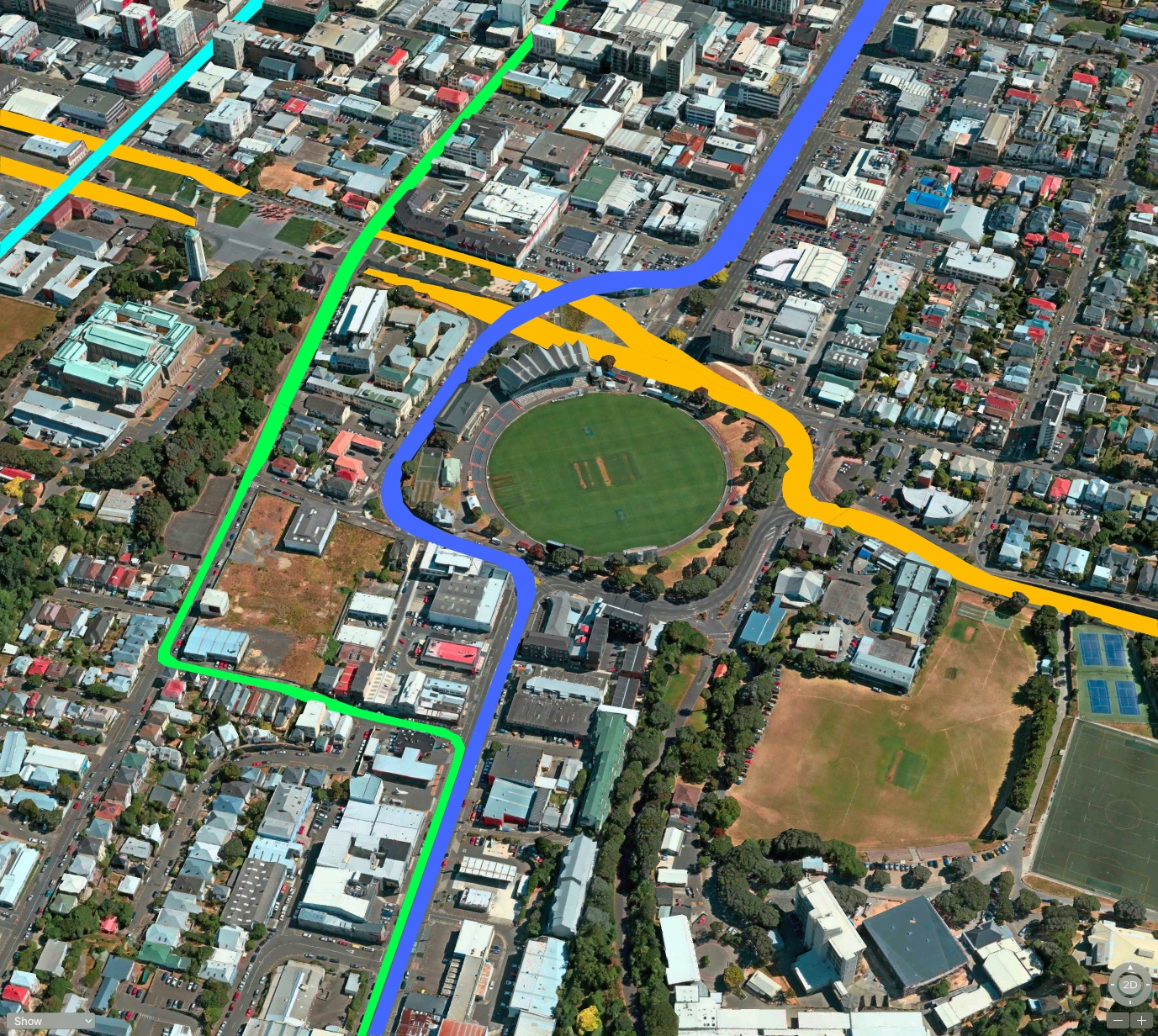 The green line is where I reckon a bicycle super-highway could run, and that varies a little from LGWM who instead use that route (nearly) for the PT spine. And that looks rather similar to the official diagrams released by LGWM, of which there are two versions viewable on the LGWM website. Just below here is the LGWM "preferred approach", looking suitably diagrammatic and awkward, but at least setting down what might actually happen here. The red dashed line indicates the route of a "Mass Transit RPI route" which I presume means either Light Rail (LR) or Trackless Tram System (TTS). Quite how RPI means LR or TTS I am not sure, but perhaps it stands for Rapid Public Iguana? Ignominy? Insurance? Initiative! So I'm just calling it PT for now.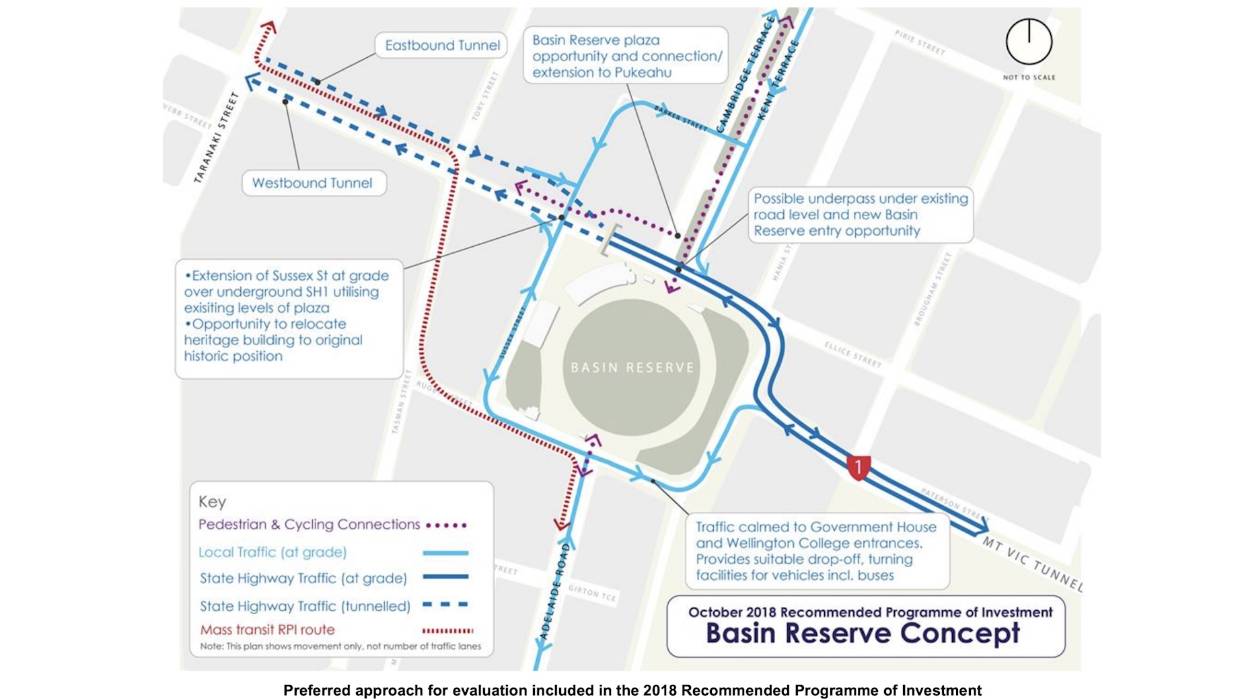 And then there is this, the "Figure 13" diagram of the Basin. That looks a whole lot more figured out, with a bus-turning loop outside the School drop off zone, Sussex St taking an extension over the top of the SH1, which is now at ground level and no longer on a flyover. Mission accomplished.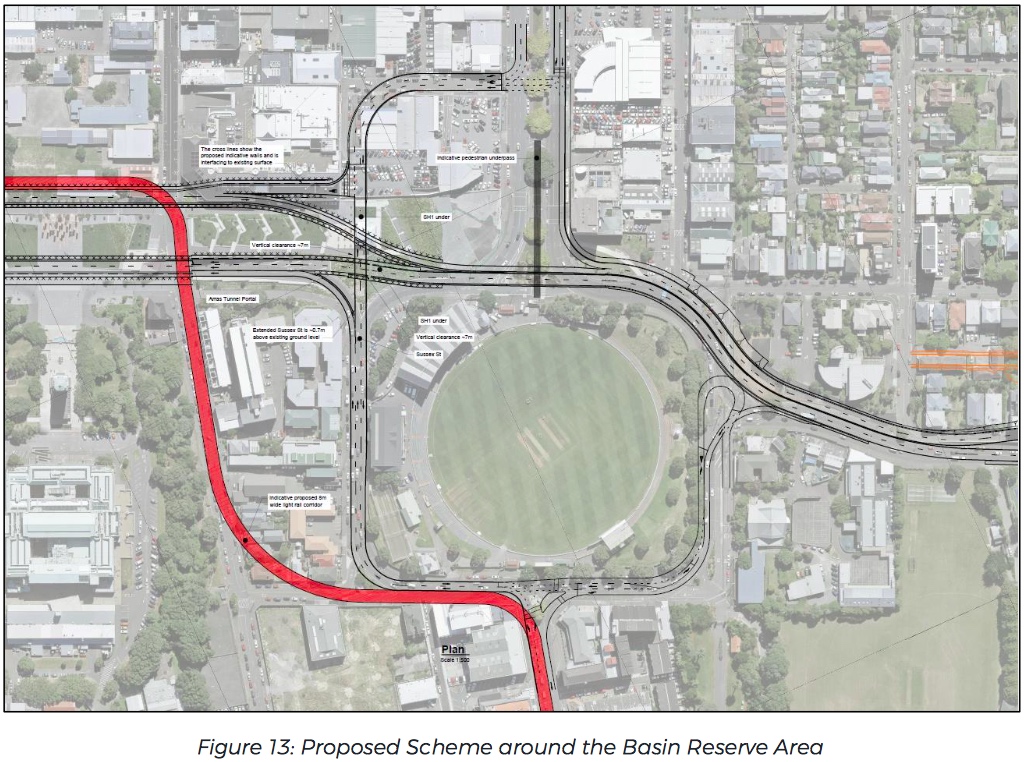 The answer to B) is that The State Highway is now shown in a trench all the way from just before the House of Compassion (you know, the little brick house of Mother Aubert that no-one knows what to do with) and right the way through to the other side of Taranaki St. In return, the vibrant red line is the new PT line, unexpectedly snaking its way alongside the SH1 and then diverting off down Tasman St to avoid the Basin.
That's one way to do it, for sure. There are a couple of interesting things about this picture (Figure 13, above). One of these is that the SH1 is now shown in two separate lines, with one existing west-bound line running through the Arras tunnel (presumably now extended at both ends), and a new proposed east-bound line running just where I thought it would: in the clear path one the other side of the fence from Pukeahu Park. That's where C) comes into play, as the Councils, the Treasury, and the Government can't agree on who would pay for that. Of course, if they had done it all in one go when they built the Arras Tunnel it would have been half the price it will cost now, but hey, hindsight is cheap. What is carefully not shown, however, is exactly what happens at Taranaki St.
It is also fairly similar to what the Architectural Centre was banging on about with their Option X – not quite the same, but close enough. Bravo.
So – what happens past those borders then eh? Well, I've had a chance to think and to play with some more aerial pictures, and I reckon that to the south, down towards Adelaide Road, it might look like this: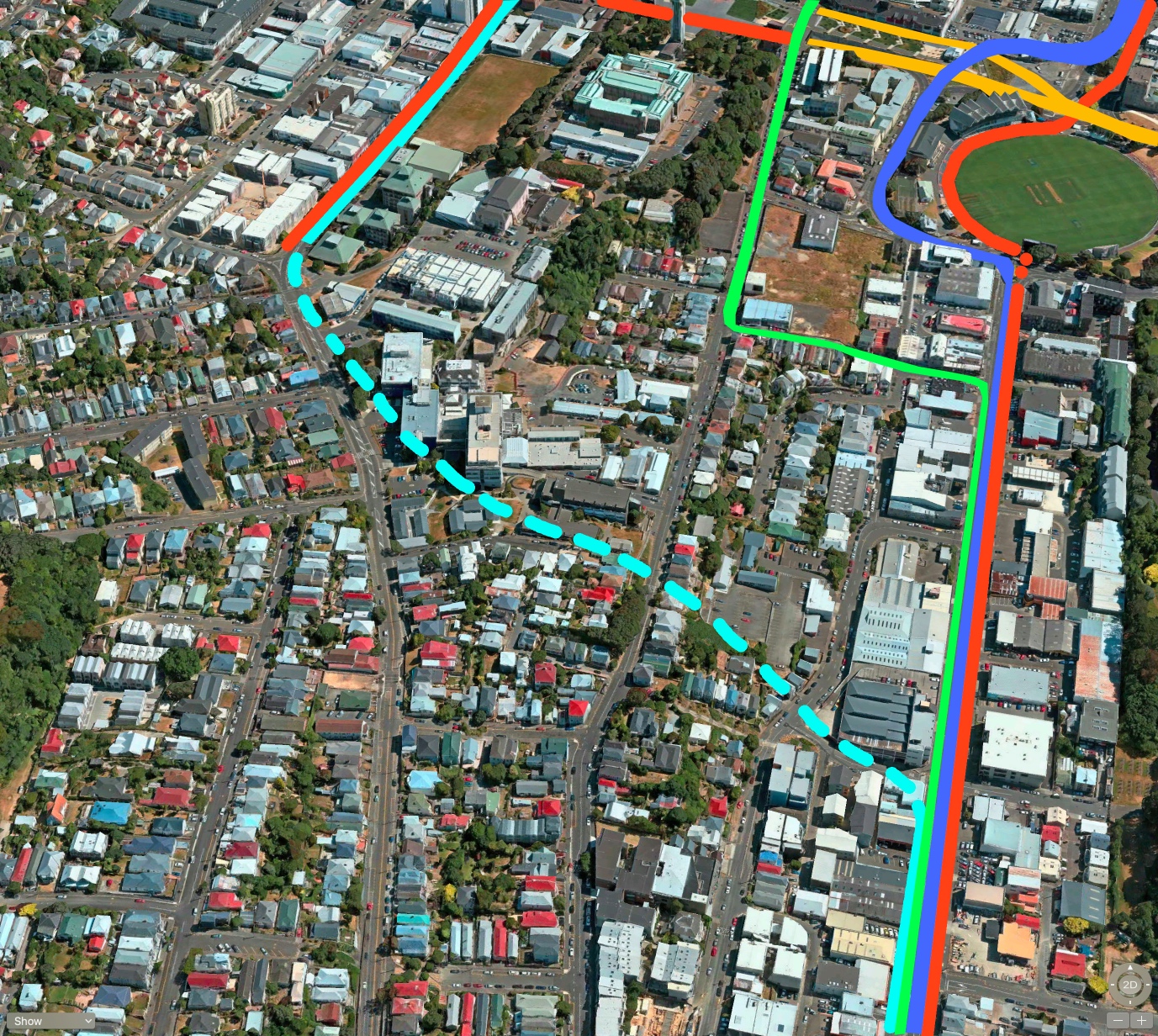 You can see here the issue of taking the PT route all the way up Taranaki Street – at some stage it needs to cross over to Adelaide Road and that can either be done at ground level as LGWM have done in Figure 13 above, or a possible tunnel under Mt Cook as shown here with a dashed pale blue line. It's not a long tunnel, nor a particularly difficult one, but still: PT goes well in a tunnel. And… they're expensive.
And then again there is the scheme at the other side to Taranaki St – i.e. what happens at the site of the present "trench". One line I've shown dashed, to indicate a possible tunnel (probably cut and cover to be honest), but I've also tweaked the current scheme at the junction of Karo Drive where the present Victoria St clashes with Karo. SH1 should go underground here, with Willis and Victoria and Taranaki all going over the top. I've show lots of the rusty orange colour, which indicates pedestrian-friendly streets – lots of them – because we need to get a whole lot more cars off the roads. Streets are for people!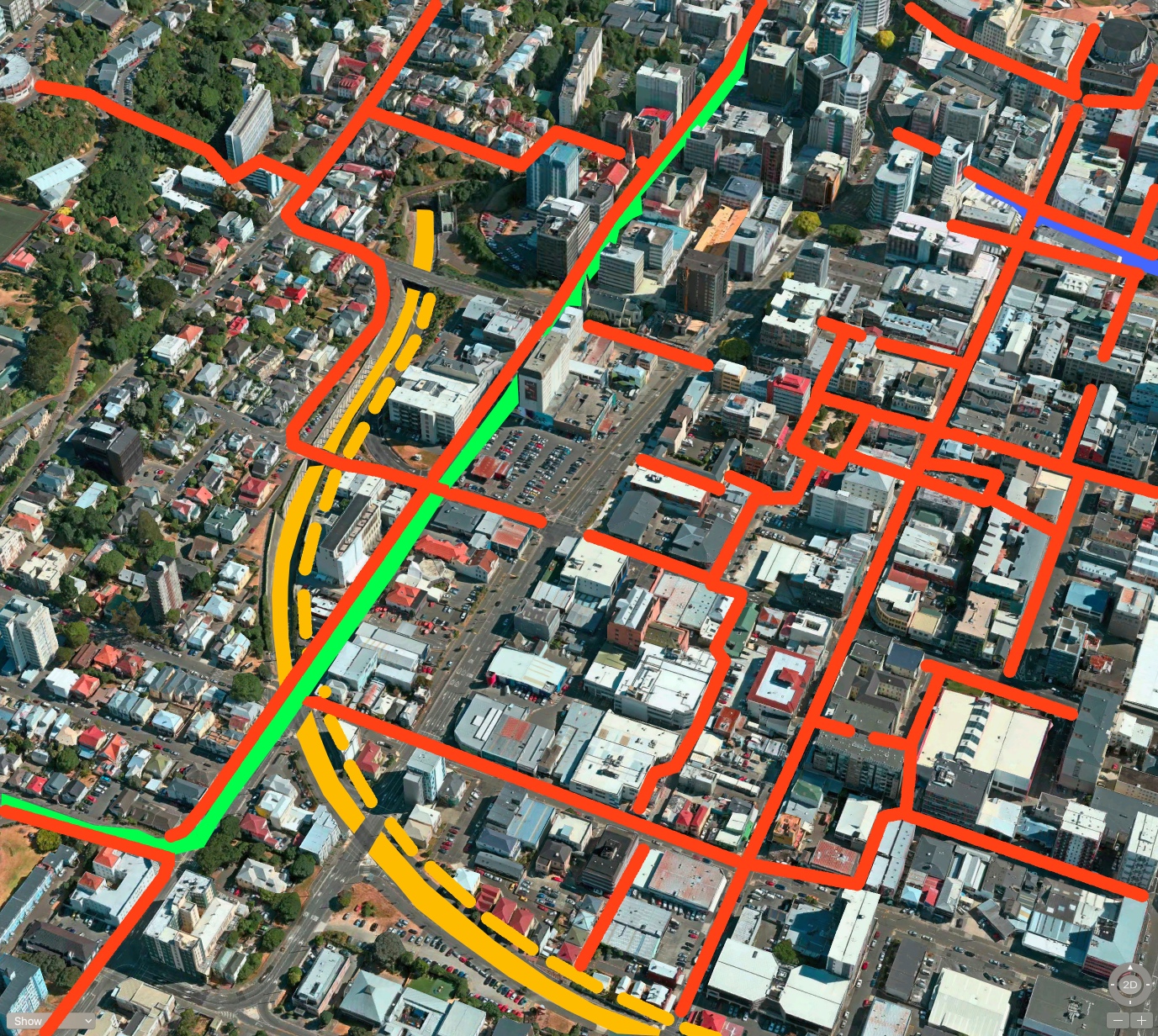 In the next day or so, I'm taking a look to the east.