So here's to the 2020s: the years ahead. What do you want to happen? What do you think will happen? Once again, in a cheeky form of reverence, I'm going to use the Greater Auckland blog as a template for what we are doing here in Wellington – so the headlines all refer to AKL projects. Let's see how we are doing by comparison.
City Rail Link
Well, we don't have a CRL, but we definitely should have. We've said it before, as have many others: Wellington's rail needs to not all stop at the main station, but continue through. Action on this over the next year: unlikely. Over the next decade? I damn well hope so.
First things first: GWRC and WCC need to agree on a plan of action, and that means PLAN OF ACTION…! Oh – and a route would be a good first step. And a decision on the technology we are going to use. I'm keen. Andy Foster – are you ready to take some big steps forward?
Downtown Programme
We don't have a downtown programme either, but we should have and we can do. Our "Golden Mile" of Lambton Quay and Willis Street is good, but crammed with traffic – mostly buses and tradies vans. We urgently need to up our game and be working on a way to make it an even better pedestrian experience. That probably means banning traffic from the Golden Mile, and widening footpaths, and generally making Wellington a winner! And that includes: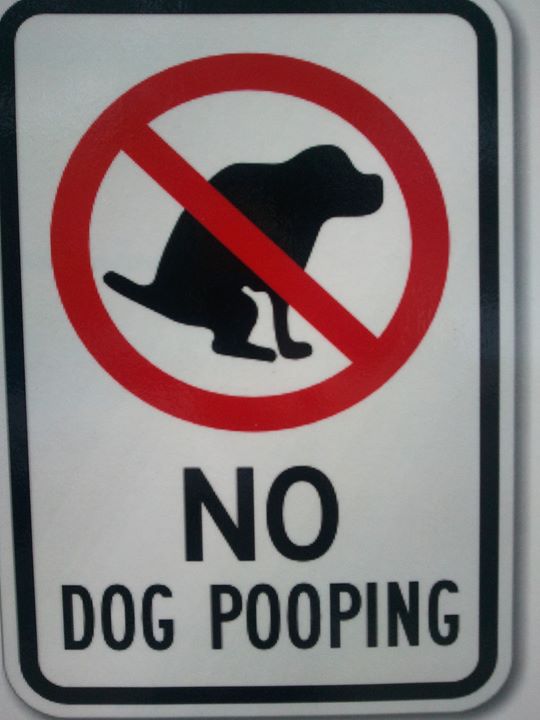 City Centre Masterplan and Access for Everyone
We don't really have a problem here – with us it is more about access THROUGH the city than merely to it. But I'm going to put my oar in here and say: CycleWay and ScooterWay. Needed NOW. Neither of those modes of transport are safe on the roads, but neither are they safe on the foot path. We need an Accessible city for Everyone and all modes of transport.
Northern Busway Extension / Northern Corridor
There are some remarkable similarities in the situation faced by our two cities, but people bussing in from the North is not really one of them. We do have a Northern Corridor project too, called Transmission Gully, which will probably open in November 2020 and cause a major change in the way people get to work. Well, if they get to work by car. If it works well, it is going to cause cars to get to the city faster, and so probably result in less people taking the train (of buses, I'm not so sure). But if it does not work well, then arguably we've just wasted $2 billion… Trouble is, as far as I can see, the road network is unaltered from Linden southwards, and can never get more lanes through at Johnsonville, or Ngauranga, and so the present pinch points will remain – and get worse, with all that extra new TG traffic arriving at the same time. Dare I say it: Things are not going to get better.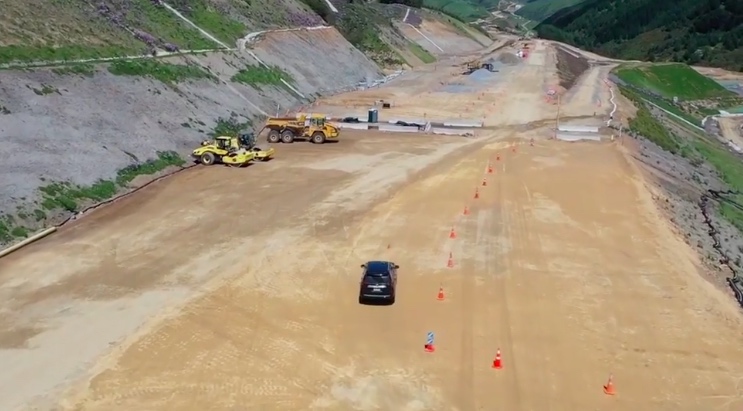 Eastern Busway
While Auckland has / needs a busway out east, where currently cars rule, we have a route East to the land of Miramar, whence lies an Airport and many Weta workers. Sean Rush and his Orc ilk will be barracking for four lanes to the planes for sure: but is anyone here advocating for a busway out east? Is anyone proposing that one of the new lanes through Ruahine St be reserved as a bus lane? No? I thought not. And yet, you just know the truth: that if a bus lane was installed instead of an extra car lane, that would be a better solution.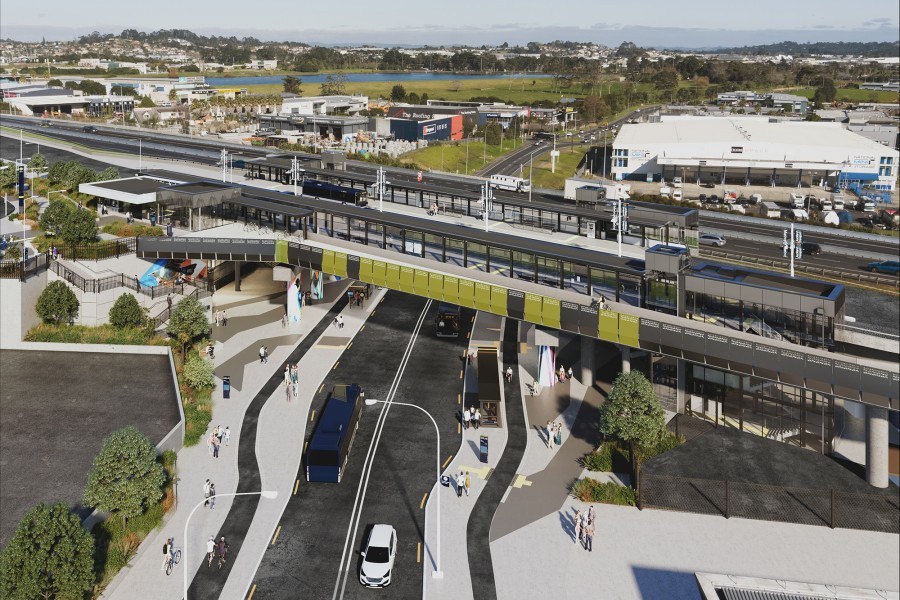 Puhinui Station Upgrade
We have no Puhinui down here, but for those that don't know, Puhinui is a currently nothing-much station south of Auckland, that will be transformed into a major node for catching the bus/train to the airport. I'm predicting that in Wellington, we both need an equivalent as a major node, but we also urgently need a whole lot of station upgrades for our Metlink railway stations throughout the region. Hutt valley: step up, it's your turn.
If we seriously want people to leave their cars behind at home, and commute into Wellington via bus or train, then we need adequate facilities. See that picture above? Yes, it is in Auckland, not Wellington, but that's because this is an Auckland BUS HUB !!! Yeah, that's what I'm talking about. GWRC – are you listening?
SH20B widening
In our case, it's SH 58. The upgrade has started already, but won't be finished by next Christmas. Two years tops. Overdue.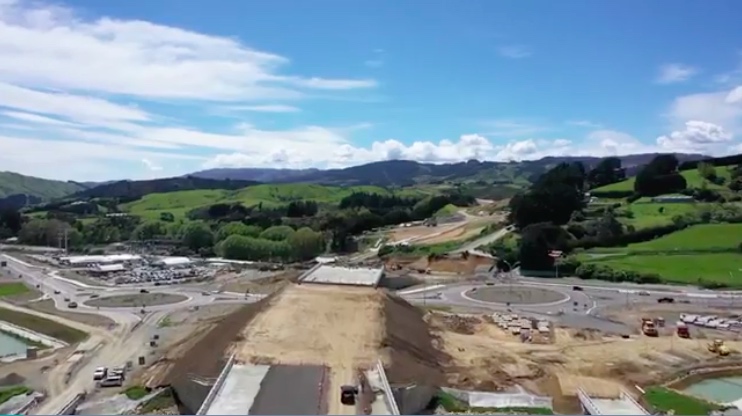 Extra trains
Already onto it, I think. Hasn't GWRC asked for a couple of hundred million for new Hutt tracks, Trentham infrastructure and new Wairarapa trains? Will they get the money in time for next October?
Light Rail
well…. this one is the big question of course. Will we? Won't we? If the Government is being at all sensible, they should order two systems with one common feature: identical Auckland and Wellington trains for a Light Rail system for each city. Please god don't let them order Trackless Trams for Wellington and a proper Light Rail for Auckland – just get the same quality system for each city. We need to be working as a Team NZ, not a disjointed effort. We await the word from LGWM. Actually, we await anything at all from LGWM, who appear once more to be asleep at the wheel. Wake up!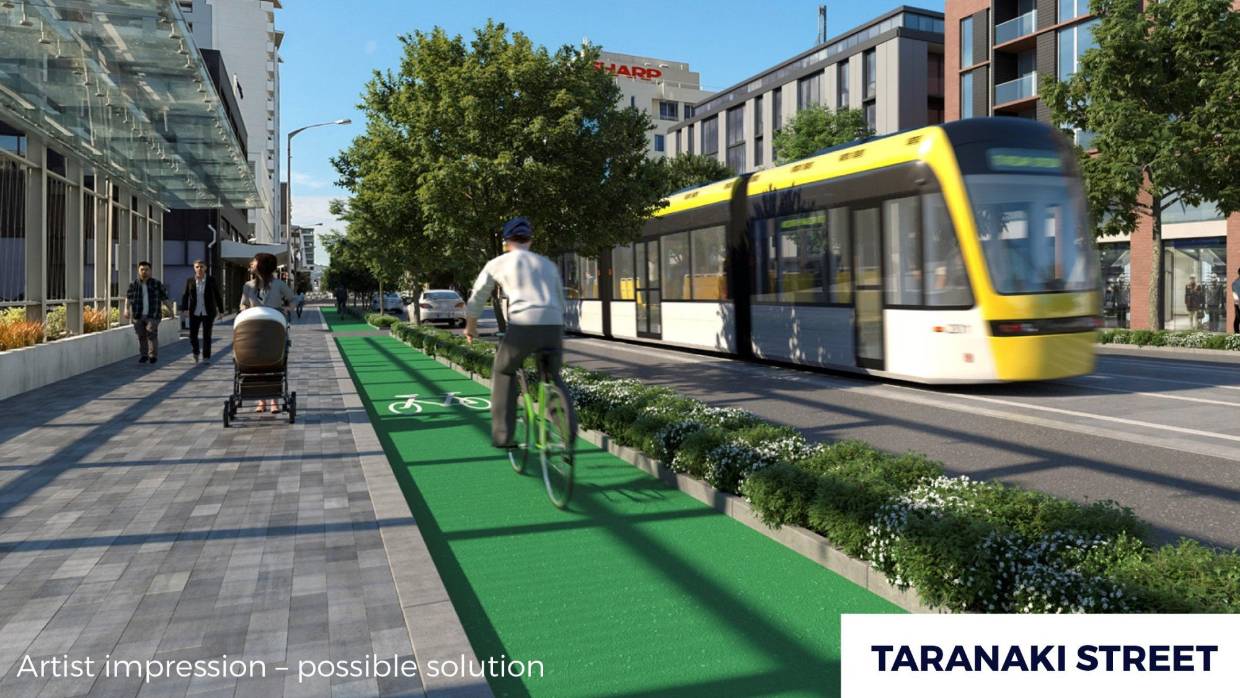 Cycling
Will we ever see Island Bay Cycle Way completed? Who knows – perhaps Vicki Greco will get her way. However, we will soon see the completion of the first stage of a much improved Oriental Bay to Evans Bay cycleway, which is great news. Also, the Cobham Drive cycle path is proceeding at pace – that will be complete this year too, although any bridge across (or traffic lights – arrgh!! No!!!) has yet to be designed / built / even started.
There are a whole lot of other cycle routes to be started too – including connecting far flung flatland suburbs such as Seatoun, Rongotai, Kilbirnie, Berhampore and of course, gulp, Island Bay. I'm picking that new Mayor Andy Foster will lead the way here – he has balls of steel and is not afraid of making the bold decision to say Go, where Wade Brown and Lester faltered before. Clear, unequivocal action is needed on where the cycle routes will be. Road side car parks may get lost. Tough. Onwards!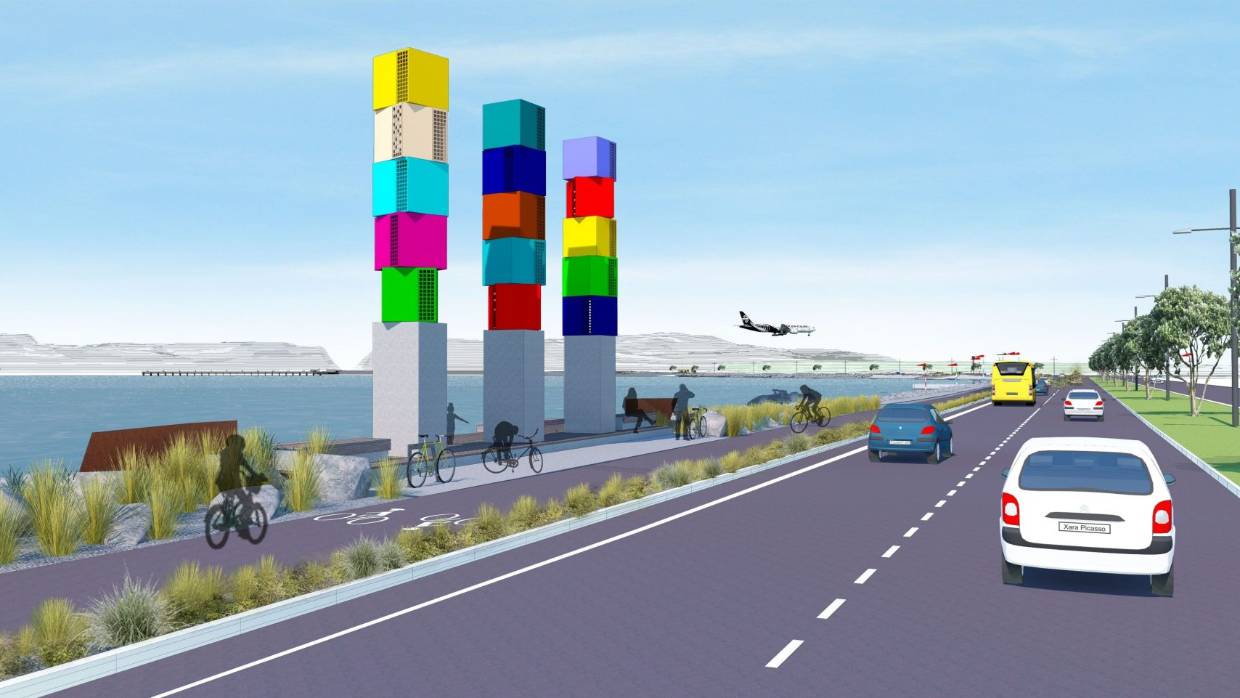 Housing
Where will Wellington expand to in the next decade? Lincolnshire Farm? Porirua? Even further out in the Hutt? Or will it just rely on continuing to accumulate in the central Te Aro / Newtown / CBD areas?
Here at Eye of the Fish world Headquarters, we're picking that new apartment builds are going nowhere, until the gross insurance fraud is resolved and people can live in an apartment in Wellington without getting gouged for dosh over exorbitant insurance costs.
Climate Change
Wellington has declared an emergency in this area, so perhaps we better start doing something about this. Or was it all just cynical spin? 405 ppm and still rising…. Australia is on fire. It's here already.
CCO Review
As far as I am aware, this is not something that was posted as being a big issue down here – but it is a good idea none-the-less. I'd suggest for starters that the basics are looked at first: Waste Water, Fresh Water, Storm Water. The collapse of the sewer over Christmas and pouring of raw sewerage straight into out main harbour is a shockingly bad event to have happened. Management of the 3 Waters needs a good hard look.
Hamilton trains
An equivalent of trains to Hamilton up there, might be trains to Palmerston down here. Much as I would like them to continue to electrify the Main Trunk Line from Waikanae north to Palmerston (only 90-odd kilometres) it seems that this is unlikely. So: I'm not holding my breath on this one.
Infrastructure spendup
Guaranteed: for reasons why, see below. But also see above i.e. 3 Waters. It is clear that Wellington remains on a knife edge when it comes to the dreaded question of earthquakes. All our aged infrastructure below the ground is suspect – cracked, leaking, oozing, collapsing. There is a lot to be done – a lot of money to be spent under the ground, let alone the continuation of strengthening work above ground. Time to get the money on the table and for Andy Foster to discuss this publicly: we need to invest in the future of the city.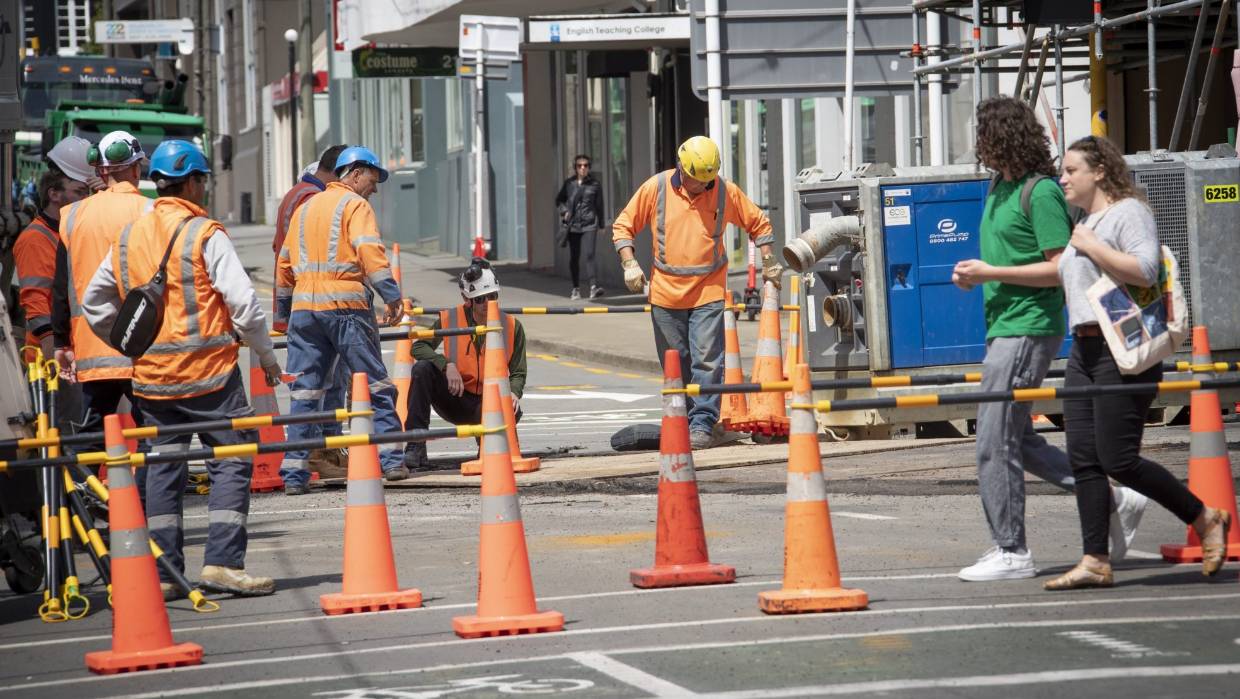 Elections
Expect the focus of the year to be all around the two main parties squabbling over who will run NZ better: witness Simon Bridges's attempts to ingratiate himself with the electorate by promising tired old National stalwarts like: more prisons, more roads, more police, less drugs, less pandering to the greenies, less RMA, less PC language and more plain talking like wot we used to. The farmers who vote for National love that kind of shit.
On a more cerebral level, we could have a discussion on how we want the future of our country to unfold. What sort of a country do we want to really live in? More immigration? More communities? More housing?
One thing is for certain: more MMP in our political system. Labour can't (and shouldn't) govern alone. National can't (and shouldn't) govern alone. We need the Greens and we need NZ First and we need more than just David Seymour. We'll get a new version of the Christian nutty party, like the Conservatives, or Family First, or Destiny Church, but we might also get a right wing neo fascist party uprising from Christchurch and Dunedin, if they have the balls to put their heads above the parapets.
We NEED alternatives to the two main parties who have grown together to be so similar in policies, although miles apart in leadership (my obvious prediction: Simon Bridges will lose the next election and get replaced by someone else – hopefully neither Judith Collins who is just a spiteful little troll, and not Luxton either, as he doesn't have the political experience to lead a paper bag out of the pantry, let alone lead a country). So who do we have on the horizon? NZ First? TOP ! Are they the answer to our prayers for more thoughtful discussion on politics? Geoff? Do you hear me? Winston?!