Following on from Transportblog's farewell to their outgoing Mayor Len Brown, it seems only appropriate that the Eye of the Fish take a similar lead and post a farewell to Celia Wade-Brown, who has also exiled herself to the ether. Unlike Auckland, where it seems almost certain that they know who they will get next as Mayor (soto voce goff goff), here in the capital we are less sure. Will it be Lester or will it be Leggett? Might it be Coughlan, or could it be Young? It's unlikely to be Foster or Ritchie it seems, despite the years of practice they have both had within Council, and sadly, my personal favourite, Keith Johnson, seems unlikely to feature. I'm guessing that the roads lobby will all vote for Go Jo, as well as people who are impressed that she has the intellectual dullard Bill English as a brother-in-law. Personally, that's something I would be more ashamed about than wanting to crow about. I also have to say that honestly, I am yet to hear a single person in a car toot at a sign that says "Toot for a second Tunnel". Not one. As well, needless to say, no pedestrians appear to be tooting for Jo either.



Moving on.



Which is exactly what Celia is doing. I like Celia. She has been a pleasant Mayor, more friendly and approachable than Kerry was, but Kerry was always personally affable to me, and seems to have done well since not being the Mayor any more. Kerry left a legacy of the rebirth of the waterfront, the birth of the Wharewaka, and a few other new buildings, but dare I say it: nothing much of significance, really? Please remind me if I have forgotten.



So what is Celia's legacy? I think when she was voted in (by a cat's whisker), we all thought we knew what to expect: cycle-lanes for Africa, and a ram-rodding through of a Light Rail system whether we wanted it or not. Certainly that is what Len Brown has achieved for Auckland – commitment towards the Central Rail Link, and actual money for it from Government, and actual physical starting on site! Extraordinary. The man is not exactly a visionary, but give the dog a bone and he makes a damn good terrier, not letting go of that particularly juicy CRL-bonio until it is firmly underway. I wanted – and expected – the same from Celia WB. But no. Tactically, she is just too darn nice – she waits for others to have their say, allows them airtime, and believes in democracy, when what was needed on issues here was in fact a benign dictatorship. This equates to a fail mark in actually getting things done.



Point One: Cycle way from Tawa to Porirua. That was the cycle way from her first 3 years of office, and I have yet to meet anyone, whether from Tawa or Porirua, or from closer to home, who has even cycled it – or even so much as seen it. Anyone? Anyone? Beuller? Anyone?



Nada. Nothing. Zip. Zilch.



Point Two: Cycle way from Island Bay. The cock-up from hell, but only because she didn't slap down Paul Eagle, who, big and cumbersome as he is, needed to be taught a lesson in manners. Rule One: don't call it a personal bedroom to boardroom cycleway, which he knows is far from the truth. CWB deliberately took a very back seat on this route, as she knew she would get hammered for just that perception – too back seat as it turned out. Nicola Young's extreme bitchiness came out to the forefront, and she teamed up with Eagle, and listened to the mad Vicki Greco about how the cycle way was going to be the death of civilisation as we know it. Wrong wrong wrong. If they just finished it, instead of leaving it half arsed, it would be fine.



Point Three: Light Rail. Yes sir, Celia truly dropped the ball there. Commissioning a report into Light Rail: good. Getting Price Waterhouse Cooper to write the report: priceless.



What the FUCK were you doing ? Who are they? A bunch of accountants. What do they know about money? Everything. What do they know about Light Rail? Absolutely bugger all. Of course they bagged it – because their report was wrong, and deliberately hobbled, by insisting that Bus Rapid Transit could share a tunnel with cars (doh! Not going to be very rapid then, is it?!?!?) but that Trams / Light Rail would have to have their own tunnel, at a cost of minimum $300 million. Well blow me down with a feather, if you stack the books like that, then of course the figures will come out saying Light Rail is unaffordable. You walked right into that one Celia, and the rest of us all have to suffer, till the end of time, in the freezing cold, without a proper rapid transit system. On yer bike!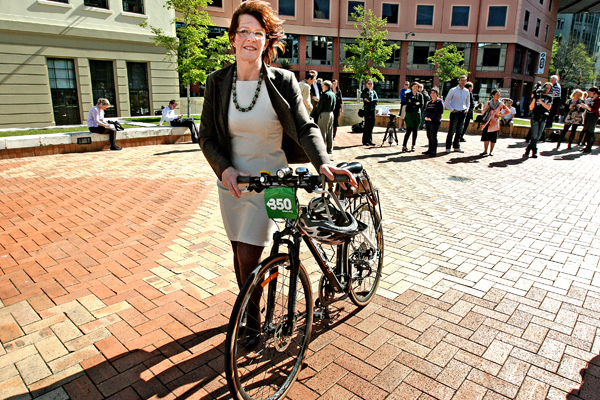 Overall then, we have had some achievements. But leadership, and most importantly, leadership of Wellington Council (which, with the motley bunch of misbehaved idiots in Council, is difficult without using a bull-whip to get them to behave – Ritchie, SIT DOWN !) was lacking. Wellington meeds a stronger leader – who's it gonna be? Who you gonna call ?