Despite our continued lack of a certified Mayor (recount? what recount?) the really big story this week continues to be the 2040 announcement by Wellington Airport that they want to expand. Not just expand the length of the runway, but expand the parking for planes, expand the retail, expand the terminal(s) and expand their scope. They're also going to expand into the golf course, expand into the Rongotai retail park they've just built, and expand into the surrounding Miramar residential area as well. All of which they own, so are entitled to claim back, but this is just to point out that this is indeed a Pretty Big Deal. Wellington 2040 indeed.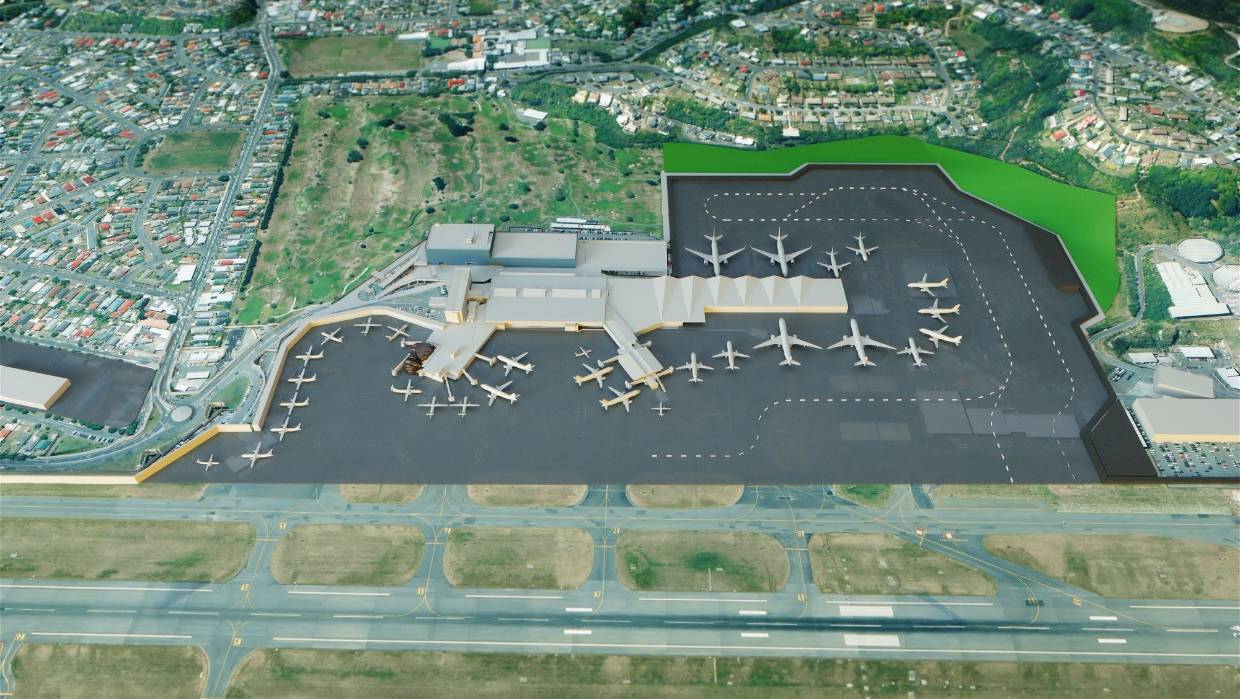 We're probably going to need to cover this in several posts over the coming days/weeks, but let's start at the very beginning: not the Airport itself, but how you get there. Yes, that old chestnut again. Here's what the Airport have to say from their 2040 Masterplan:
"As the airport grows, we will work with our key utility and transport providers to ensure their capacity matches the requirements of a growing airport, and in instances of shared services, a growing community.
"Our plans mean that many existing utilities will end up in areas used for aircraft operations and will be difficult to access for maintenance and future renewal. To address this, we propose relocating the key telecommunications, power, gas, sewer, waste and potable water services to a specially designed corridor, that preserves access and builds resilience as the airport develops.
"Future development will also address risks from the effect of climate change, including the capacity of our stormwater network and sea walls. As we grow, the continued safe and efficient land transport access to and from the airport is fundamental to the customer experience and business and visitor growth.
"Despite growing traffic volumes in the eastern suburbs, there has been no increase in the corridor and roading capacity on State Highway 1 between the airport and Wellington CBD. This has led to a lack of reliability and an increase in travel times to and from the airport.
"Wellington Airport can and will accommodate any mode of future public transport. Let's Get Wellington Moving (LGWM), a joint initiative between WCC, Greater Wellington Regional Council and the NZ Transport Agency, is working towards improving traffic congestion and unreliable journey times, seeking to improve service levels, encouraging cycling and walking and limiting the impact of disruptions."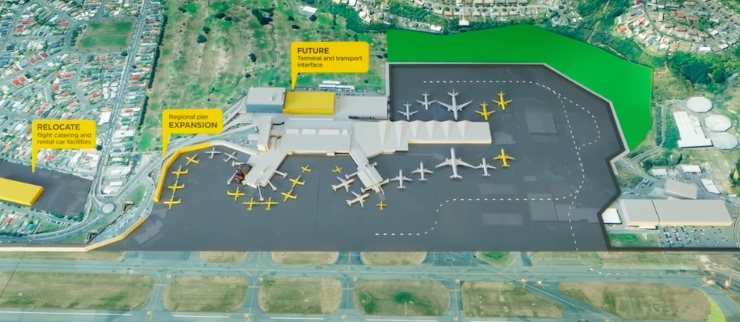 There's a lot in there that is left unsaid, but the important parts are "the continued safe and efficient land transport access to and from the airport is fundamental" and "can and will accommodate any mode of future public transport". That's been carefully worded to give the appearance that they don't care if people arrive by car, bus, train or bicycle, but this is a crucial question given that they want to double passenger numbers from 6 million to 12 million. Clearly the big ugly car parking building (too expensive to park in) makes some sense now, in terms of wanting to go up, and avoid going out – the long flat car park deck is going to go and be more terminal, or, as WIAL put it: Future Terminal and Transport Interface (above).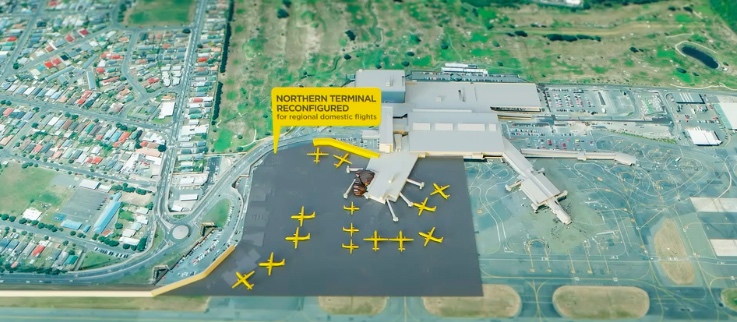 I'd say that also, clearly, continued servicing of and access to the airport by individuals in cars simply can't continue like it does at the moment: nor can we cater to double the numbers by putting them all in taxis as we do now. This expansion plan, surely, calls for an integrated public transport plan to be designed in as well: either buses or light rail. I'm strongly hopeful that the Transport Interface as they put it, will be a centrepiece of the design of the new Airport.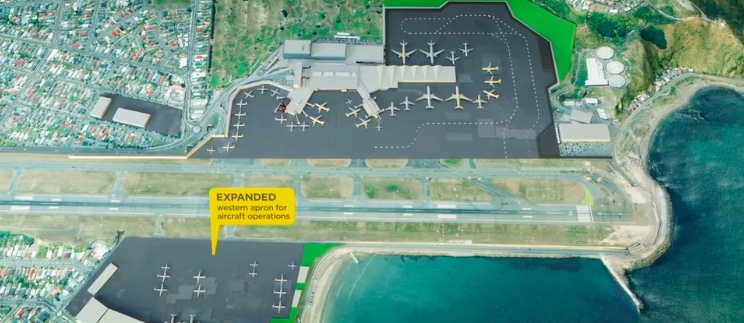 As WIAL point out, Wellington Airport is unique in the world for being so close to the CBD as well as having almost no land to build on. So they are going to have to expand out to the West (above) where currently there is a big box bulk barn for various retail shops, as well as expand South and East, into the current Golf Course and seemingly obliterating the Loop road through the terminal. Early days yet, obviously, but that is going to piss off a lot of people – both for not being able to take a shortcut through the airport on the way to the beach, but also because that extended apron will not just displace golfers (not a big issue to me) but also bring the noise closer to the neighbouring suburbs (increased noise complaints).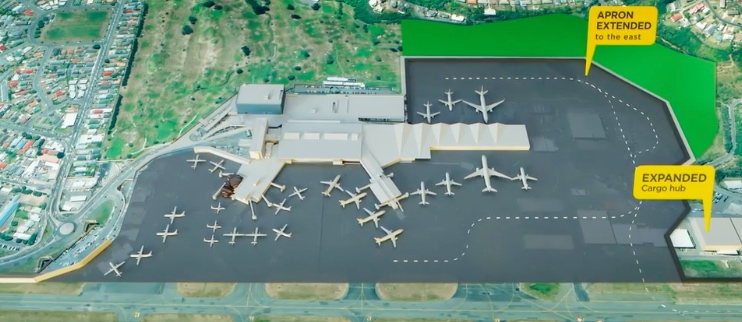 The big drawcard for the expansion will be the eventual switching of the International Terminal from "the Rock" to a potentially much bigger terminal to the south – allowing for all this much trumpeted but rarely yet seen influx of new airlines flying new routes internationally: widely meaning more Indian and Chinese tourists to flood in. Be careful what you wish for Wellington… overseas, cities that are too popular are now trying to put caps on their tourist numbers, to preserve what is left of their own lives once the tourist onslaught changes everything.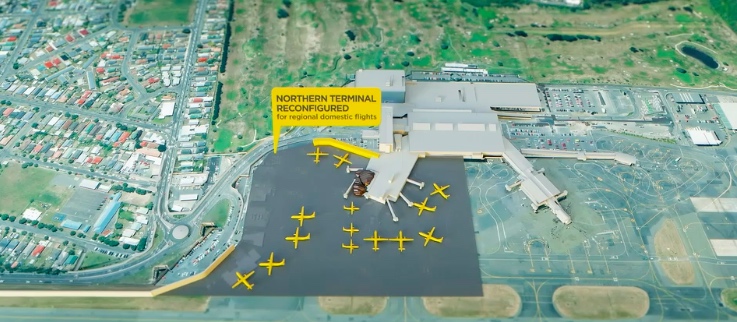 One question remains for me at the moment: who is the Masterplanner of all this? Is it one of the existing / former architects working at the Airport? Is it WAM? or SPA? or CCM? or ArcHaus? or maybe BECA? or even Isthmus? Or someone new? Any ideas?