Of late, you may have heard murmerings about whether Wellington should have "Trackless Trams" or "Light Rail". This is a complex subject and certainly one in which none of us – none at all – are qualified to talk about, let alone make a decision on. Luckily, this is not a decision which needs to be made just yet, although soon would be a good idea.
But just in case – Justin case – i think that people should read this news item out of the latest issue I have of Trams and Urban Tramways, a magazine of which I confess I have a strong interest in sporadic buying (certainly makes a step up from Tunnels and Tunnelling Monthly which I used to read, and yes, you will notice that people into Public Transport are passionate about their subject. Well, most forms of Public Transport. There is, as far as I know, no magazine called Buses and Bendy Buses, nor a volume of Trackless Trams across the world. That's either because no one is interested in reading about them, or because they don't exist).
But in TAUT (do keep up: Trams and Urban Tramways) there has never yet been any information about the so-called "Trackless Trams" being touted by various people to the Council. Until now that is. In the latest issue of TAUT there is a small article: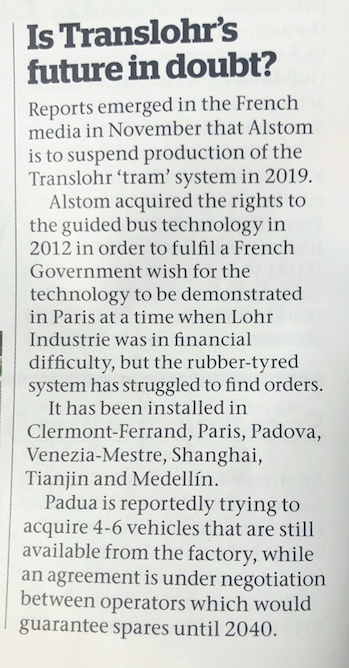 Is Translohr's future in doubt?
"Reports emerged in the French media in November that Alstom is to suspend production of the Translohr 'tram' system in 2019. Alstom acquired the rights to the guided bus technology in 2012 in order to fulfil a French Government wish for the technology to be demonstrated in Paris at a time when Lohr Industrie was in financial difficulty, but the rubber-tyred system has struggled to find orders. It has been installed in Clermont-Ferrand, Paris, Padova, Venezia-Metre, Shanghai, Tianjin and Medellin. Padua is reportedly trying to acquire 4-6 vehicles that are still available from the factory, while an agreement is under negotiation between operators which would guarantee spares until 2040."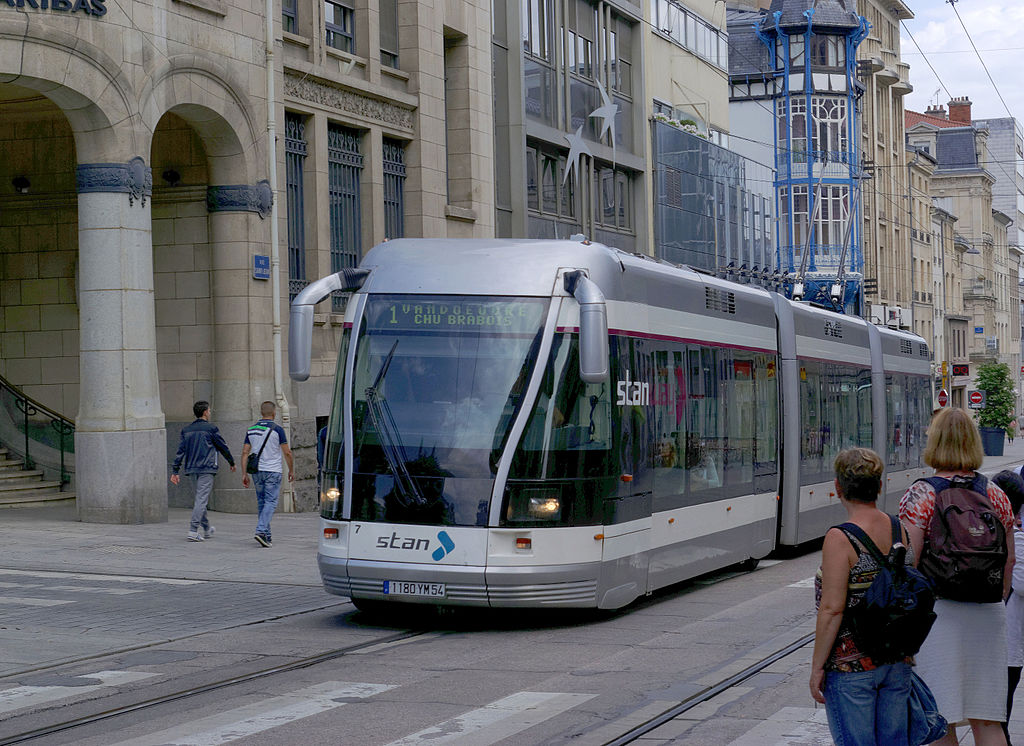 So I just thought I would check up on what exactly Translohr does, and so went to Wikipedia, where I found this choice little snippet about Translohr, under a heading Criticism:

"The Translohr system is more expensive than conventional trams or light rail systems, with higher building and operating costs.[citation needed] The 14 km (8.7 mi) Châtillon–Viroflay Line in Paris cost €27.4m per km, including infrastructure, improvements of the right-of-way, and the purchase of 28 STE6 vehicles.[4] In addition, due to the tyres constantly running over the same area of road, there is significant erosion of the roadway; this has already happened with Bombardier Guided Light Transit transit system, resulting in extensive repairs at significant cost to the operator. This adds to already high running costs. Ride quality is also said to be poor and is not much of an improvement over a standard bus[5] due to the four-wheeled design, whereas trams have trucks (bogies) with shock absorbers or springs.[citation needed]
The Translohr system has also suffered some derailments. The Tianjin system suffered a derailment on 20 August 2007, three months after its inauguration.[6] There were five derailments on Padua's new installation in 2007 before its inauguration,[7] and one on 22 April 2010[8] due to a misaligned switch.[9]
Critics of the system also point out that, unlike a conventional tramway, Translohr is a proprietary system, meaning that once it is installed, a city would face difficulties in buying vehicles from any manufacturer other than Lohr Industrie.[7][10] A standard tramway, on the other hand, can easily accommodate vehicles from multiple suppliers; Strasbourg, for example, chose the Citadis tram from Alstom in 2005 to supplement its existing Bombardier Eurotram fleet."
Translohr is not the only trackless tram system of course – there is another, made by Bombardier:
Guided Light Transit (GLT, French: Transport sur Voie Réservée or TVR) is the name of guided bus technology and associated infrastructure designed and manufactured by Bombardier Transportation. It has been installed in two French cities: Nancy and Caen. As of 2018, only the Nancy system is in operation; the Caen system has been abandoned and will be rebuilt as a conventional tramway by 2019.[1]
Both of the systems in these cities are referred to as "tramways on tyres", and in common with tram systems they use a surface guidance system and in normal operation are powered by electricity drawn from an overhead wire. However, while the vehicles are guided by a central guidance rail, they ride on rubber tyres, not on rails.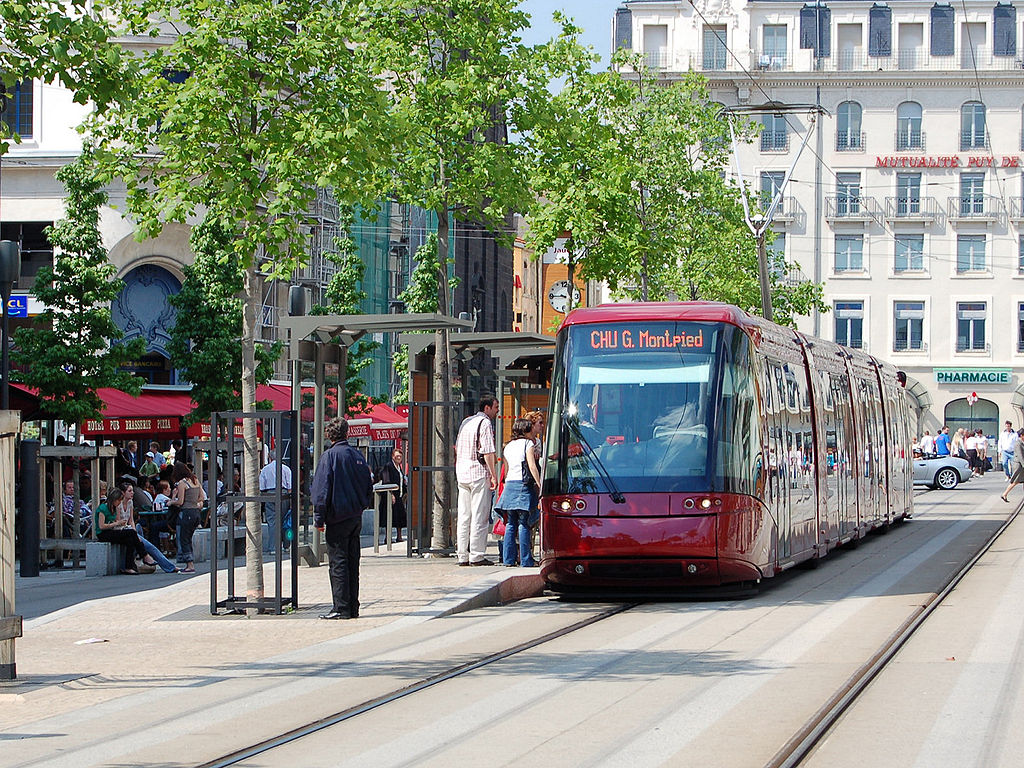 There are also likely to be systems from other manufacturers, probably in China, but what is evident from those two examples above, is that trackless trams are certainly not the "silver bullet" to solving public transport that their supporters claim they are, and indeed, they may just be an expensive waste of time and money. Supporters of trackless tram technology have been over telling our hapless Mayor that trackless trams could be one tenth of the cost of Light Rail – it would seem that this claim is simply total bullshit.
Of the two systems shown, made by Alstom and Bombardier, two of the world's most experienced and prolific tram-makers, it looks as though both of them have given up making the "trackless tram" and are, in effect, walking away from the technology. Makes you wonder therefore – why would anyone ever bother to go down that route ?