It's good to see some major new development being proposed for Porirua. The Whitby Newsbrief reports that a major new development is being proposed for the railway station in Porirua – heaven only knows that something good really deserves to happen here.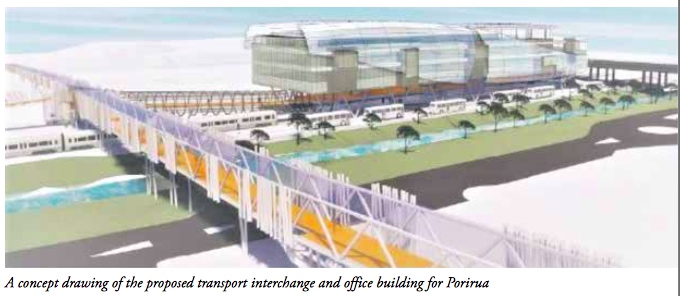 The article at the Whitby Newsbrief gives a lot of information about the proposal although I'm still not 100% sure how it all fits in with the existing station – which is a bit of a desert at present. The image above is all that I can find – showing a substantial building proposed above the current train station and new pedestrian / cycling bridges that spans across the Porirua Stream, the carpark and the bus station. Perhaps even the motorway? If anyone has further information on this and would like to get wider coverage for this project, please email to contact @ eyeofthefish.org I would love to see more about this proposal.
The proposal was presented to the PCC's Te Puna Korero meeting at the Council in February:
A new building development is under consideration for the land at Porirua Railway station, providing a new rail station, improved trans- port interchange facilities, secure car parking, two floors of high quality office accommodation for Government departments, and a conference, garden and amenities level.
Local architectural practice Custance Associates, headed by John Custance of Pauatahanui, has been developing the concept of a new building, providing Grade A office space as an option for Government's future resilience and accommodation needs.
"The proposal is a new 10,000 sqm office facility combined with the redevelopment of Porirua's transport hub with improved amenities and connectivity,"
"Once inside, pedestrian and bicycle friendly escalators, stairs and lifts from the ground level platform, concourse and bridges connect at varying points to provide flexibility for access and resilience,"
Te Putorino would be an innovative and sustainable new office facility. The office levels are base isolated allowing the building to achieve a resilience of 100% of importance at level 3 (IL3). This performance provides a significant increase above 100% of IL2 (office standard), future proofing against seismic building code changes and provides much greater resilience against significant events.
Te Putorino offers three floors of office and associated facilities. There are two main office floors on level 2 and 3 that each offer about 3,500 sqm per floor of usable area, whilst the upper 4th level provides conference fa- cilities, and a large social hub with a garden for staff recreation, gathering, eating, and community support events.
Vehicle parking is located on the eastern side of the building in the same area as the train station parking. Dedicated secure parking is easily achievable over two levels for vehicles, and the elevated access routes allow for bicycle transport so bicycle parks can be located within the building or nearby.