The Fish has been casting a glassy fish Eye over some of the recently proposed new apartment buildings in Wellington, and likes what it sees. We haven't reviewed new apartment buildings for a while now – to be frank, I thought they were on their way out due to insurance issues – but there have been a number of new builds over the last year.
Elizabeth – New apartment building on corner of Kent Tce and Elizabeth St. This is a great new building – cleverly sited, being on a north and west facing corner with a wide boulevard in front, this is one site that will never get built out. The site has been sitting empty for ages and its a wonder it hasn't been built on before – but this looks to be a quality development and constructed with very little fuss. Seven floors of apartments, possibly by Novak and Middleton, with only 26 apartments, well planned and relatively roomy. It is a good looking scheme, probably really pissing off the folk in Quinovic House behind them who are now without a north-facing facade…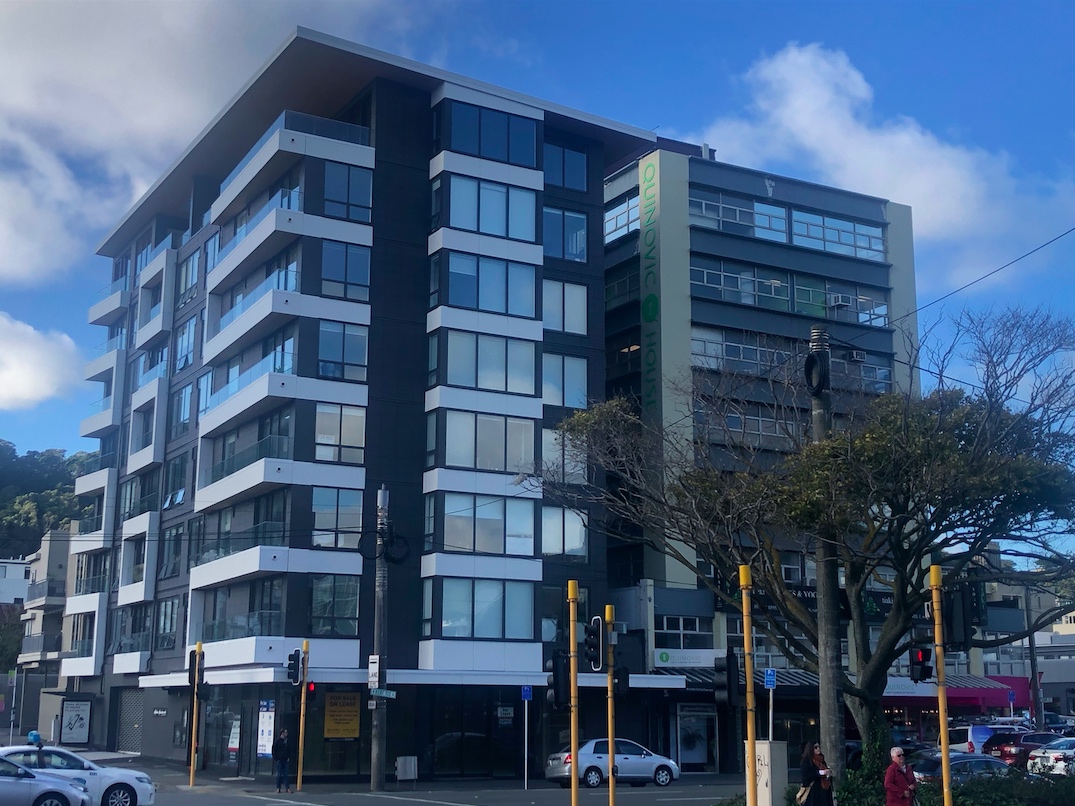 Roxburgh – new art deco style apartment building on corner of Marjoribanks St and Roxburgh St. This one intrigues me, as no-one has really been doing deco since the 30s, but here Solari Architects have created a sophisticated-looking simulacrum of a fully deco apartment block, with 30 apartments over 4 floors and a ground floor full of retail. Just what the edge of town needs, and it fits in well with several other deco-era buildings in the nearby area. We probably need a whole lot more new developments like this in places like Mt Vic.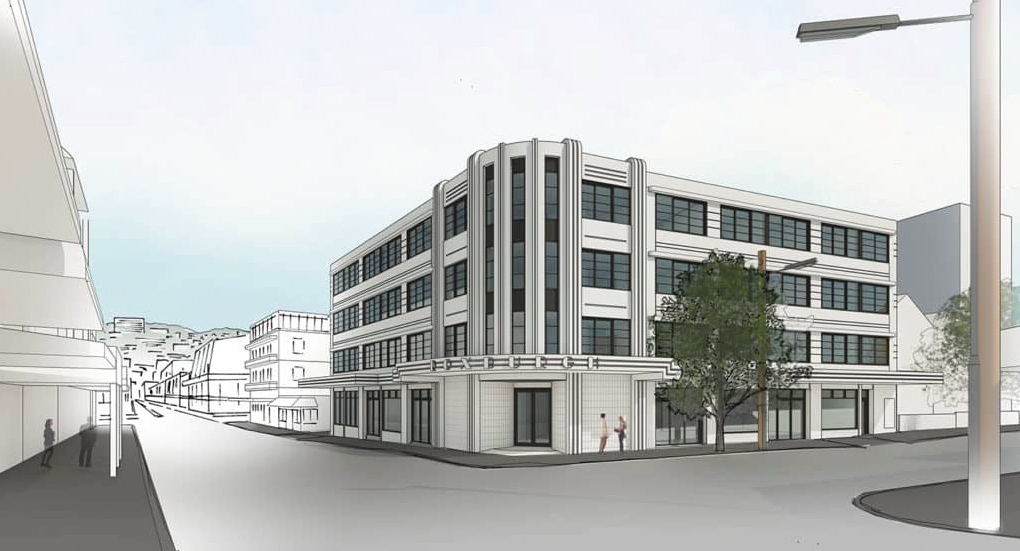 111 DXN – Dixon St apartment building. Arrow's last stand before they went under, the wraps have finally come off and we can see the building from all sides. It's a big building – 16 floors I think, and over 270 modular bathrooms delivered, so there is a whole lot of people going to be living there. The semi-random placement of what looks like balconies is odd, obviously not everyone gets a balcony, but the balcony mainly wraps around over a blank external wall. Not sure who would want to sit out on that skinny space? Architect was ArcHaus, so they must be pretty pleased with themselves. The constricted site must have made it a real handful to build, but the rumour is that another build is going to take place directly opposite very shortly, so upper Dixon St is obviously a popular location. Not sure who the architects are for the site opposite though, but my hunch is: probably ArcHaus as well.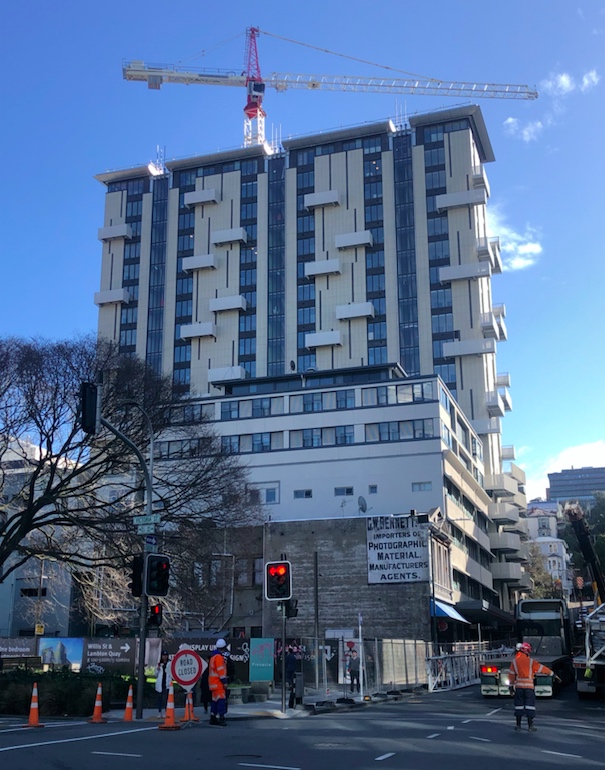 Victoria St apartments – there are a whole number of new developments along Victoria St which is a vindication of the WCC's realigning of Victoria St a few years back. On one side of the road is three new buildings by Stratum Developments, which means that the architect must be Architecture + Two of them are complete and one new building is just starting on the site of the old Warehouse Stationary building. I can't say that they are pretty – the dark grey/brown terracotta tile cladding is very flat and unexciting, but at least the balconies are in the right place and usable by the residents inside.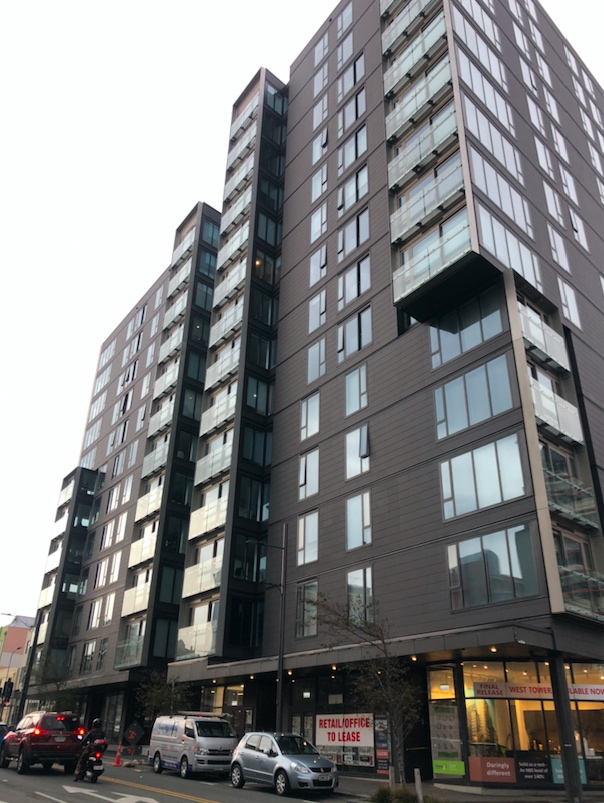 Monark – proposed apartment building on Adelaide Road. This one is interesting to me for so many reasons – firstly because it is, at long last, the start to the much talked about Adelaide Road public transport spine residential intensification. Wellington has literally been waiting for years for action down this street – and Monark is looking like a decent quality response which is good. The developer is the Wellington Company which means Ian Cassells – not sure who the architect and engineer are.


Secondly, it is being marketed as a KiwiBuild building and apparently has had the best KiwiBuild response in the entire country – vastly over-subscribed. That's really good news – although when I heard the other day that there were going to be 92 apartments, I realised that some of these were going to be very, very small (about 18 units per floor). But the site is a clever one – right on the Light Rail route (I'm still hopeful) – and fresh air on three sides as King St wraps right around the building. No wonder it has sold out.