Following on from the look at the Lambton Quay end and the Courtenay Place completion of the Golden Mile, it's worth also looking at the Options for the middle. They're not so exciting as either end, mainly because the streets are narrow and there is not that much room to move. None the less, its time to look at Manners and Willis.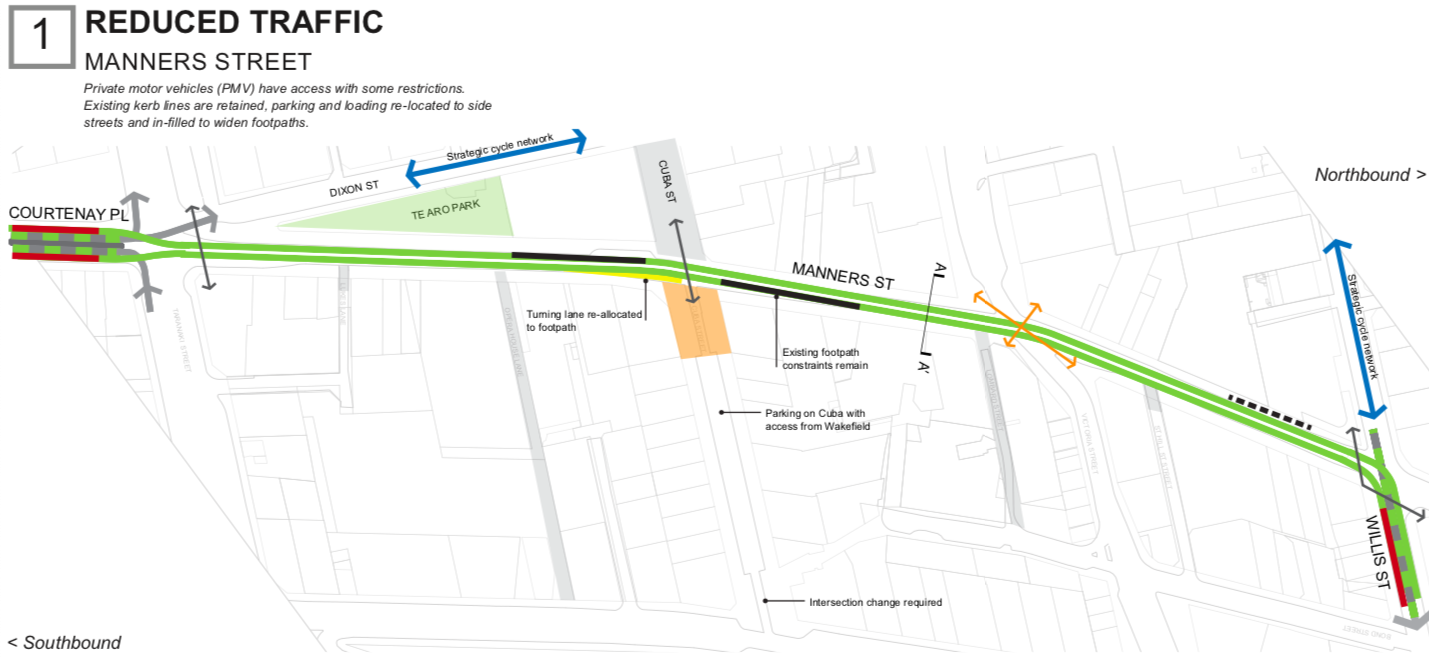 Option 1 – Reduced Traffic at Manners Street is not a whole lot different from what is there at present, except for the closing off of Cuba Street from Manners St – it is proposed to revert back to entry (car parking only) from Wakefield. Honestly, I don't know why they bother. Just pedestrianise the whole thing. Go on, do it.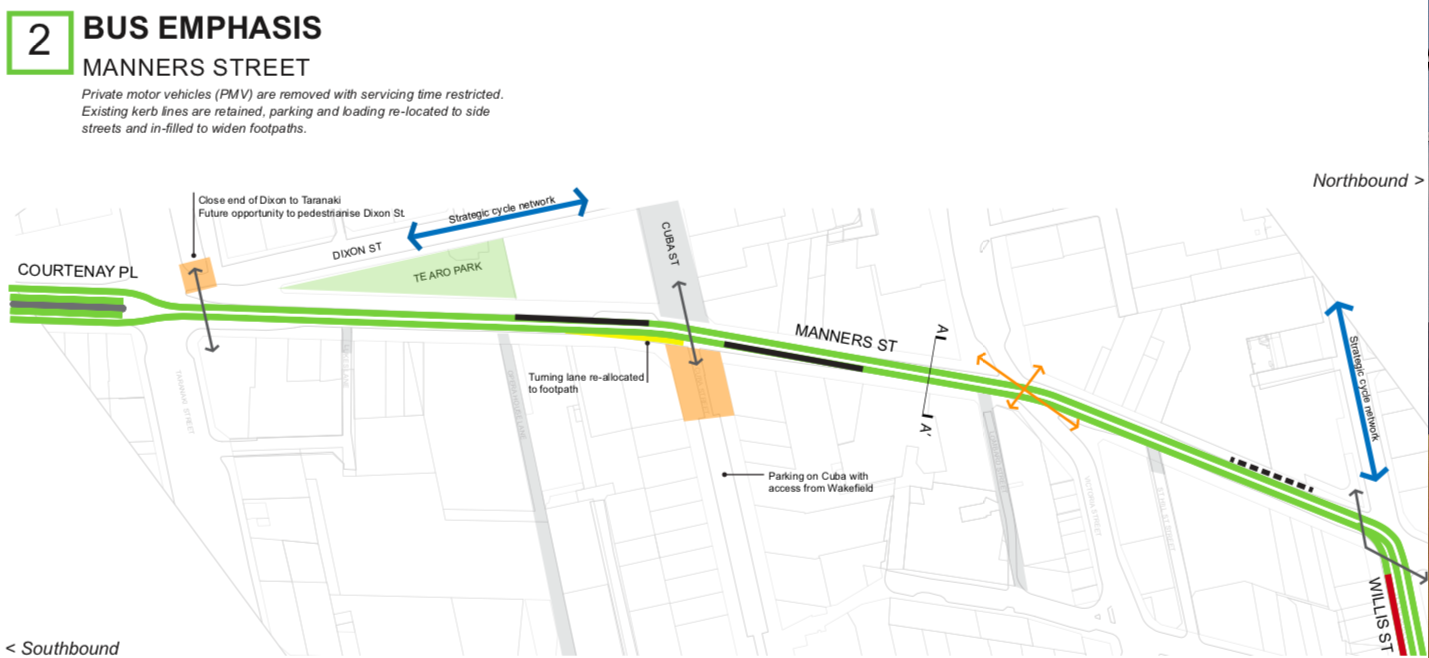 Option 2 – Bus Emphasis at Manners – much the same really. As noted in the previous post, the junction at Taranaki Street has been simplified greatly.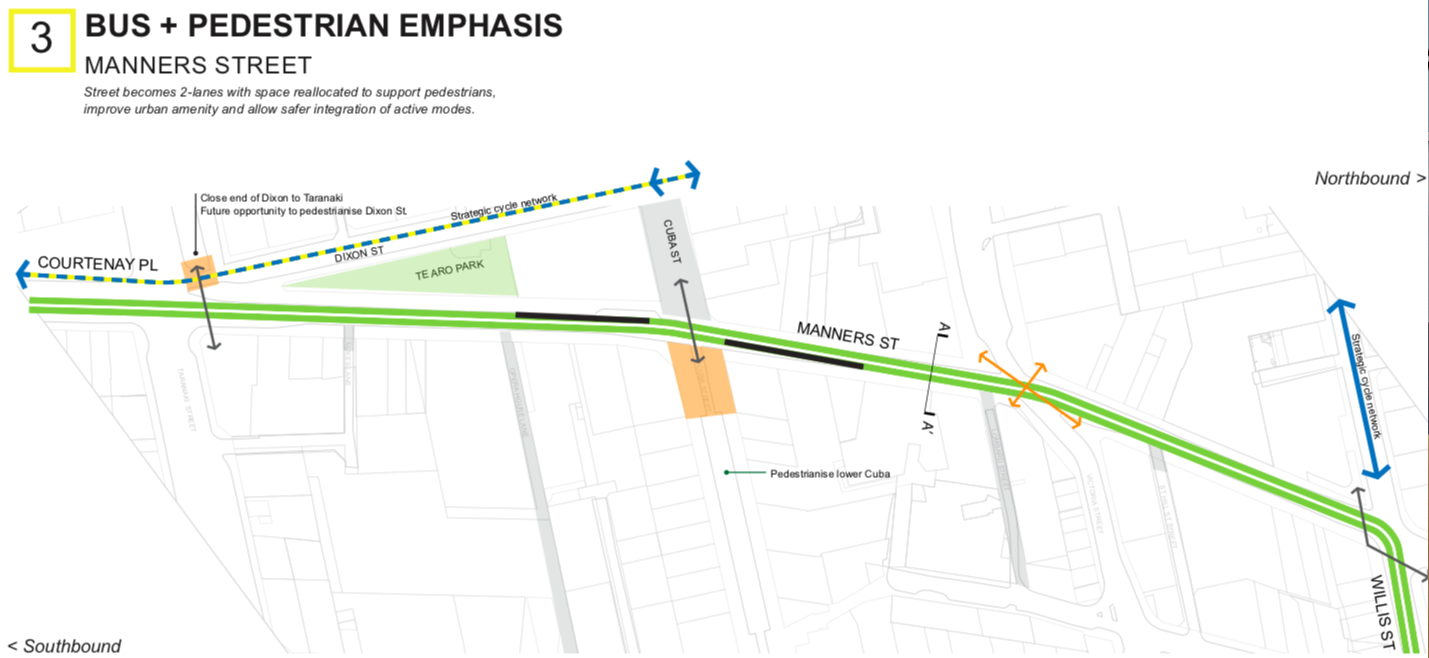 Option 3 – Bus and Pedestrian Emphasis on Manners Street makes it clear that Dixon Street really closed off to all traffic except bikes. It also goes the extra step and finally proposes fully pedestrianising Lower Cuba Street. Great! Option 3 gets my vote for that move alone. One thing though, in both this one and the one before – where does the traffic coming down Willis Street go to?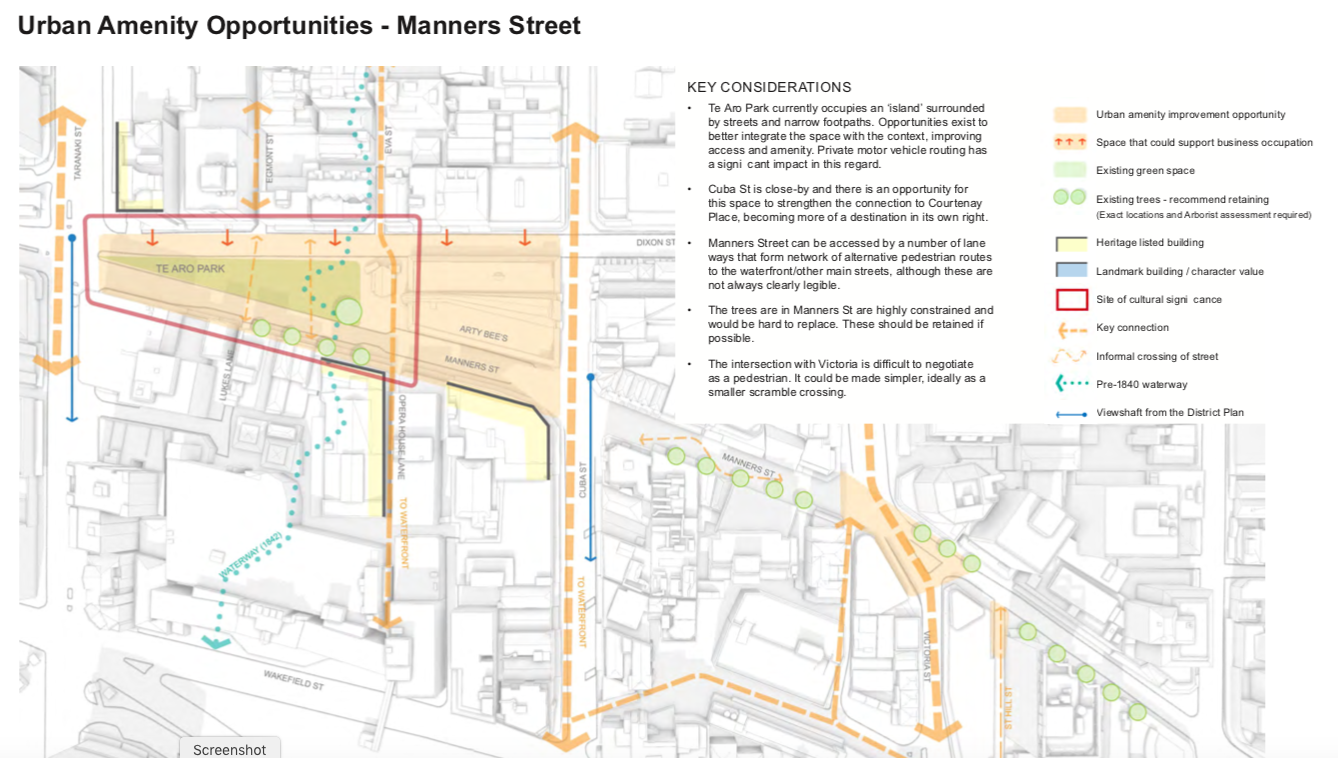 The design team have also come up with this diagram which is quite helpful to understand how the benefits and urban design opportunities can work.
Now: onto the last remaining part: Willis Street.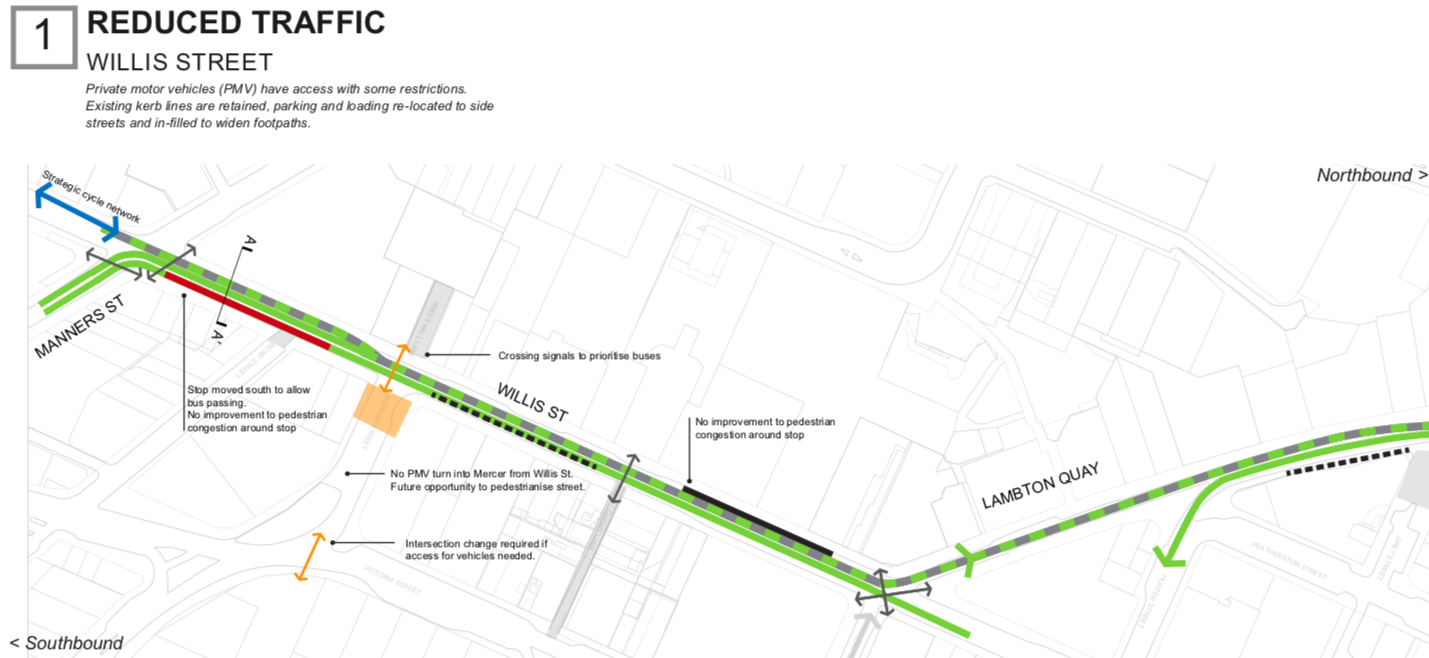 Option 1 – Reduced Traffic on Willis Street allows some vehicle traffic to mix with the bus lanes going north (the green and grey dashed line) and this traffic then gets pushed down Lambton Quay. Its the silliest of the schemes for that reason and should be shelved forthwith. It also blocks off Mercer Street, with those stupid bloody Uber drivers and taxis continually blocking the road there. Move on!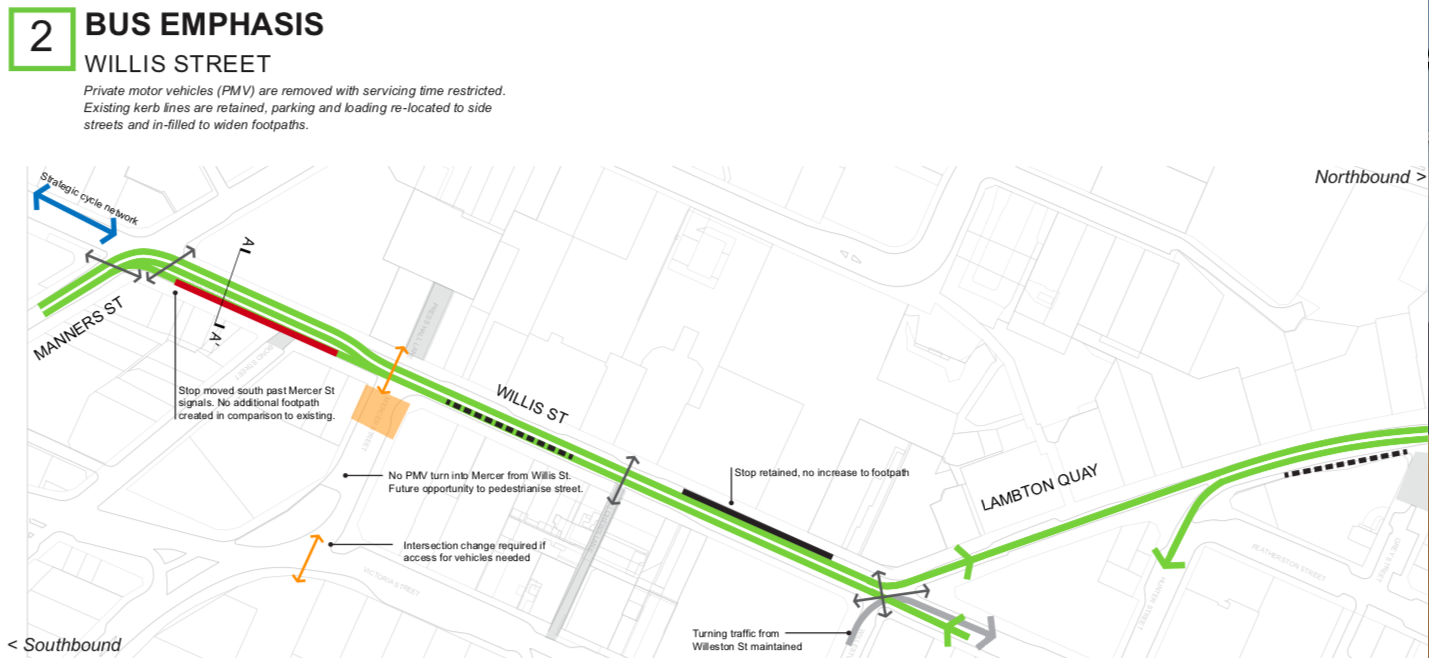 Option 2 – Bus Emphasis on Willis Street removes the cars from Willis Street altogether (hooray!) and proposes to move the world's most popular bus-stop from outside Unity Books, a bit further south to near the end of Bond Street, which would free up the bunching of buses that occurs outside Unity. I was there just last night – about 40 people waiting – and then I kid you not, 6 buses turned up together. Mayhem. Solving this point would alone speed up much of Wellington's traffic. Much as I would miss standing outside Unity reading their window display, it needs to happen.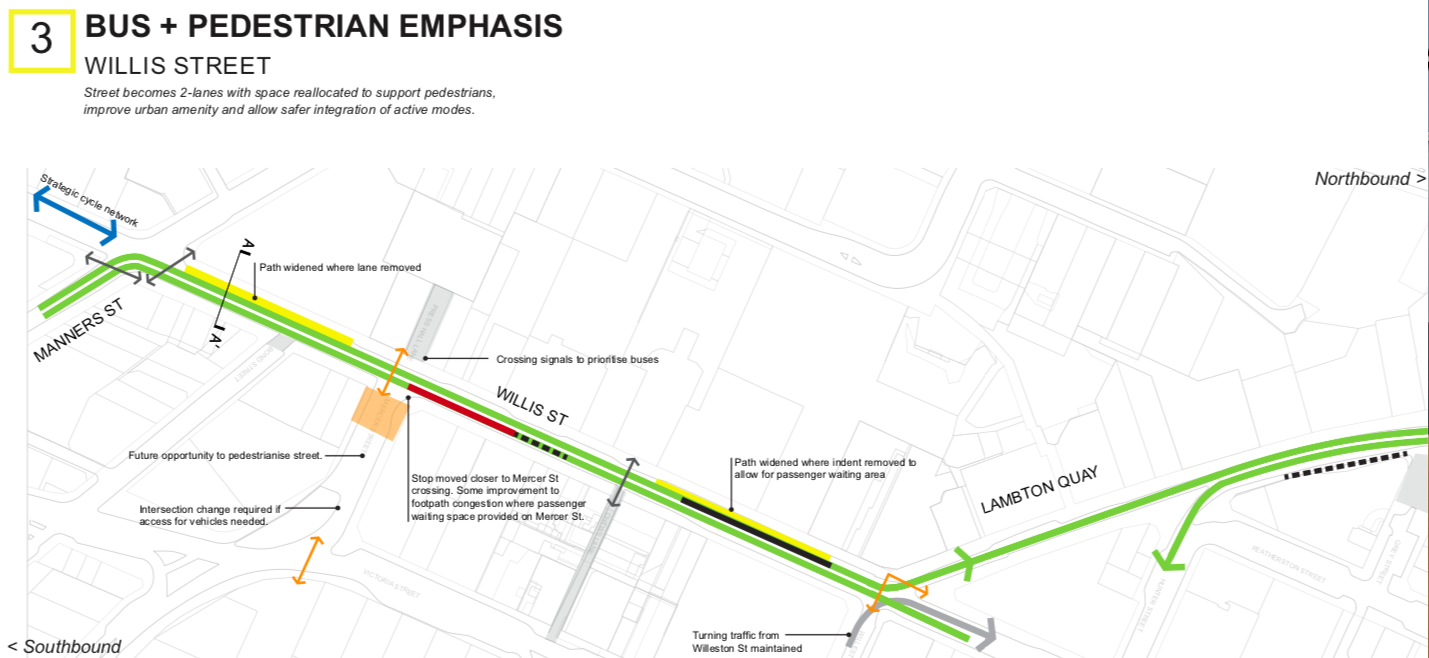 Option 3 – Bus and Pedestrian Emphasis on Willis Street doesn't take that viewpoint though. As the bus lanes on Option 3 are only a single lane, there is no option for a fast lane here and so the buses will still continue to bunch up.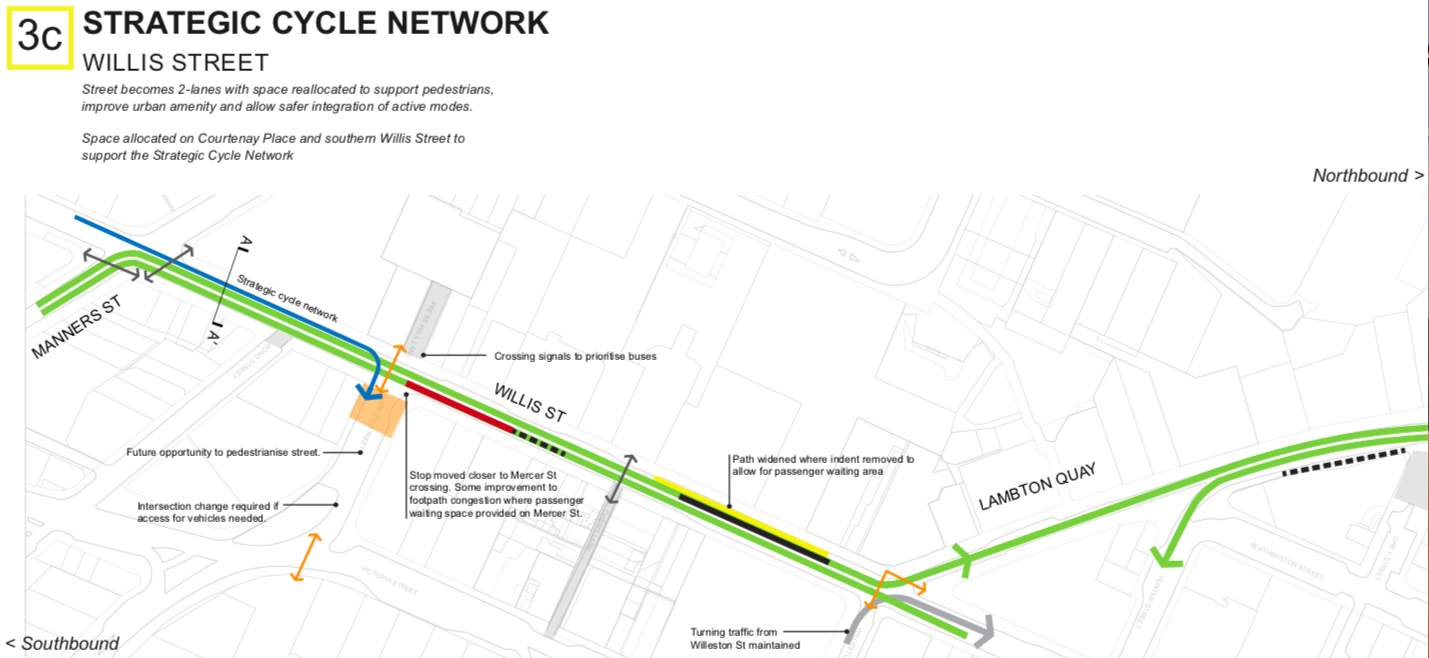 They also included a little snippet about how the Strategic Cycle Network would work. Bikes would mix with buses for just that short stretch of Willis, before peeling off down Mercer.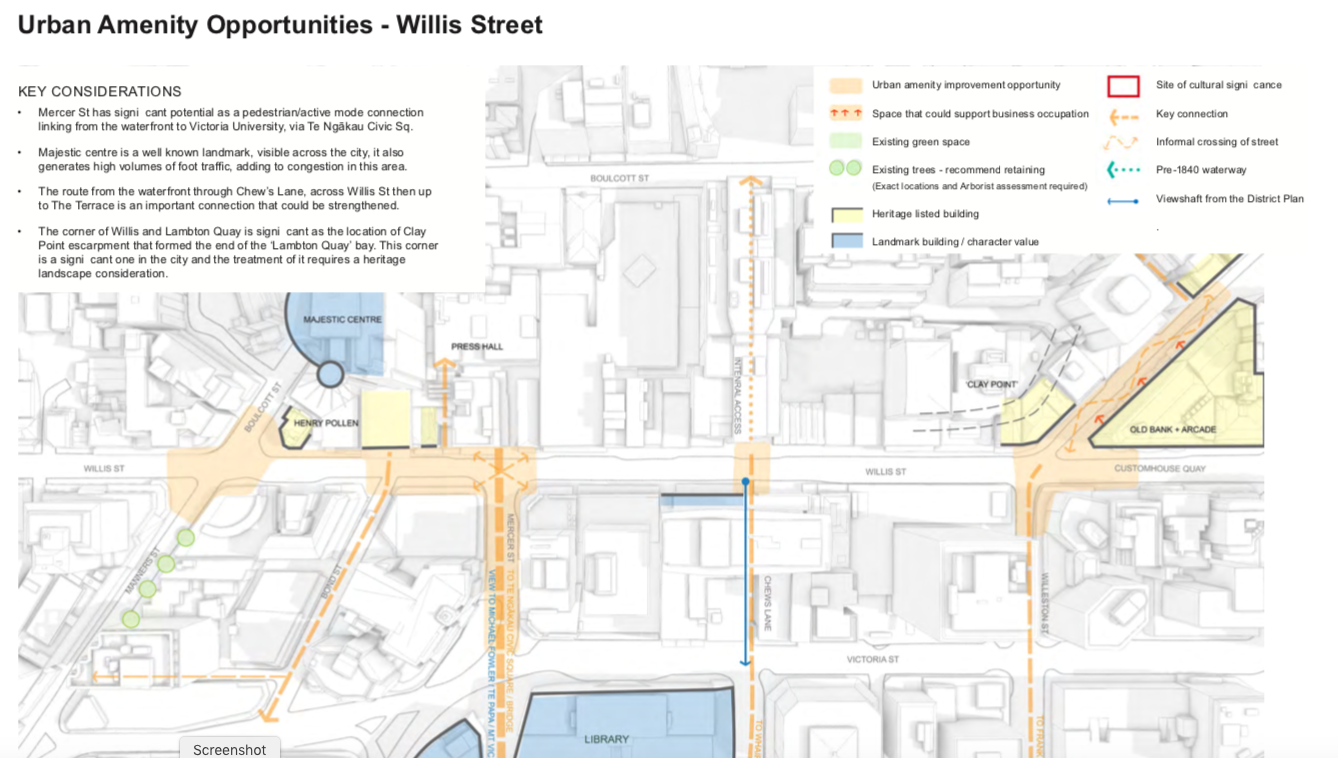 Again, a peek at the Urban Amenities Opportunities along Willis Street. It's good to see that close level detail being looked at in terms of neighbouring building context.
The thing I'm still not sure about is: where does the existing vehicle traffic go to? Here, from one of the LGWM reports, is what cars do at the moment in the morning and the evening – Willis Street is still important. What happens to them?