While it was vaguely entertaining / terrifying / gratifying / intimidating to listen to some of the 10-hour debate on the Spatial Plan the other day (pick your own adjective according to your political persuasions), what became very clear is that NO ONE – not the Mayor, not the Council Officers, Not Liam Hodgetts the City Planner, and certainly not the rabid band of Councillors – have any idea about height limits that is bounded by any semblance of the actual factual truthiness of the situation.
To Joe and Judy Bloggs, ordinary member of the public, the number of storeys of a building is a very flexible thing: could be more, could be less, all they know really is that they should not be high near their own building. But for architects, builders and developers, height limits are measured in the practicality of available materials. Feel free to correct me if I'm wrong. Let's start with timber.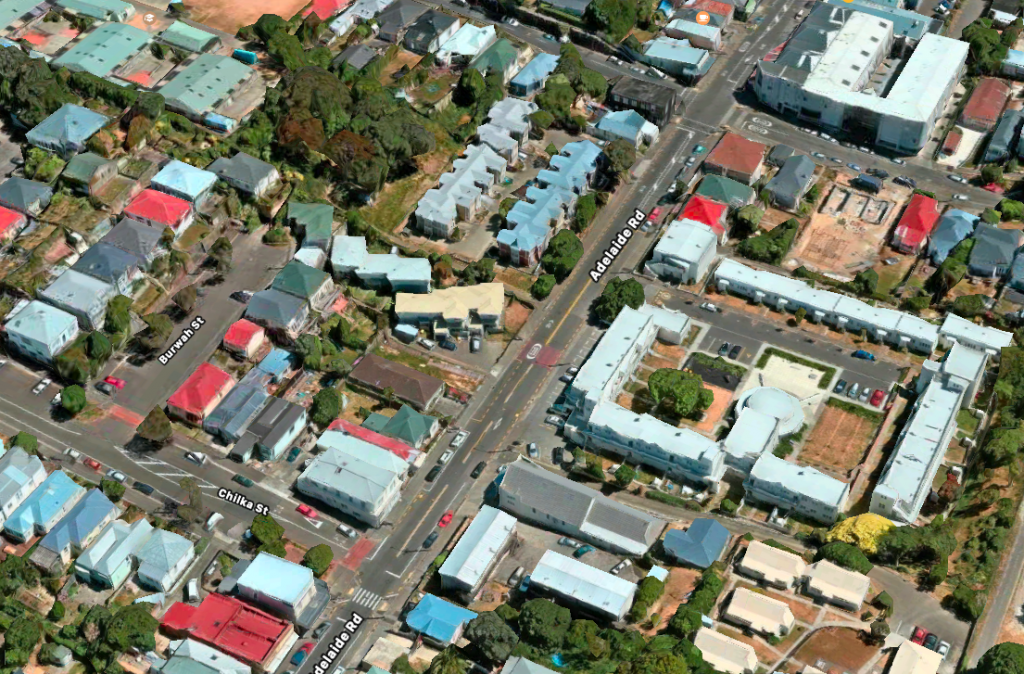 Wood buildings are typically built as Light Timber Frame and governed by the rules of NZS3604. This states that a LTF building can go up to 3 storeys or a max of 10m. That's ground floor plus 2 extra floors, and so this should be the most common height limit in our cities. For the most part therefore, if you set a height limit of 4 storeys, most developments will stop at three.
Steel framed and concrete framed buildings can of course go up much higher – from one storey to ten, twenty or even thirty storeys – indeed, almost unlimited in height if we look at places like Dubai. But there are limits of a different sort, to do with money, weight, and especially: lifts.
There is also the relatively new engineered timber materials such as CLT, which can go up much higher than light framed timber. CLT stands for Cross Laminated Timber, and CLT buildings have gone up 18 storeys tall overseas, while the new City Mission building in Auckland is 8 storeys of CLT. We have yet to see any large-scale CLT use in Wellington, although this will be changing soon: watch this space.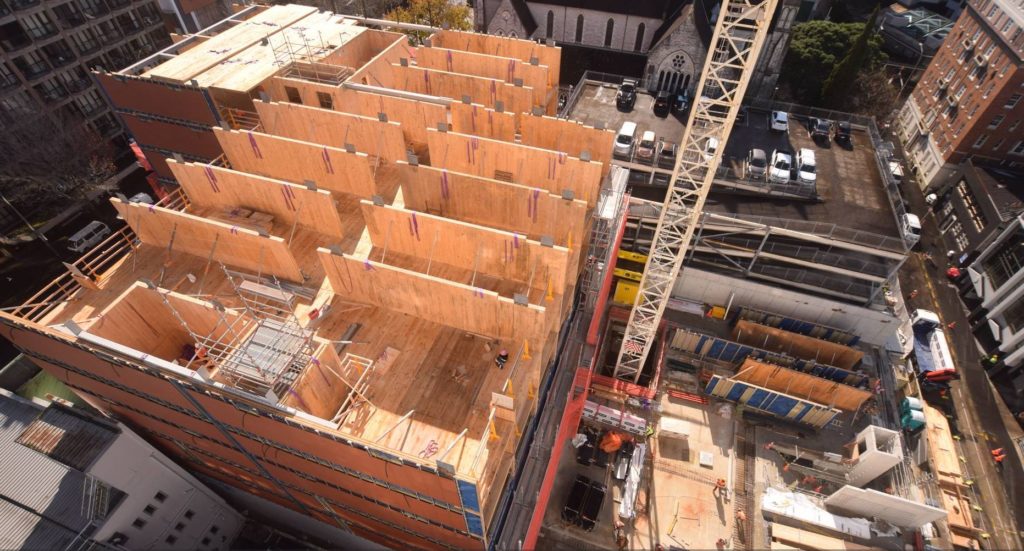 A more relevant limit on height is the very practical one of: how many storeys can someone walk up before they get too tired? Overseas this is typically seen as 4-5 stories, whereas in NZ we seem to be looking at a maximum of 3 storeys. In the heart of Paris building heights were restricted instead by how many floors their servants could climb up: it seems that 7 storeys was their limit. As New Zealand has been developed in the age of the electric lift, and in an era without servants or slaves, lifts are now expected for any buildings 4 or more storeys high in Aotearoa. So that is another vote for a max of 3 storeys in NZ: because without an extra $100,000 to $200,000 for a lift, your project is going nowhere. This means that a building that is 4 storeys high will be disproportionally more expensive to build than one that is only 3 storeys, because it will be requiring a lift and potentially some steel or concrete inserts.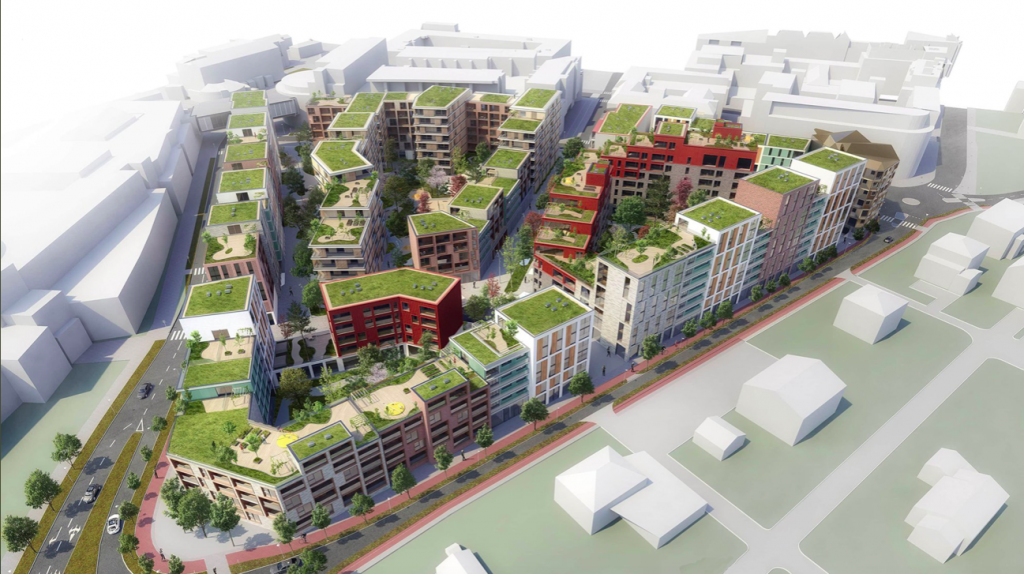 Another limit on building heights around the world is usually the Fire Service, who have to vet all plans proposed over a certain height. They're the people who have to go into the burning buildings to rescue the poor should stuck up there above the range of the fire ladders. Various cities have fire departments with various limits. Ladder heights vary, but an 18m long ladder could reach up to a maximum of about 6 storeys, indicating a Fire Service preferred height limit of 6 floors max. In Auckland they have a longer Snorkel 'heavy aerial appliance' that can reach 25m or a maximum of 10 floors. I'm not sure whether we have one of these heavy aerials down here: we should do, although there is a good chance it is broken down as apparently maintenance and replacement are both lacking. I wonder if the Fire Service put in a submission on the Draft Spatial Plan, and if so, what advice they gave?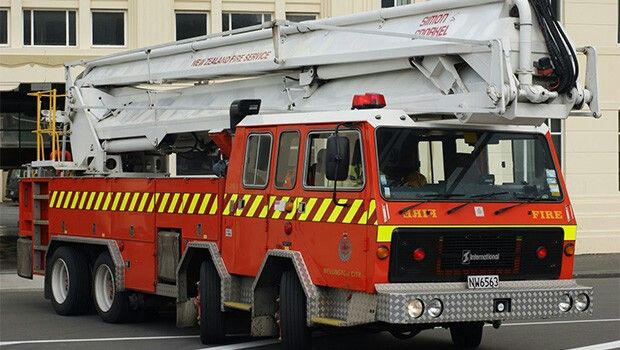 It's curious then that the WCC officers have selected the next height limits as 4 storeys, 6 storeys and 8 storeys. In my limited conversations with developers (some of whom are nice, most of whom are arseholes), they nearly all sneered at 8 storeys high and said that it was "impossible to make money" on buildings that size, because of the costs it brings with it. Some said that next level of profitability was at 12 storeys, others said it was a maximum of 20 storeys, due to the massive financial constraints over the seismic requirements.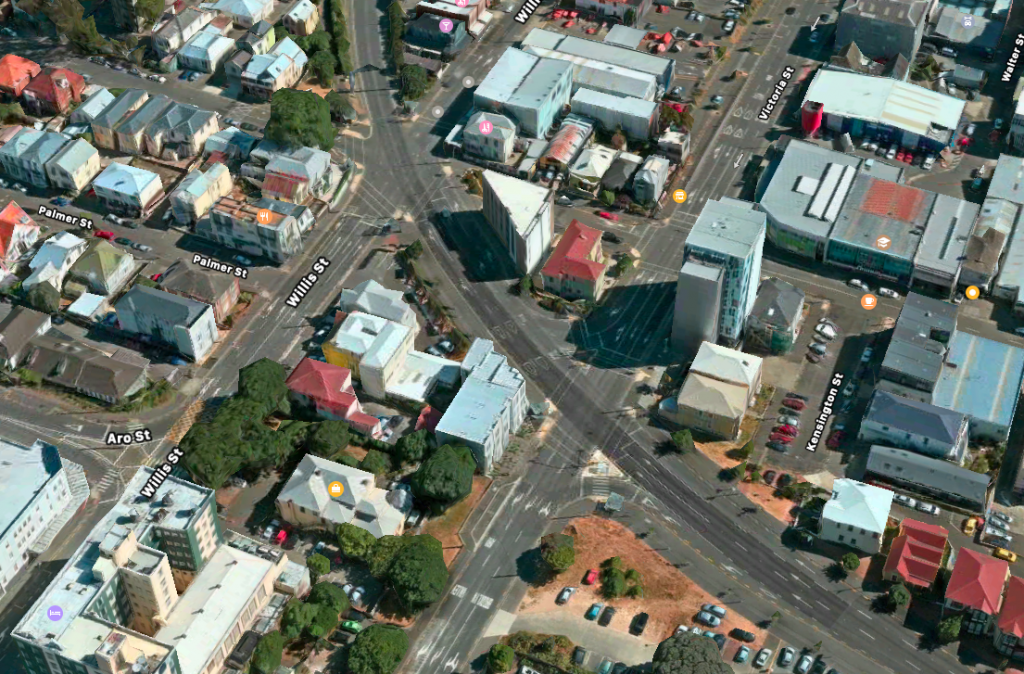 There are some recent developments in Wellington that have gone up in steel and concrete. The Sunset West apartments on the corner of Victoria St and Karo Drive are 7 storeys tall above ground, and while I haven't been inside there yet, they will undoubtedly have a lift to go with their good solid steel skeleton. From what the developers have said, this construction makes it uneconomic to build like that, therefore the apartments created will almost certainly not be affordable. Just across the road from them on Victoria are some new three storey timber houses, while slightly angled across the intersection and closer to town is a 4 storey timber framed building with timber cladding – probably without a lift, but with some nice childish pictures scribbled in the windows. On the junction of Victoria and Abel Tasman sits a 9 storey recent tower, which from memory was mostly concrete and glass. You know the one – grey, with multi-coloured glazing bars to indicate 'fun'.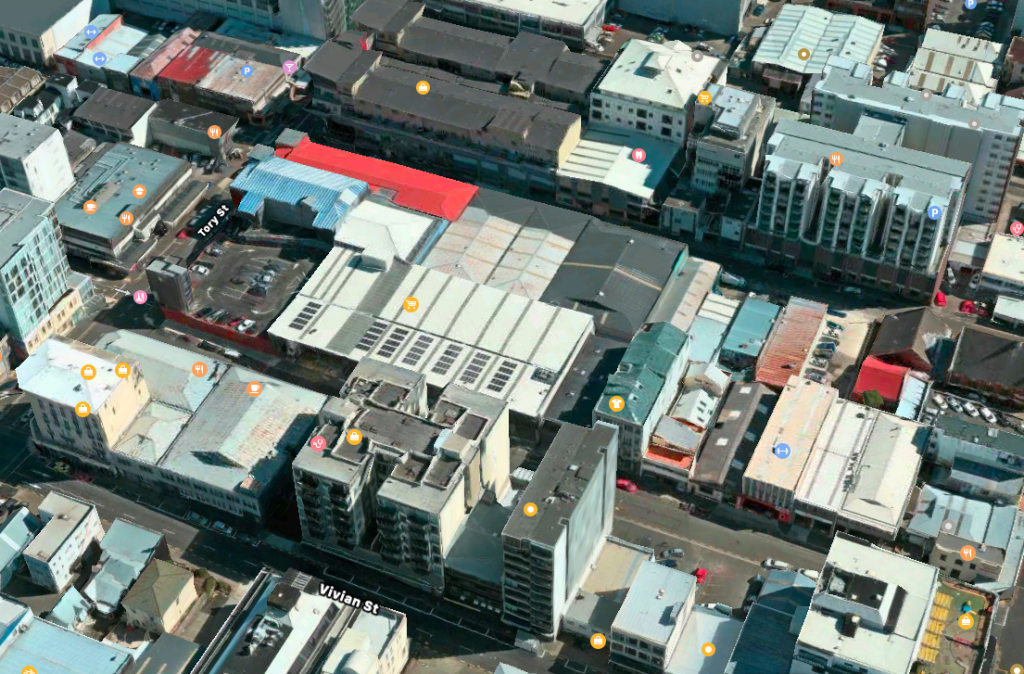 So, of all those recent apartment buildings, the only ones which may be remotely affordable are the 3 storey timber-framed houses. Further down town in Te Aro near the Moore Wilsons mega-store, sits a whole bunch of new buildings. Aimed at wealthy folk who love to shop at Moore Wilsons, we have multi-storey apartment buildings like Republic, New Republic, Il Casino, Century City, etc – all concrete, steel, with claddings of glass and brick. None of them in the remotest bit affordable. They're all about 9 storeys tall, to fit into the 27m height limit that blankets much of Te Aro. While that 27m height limit was proposed to be raised to infinity in the Draft Spatial Plan, the end result that was adopted had returned to the 27m limit for Te Aro and the various 60 / 70 / 80 / 90 m height limits over the Tall City around Lambton Quay. You'll notice that those taller buildings contain the office buildings full of workers for our city – Government workers and non-Government workers alike. Every one of those office buildings will be composed from steel and concrete and clad in glass, and containing 2 or more lifts – 6 lifts in some cases, cos offices need more lifts than apartments.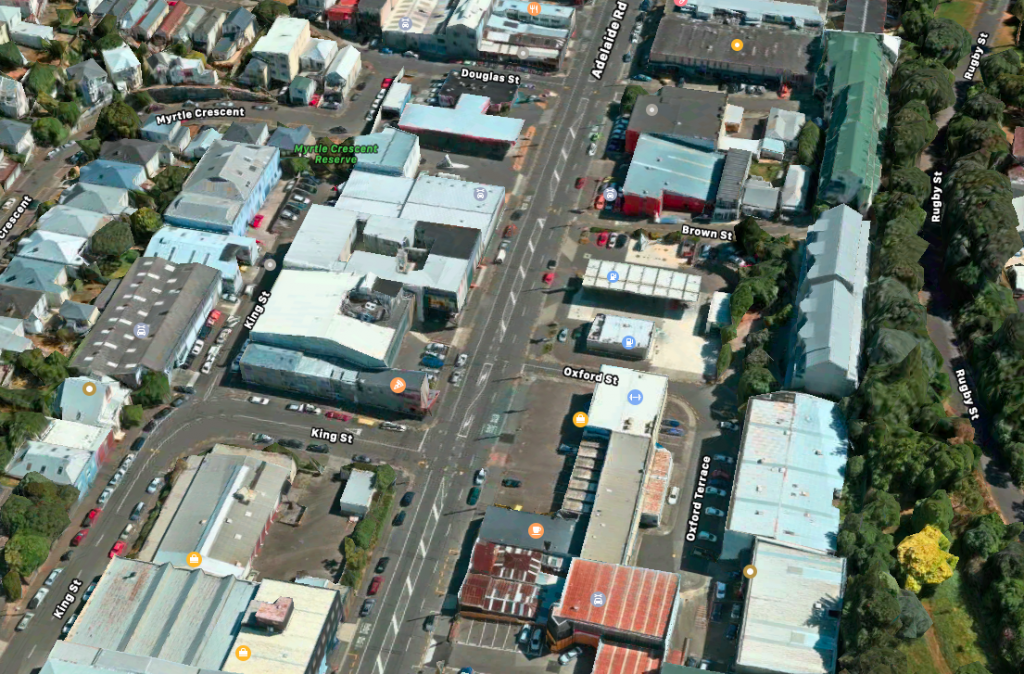 So I'm left wondering where these magic affordable housing is going to come from, that the young green Councillors think will magically sprout on city trees and populate our city streets with a fresh crop of warm, dry, comfortable, rentable housing for needy workers and students? Perhaps they anticipate that office buildings will become way too uncool for school and they will be abandoned to be taken over by apartments? That's possible, but unlikely – as Hannah's Warehouse apartment owners know, while Warehouses can convert well into apartments, its often the case that the sizes and proportions of the office floor plates may not translate well into apartments, and the facade certainly won't translate without a lot of heavy persuasion.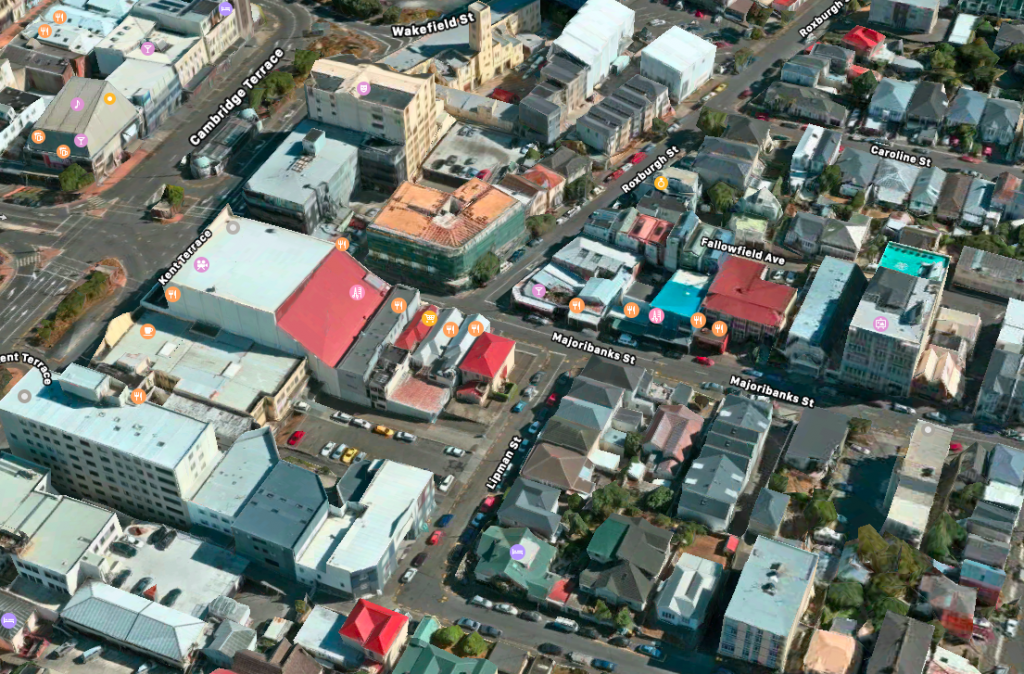 Certainly if we are to demolish large swathes of Mt Vic housing 1-2 storeys tall, and replace it with new timber houses 3-4 stories tall, little of it would be affordable as a result, although all of it would get snapped up due to its location. But 6 storey high? There would seem to be little to no chance of that on most sites.