While there is a need for good commentary on the Draft District Plan, expecting us ordinary citizens to go about our everyday jobs and still have the coherence to comment authoritatively on several hundred pages of new District Plan is asking a little too much of this particular Fish and their day job. So unless I get particularly creative and energetic over the next weekend, I think that on the whole the DP is going to go uncommented on. With the exception of just one area: Height.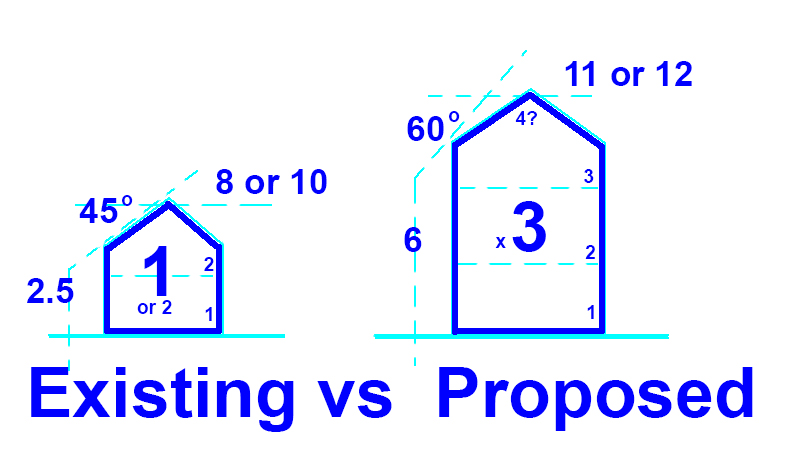 Height – not in the suburbs, where everyone is fighting tooth and claw to densify existing suburbs (a very good idea) but without any control over who does what (in my opinion, without doubt a very bad idea). Instead, as a Central Area resident, I will just keep my comments to one area that I know all too well: Te Aro. And the proposed height is 42m for the whole of Te Aro. This is lunacy. Who wants to live in a downtown area where buildings are allowed to go to 42m? I'm calling on all you readers of the Fish to put in your submission please: No 42m height limit for Te Aro.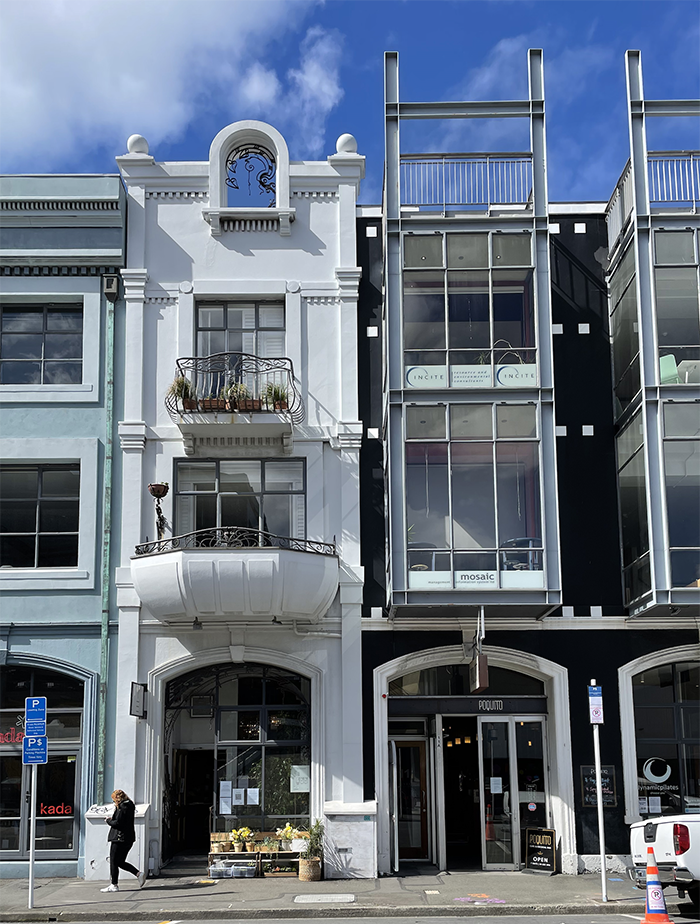 Currently nearly all of Te Aro is subject to a Maximum Height Limit of 27m, which was set back in the day 30 years ago when the prospect of people wanting to live in this downtown light commercial district full of panel beaters and back street businesses, was frankly quite ludicrous. The 27m limit was not even in there at the start – instead, it used to simply say: 6 storeys, as that was felt to be the sort off height limit that people would logically want to be maxed out at. The 27m bit was added in later, and gradually, the original 6 storey words have been removed. Obviously the original creators of the District Plan were strong urbanists, probably thinking of cities in Europe that stick with a strong urban form and a strongly enforced height limit of 5-6 storeys. Probably, at say 3.5m per floor, they were thinking of a generous 21m height limit for new buildings, but they maxed it out at 4.5m per floor-to-floor height, taking it to a 27m height, at the top.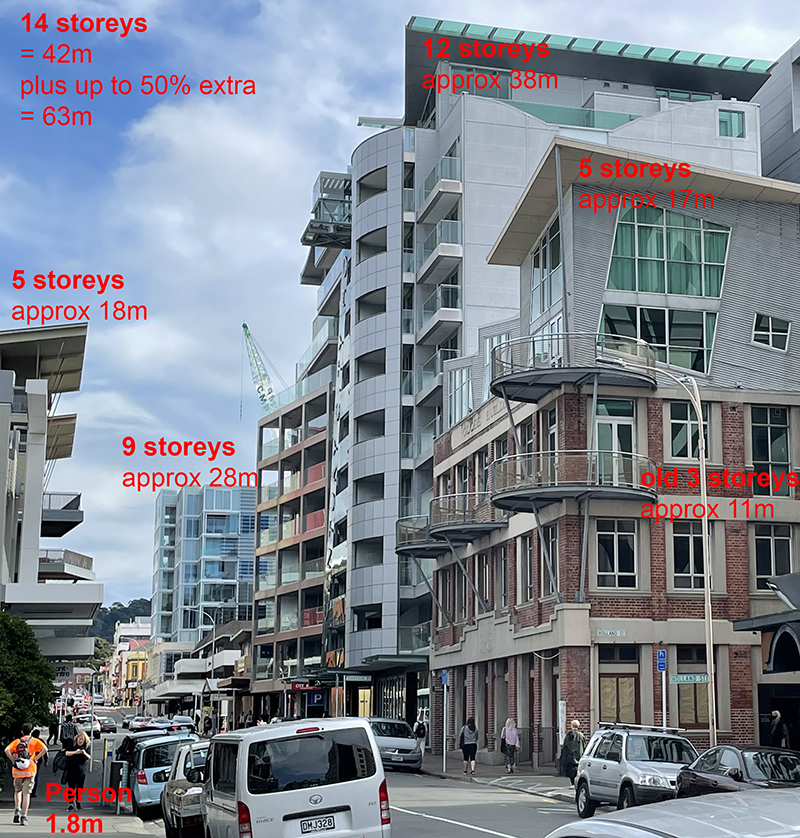 Currently, most of Te Aro is 1, 2, 3 storeys tall, with the occasional 4 or 5 or 6 storey building, and over the last 20 years while I've been living in Wellington, the population of Te Aro has grown from approximately zero, to what is now Wellington's most populous suburb, around 20,000 people, surpassing even the mighty spreading suburb of Karori, which is the only suburb in Wellington proposed to still stay with its old height limits of: Not Very High at all. (8m). (Post-script: actually, it stays at only 8m under the Daft District Plan, but will the new MDRS bring that up to 11m as well?)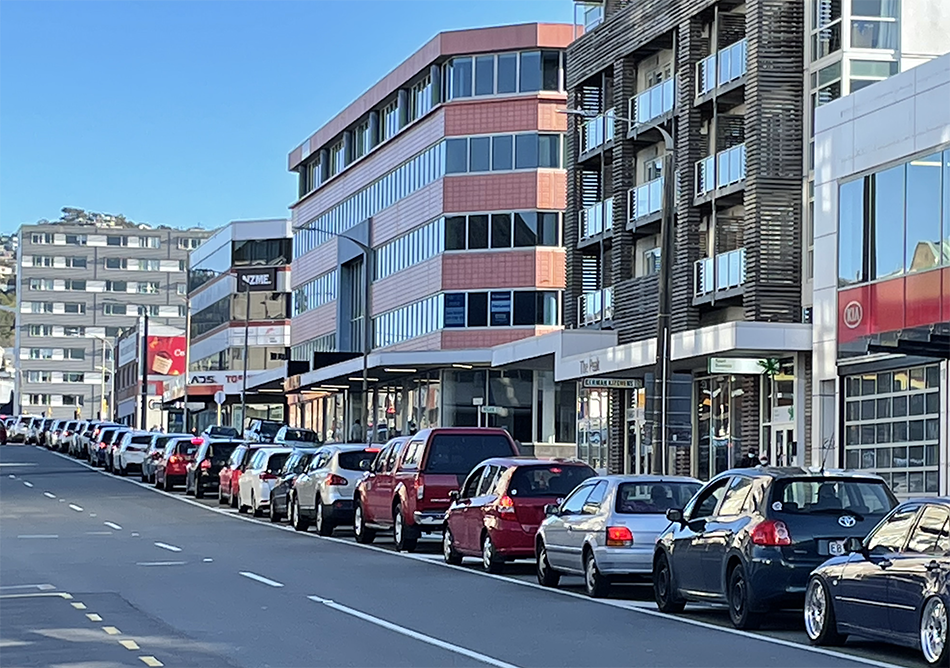 A year or so ago, the Council asked everyone in the city where they thought that Wellington should expand, and pleasingly, nearly everyone agreed to say: NIMBY ! No one wanted to say that their own home suburb should be the one to take the brunt of the growth conundrum, so by default it ended up that Te Aro and the Central City should be the areas set to grow. Us dwellers of Te Aro welcomed that and accepted that – we knew that the current limit of 27m was high enough to create lots more housing, and more to the point: lovely, warm, quality housing in an area with a fascinating narrow streetscape and the ability to take 6 storey carefully designed apartments everywhere. At 27m the sun can still sneak in over the top of some towers and reach the street below, at least in mid summer – obviously, not in mid winter.
But.
Some developers and their crappy architects have instead hitched to the idea of pushing the envelope and creating some really ugly towers in the 9-10-11 storey range, which they get by pushing that last floor from 27m limit into the 30m range, while other schemes have really pushed the envelope to ask for 35m height, in return for promising some "design excellence".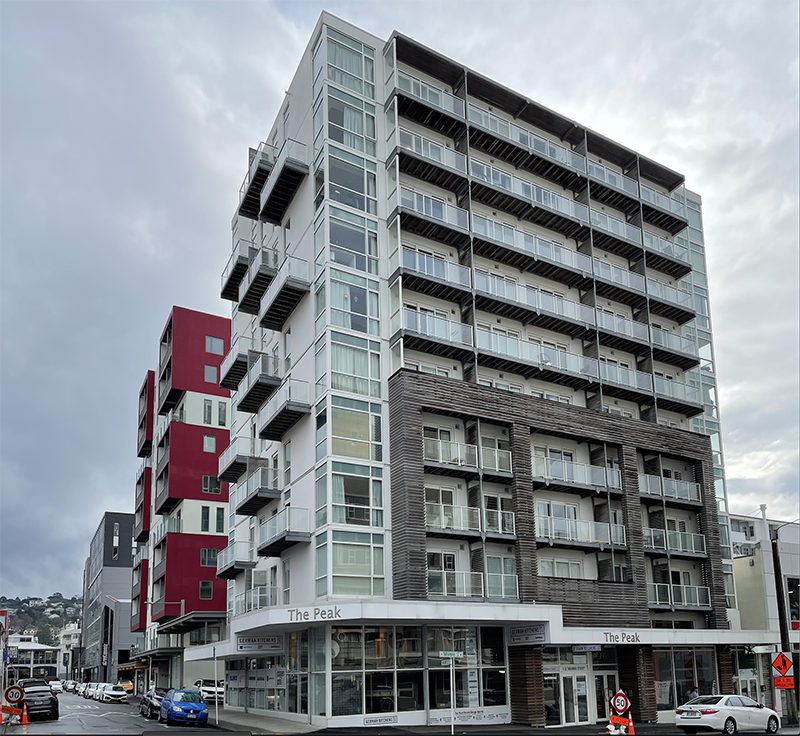 Sadly, these towers clustering around upper Taranaki St are perceived as really poor quality architecture and awful urban design – bad, really shitty planning, squishing more people into tiny apartments that are illegal unless hitched together and doubled up as "dual key" apartments. That's another name for a process where the bank will refuse to give you a mortgage because your 20m2 Studio apartment is too small, and even your 35m2 one-bedroom apartment is too small, but if they are stuck together with a lockable door between then the bank may agree to give you a mortgage on 55m2 all up. It's technically known as "dodgy as fuck" and most reputable people would avoid it like the plague. The new draft Wellington City District Plan sets down new space standards for Wellington (the first time we have ever had a minimum Space standard) of 35m2 for a Studio, and 45m2 for a one-bed, henceforth probably making all those dodgy "dual key" places technically illegal at the stroke of a pen. I wonder if they will make an order that they have to be demolished? Hmmm, food for thought. In the mean time, of course, we are stuck with some god-awful ugly apartment buildings. So do we actually need a blanket height limit of minimum 42m high buildings? Where did it come from? And who wants more of this?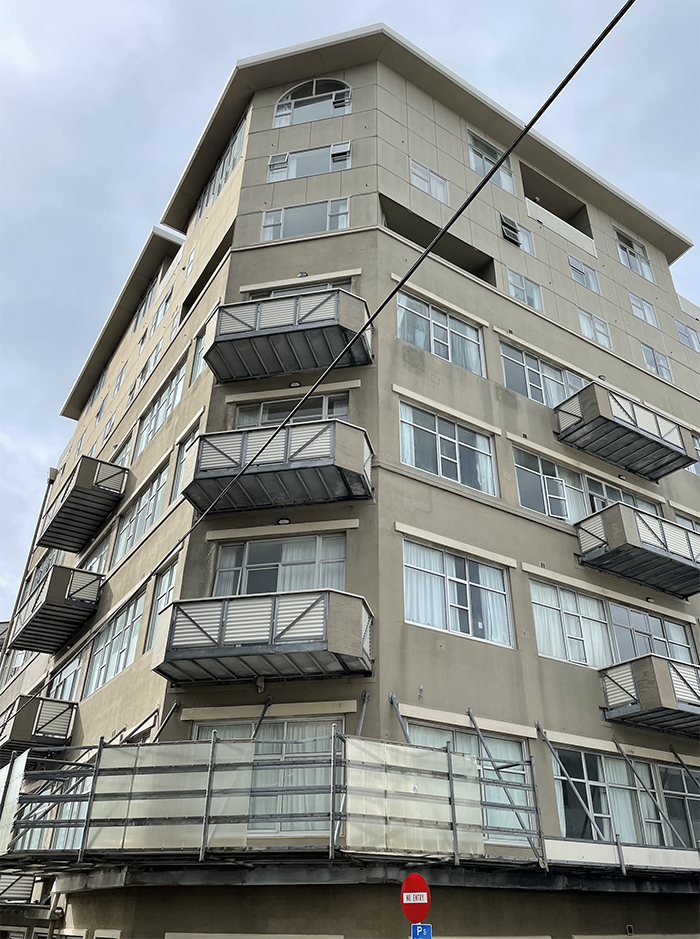 Well, not me, for sure. As a resident, and inhabitant of Central Te Aro, I can hand on heart say that living in an area with an urban outlook is great, but living in a bunch of towers is a grim prospect. How do I know? Well, history tells me so. Places I've lived in tell me so. Common sense tells me so. Living in a tower block has told me so. All over Europe the towers that were erected in the 1960s are being demolished and replaced with far more amenable housing, down amongst the rest of us, at the 4-5 storey range. Tower blocks are dreadfully passe. There is of course a lot of difference between apartment towers for the rich, and apartments for the rest of us. There are towers in New York aimed at the mega-ultra-super-dooper-rich-fuckers, where prices have reached stratospheric levels of stupidity – one I saw this morning was going for $17 million – US dollars – and the Penthouse is going for $95 million. Silly prices for very silly people. Areas of Te Aro which have been designed by good architects, with good apartment buildings, like those in Jesse Street or College Street, in Lorne Street or Holland Street, all work together to create a pleasant environment, with good sense of urban design. These buildings have all been worked out with the architects talking to and discussing the pros and cons with the Council urban designers and the Council planners, carefully negotiating every step of the way to ensure the best result for Wellington.

Most of those places are full of buildings that sit around the 27m height limit. Some are higher, sometimes allowed by Council on the basis of a very earnestly argued "factor of design excellence." In each case, a careful evaluation of height based on things like the width of the street, the direction of the sunlight, the wind environment, access for people on foot and by car, and indeed whether there is any room for cars at all, all have a part to play. Its this part of the to-and-fro with Council that I relish – architects, clients, urban designers, engineers, all working together for the best results for Wellington.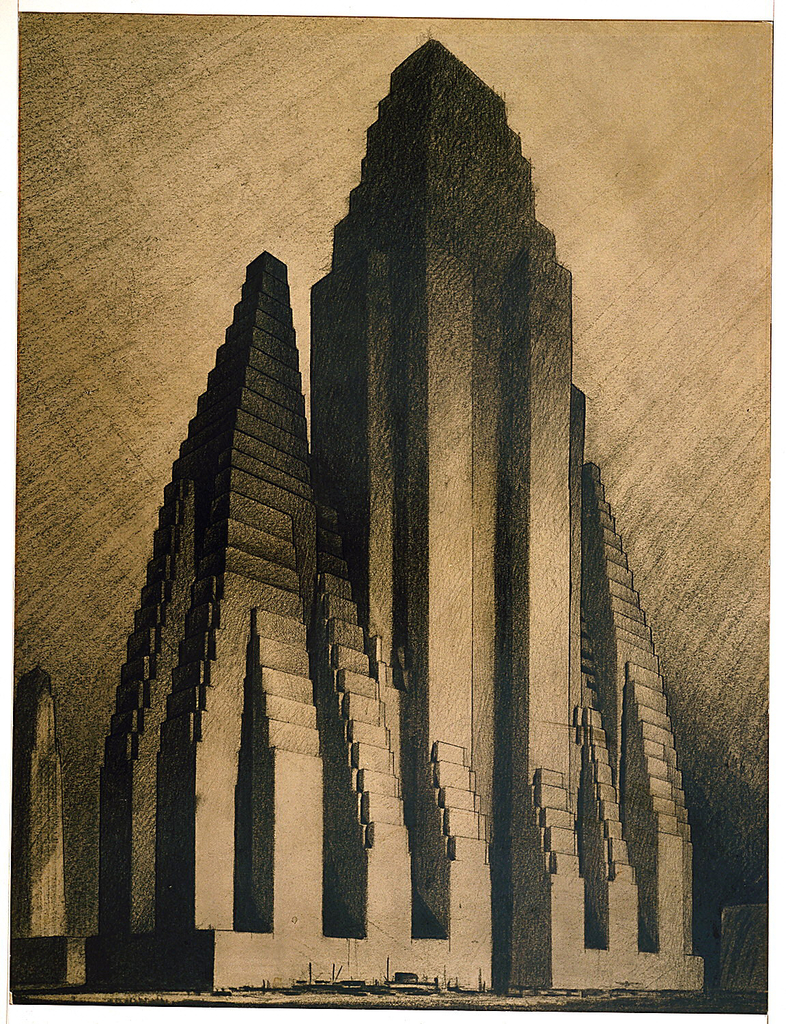 So on what basis has the Council pushed for a new height limit of 42m over the whole of Te Aro? Yes, there are places where 42m high buildings may indeed be appropriate – but only a few. Prime of place would of course be Taranaki Street, which as a big wide boulevard has got the width, and dare I say it, the Mana, to accommodate a 42m height. But this should be a carefully navigated result, not a blanket provision of 42m everywhere. This really is lunacy. As I've noted before, the narrow width of many of Te Aro's streets mean that they are just too narrow to permit buildings that tall. Cold windswept canyons were figured out by New York to be a bad thing back in 1916, only barely 40 years after the invention of the skyscraper, when they introduced setbacks, in an effort to wipe out the scourge of bad building that was happening, permitting narrow city streets to become sunless, wind-filled canyons.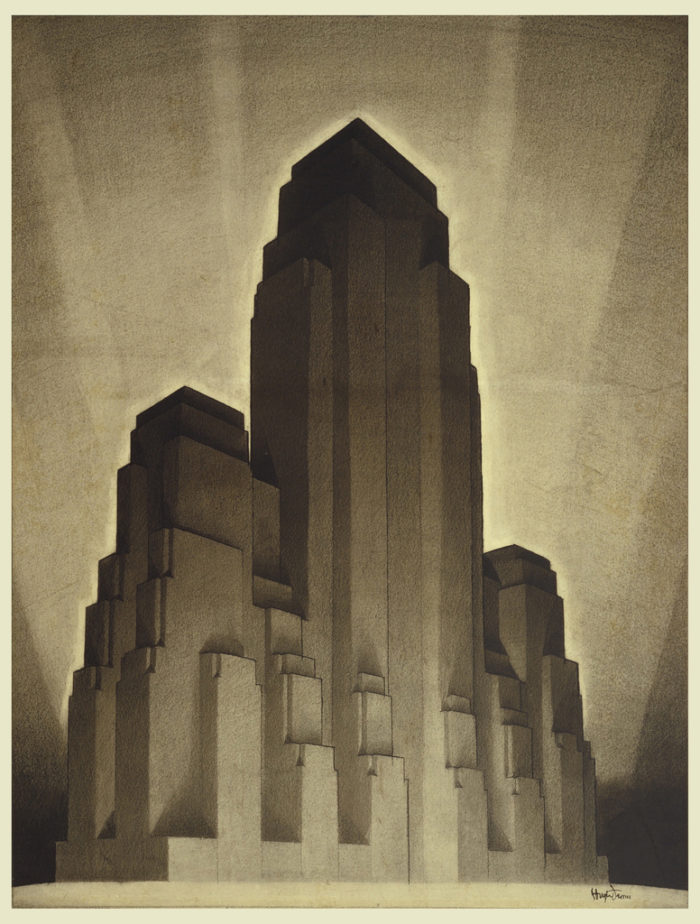 The Council has at least done one thing – in a small effort to try to limit the damage from overheight buildings in narrow Te Aro streets, they have proposed a small element of set back. Its a start – again, I would ask you to support this – but does it go far enough? And actually, I'm searching madly for it as we speak – I know it is in here somewhere, but I can't find out where it is! I must say – I'm finding navigation around the new Draft District Plan really, REALLY difficult. Bewildering even. And all so rushed before Christmas. We need extra time!
(Post-script: Found below! CCZ-S4 Street Edge Height says: "The street edge height of any new building frontage or addition to an existing building frontage facing an identified street that has a width of 21 meters or less must not exceed a height of 16m or the width of the street, whichever is the greater, for the first 4m of frontage depth (refer to Diagram 8 – CCZ: Street Edge Height Diagram below).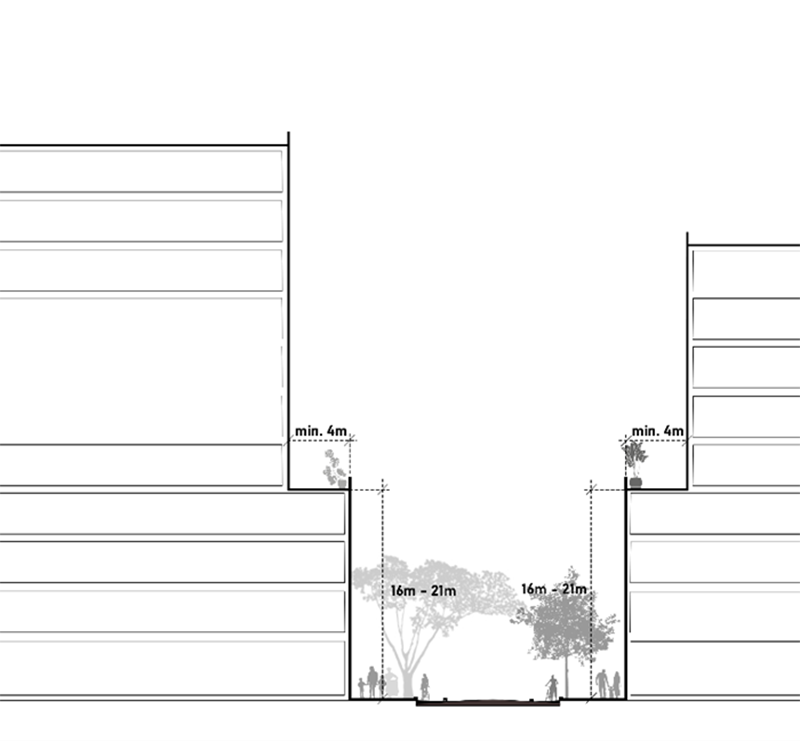 But 42m height – where does that come from? Obviously, yes the Government said they wanted to mandate a minimum height of 6 storeys in Te Aro, which we all now know is a punishment for the horrible squat Paddington development, our national shame. Density does wrongly. The Gov also wanted to encourage heights in Te Aro of 10 storeys – which in my opinion (as a resident) is a bad move – but even so, developers are getting 10 storeys into 27m or 30m. To make the leap upwards in scale to 42m is, in my opinion, a step towards lunacy. Its simply not needed, and definitely not wanted.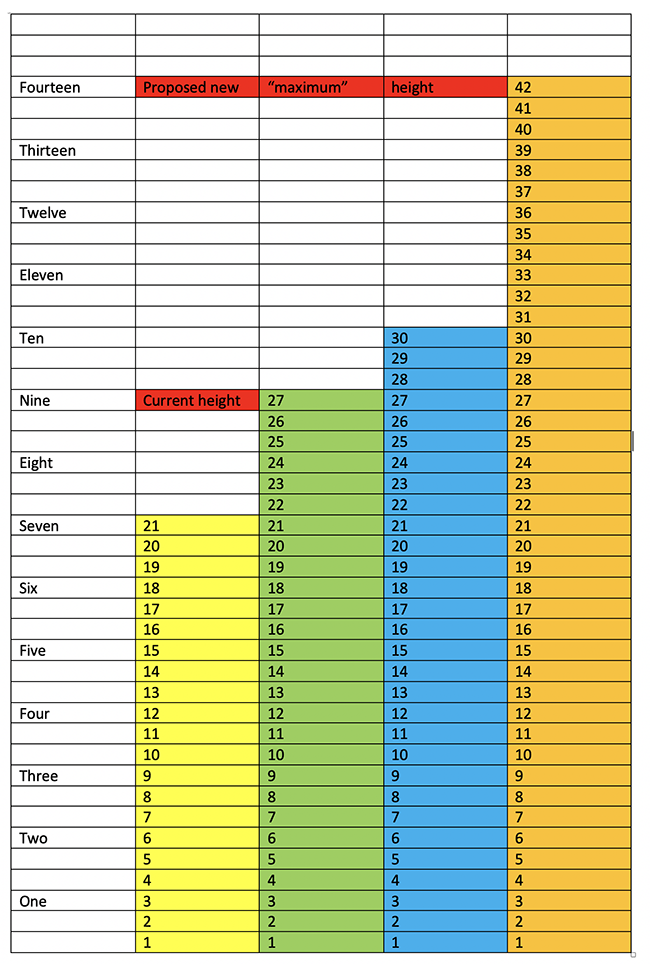 I ask once again: Who wants to live in a downtown area where buildings are allowed to go to 42m without even asking? Not me.