Maximus
May 20, 2010
On the waterfront
The WCC is asking for your input into the waterfront, again. It seems like we've hardly stopped commenting on it, and yet, so important is this part of the city to our overall ethos, that we're keen to look again. Incidentally – the time for submissions on the Manners Mall proposal – has passed, and I see that the Arch Centre has given it a firm thumbs down. Good on them – it was appallingly planned out – the design for the whole thing look like it had been done by a roading engineer with a fetish for parking, and that the Council's much vaunted new urban design unit clearly had no input at all. Sadly, unless you lot all kick up a real stink, we're going to be left with a real stinker. Much like today's budget I fear…
But while the city wants us to look at the waterfront and comment (click right here) on the need for a giant ice-rink, or a giant tent for shopping in, or for the need for designer loos shaped like a wonky lobster, perhaps it is time to look at the what is going up there now?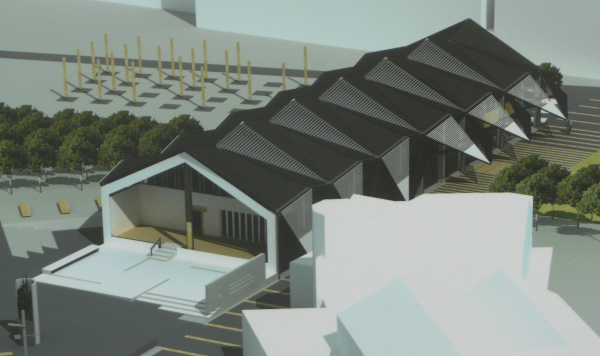 How is that Whare Waka for you?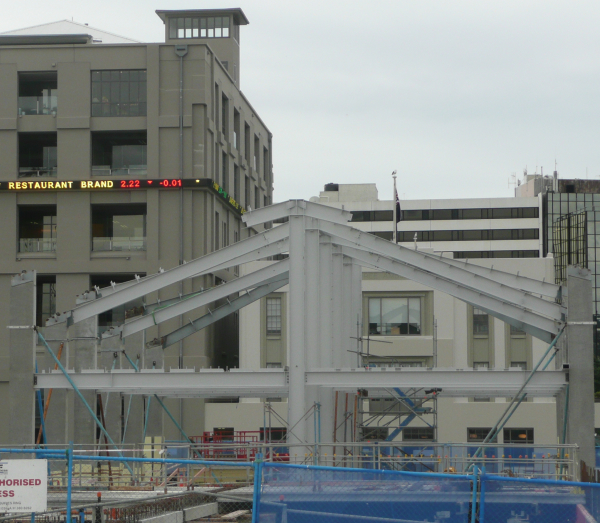 For me: it's looking quite exciting – but also, quite big ! Crikey ! There's a basement (for the beers / taonga?) and a whole lot of massive concrete columns and some crazy steelwork going up. I think it is going to be fabulous – just a lot bigger than I had thought from those dinky little perspectives. What do you reckon?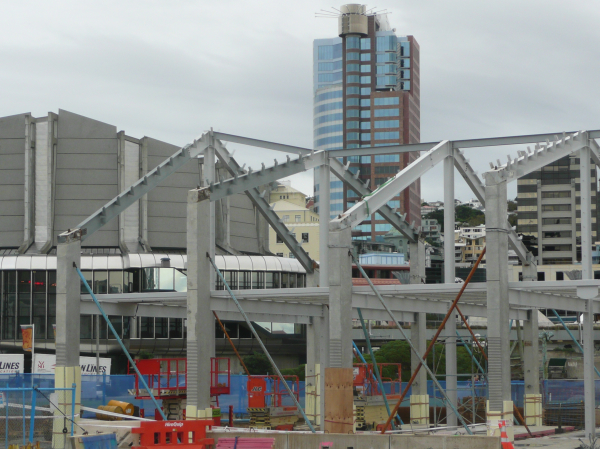 Of course, one day there's going to be a fantastic collection of waka in here – we hope – presumably not the ones out of Te Papa, although it would be nice if they could see the water again, but I presume that the Te Atiawa iwi have some other waka parked up waiting? But in the mean time, its going to be another booze barn for boof heads in the Cup next year. Once that roof goes on. And it is the roofing material that worries me. What is that black stuff? Is it just a membrane? Or is it metal? Cos if it is metal, then we really could say it was a crinkly tin roof…