Maximus
August 26, 2011
Double Banger
Consultation on the NZTA's solutions for "roading improvements" around the Basin and through to the Airport (the tail end of State Highway 1, if you will), closes today. I've been taking a bit of a back seat on this, watching from the sidelines as the alternative proposal put forward by the Architectural Centre "Option X" gets some decent airtime. From what I can gather, it is getting good levels of support. If you want to know more, go to their website and read up large – if you want to get a submission in to NZTA, then please DO IT TODAY as tomorrow will be too late. Send immediately to info @ witi.co.nz Option X submission form here: Option X Electronic Submission Form
There's something really dodgy going on with the Dom Post's reporting of the subject though. No doubt you may have read about the Option X project in the Wellingtonian, or the Capital Times, and Scoop has been taking a major role in getting publicity out there on this project, but the Dominion Post seems to have been rather quiet on the subject. Quiet to the point of being completely mute perhaps? They're happy enough to feature local content when it is about something as relatively unimportant as a 3m high sign at the airport – which, let's face it, is a silly idea but is hardly going to cause the city to grind to a halt. But the DomPost seems to have a disdainful approach to the groundswell of citizen opinion on this project which seems to be quite clearly saying that they don't want a flyover.
Perhaps then, they may take some interest in this: not one flyover, but two?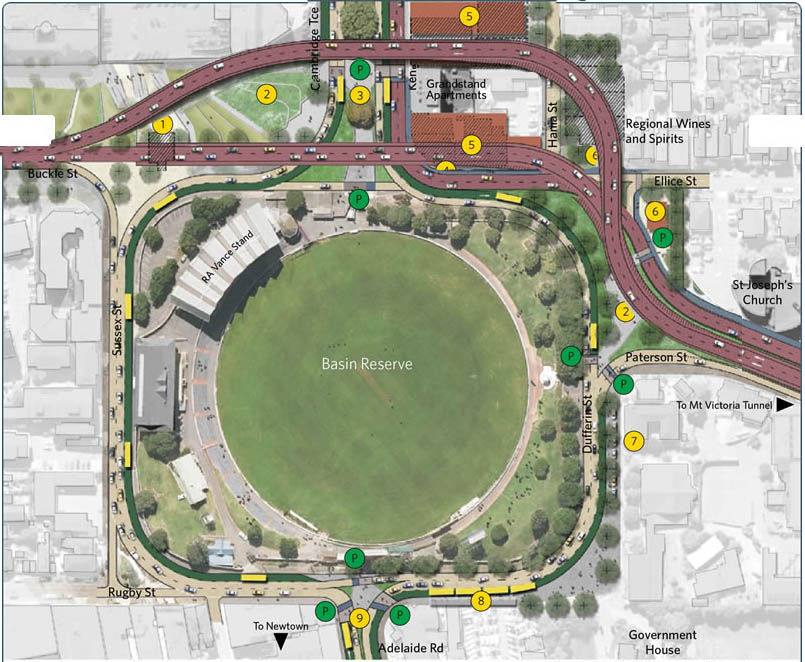 I'm unsure how likely this is, but comments from people at one of the public meetings organised over the Basin proposals noted that it is not 100% ruled out either. It seems that, buried somewhere in the depths of the NZTA documentation on this project, mention is made of a possible two way route through the "Buckle St corridor", which to you and me, means that at some distant stage in the future, traffic could flow eastwards as well as westwards. Yikes.
I can't find the source reference – but it got me thinking – what if? Apparently no image exists of the proposal, just a footnote in some words – about the possible building of not just Option A flyover, but Option B as well. So, in an effort of citizen goodwill, I bring to you the pinnacle of my poor photoshopping skills, where I've mashed up A + B and produced – well, not C, nor X, but its an unholy mess that's for sure! Wouldn't want to be in the Grandstand Apartments there I tell you! Nor, really, would I want to be anywhere under it.