Wellington's main (only?) central Railway Station has been getting a lot of press recently, mostly over the intransigence of the Heritage NZ lobby who are, to be honest, being silly over the heritage of this building. They've only just today approved the installation of a pedestrian ramp out the front doors – the disabled have been forced to use the side door for the last several decades. They're sitting on the approval of installation of the Snapper ticketing terminals because they don't like the colour. KiwiRail: do it anyway. It needs to be a living piece of heritage, adapting and changing to the times – not preserved in aspic (whatever aspic is).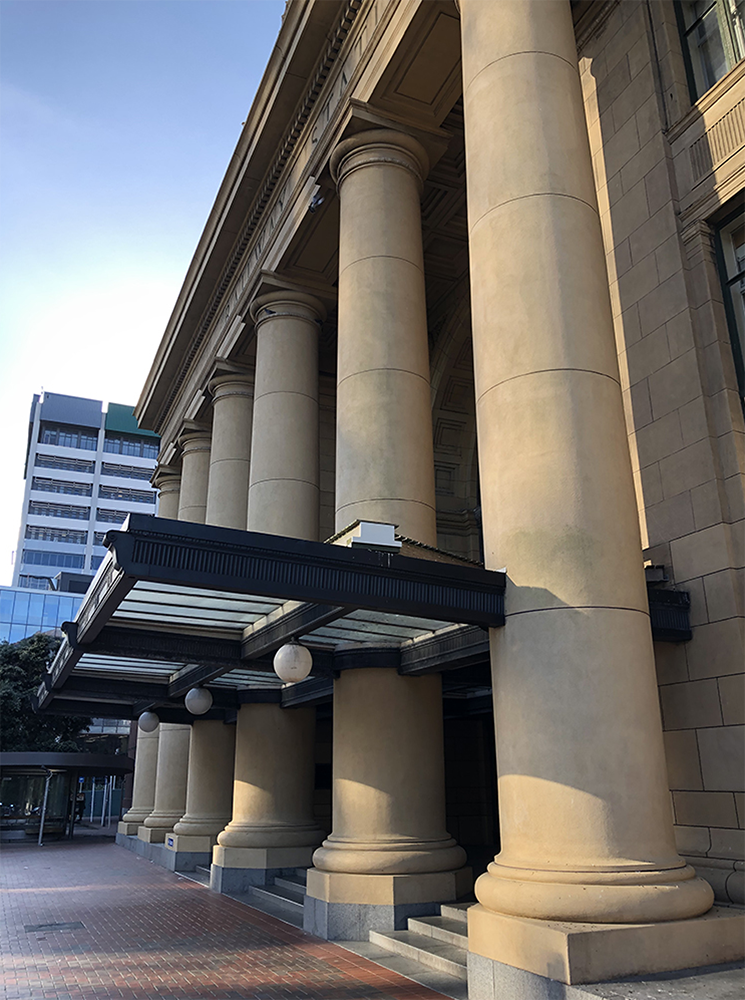 The Wellington Railway Station is the newest version of a station on the site. Opened in 1937, it replaces the two previous timber stations on the site – the first one having been built way back in the 1880s (things moved fast back then – they dug the mainline rail tunnels on the Kapiti coast from Pukerua to Paekakariki way back in 1874). What should I call it? I can't shorten it to WRS or it will just sound like a Subaru. Personally, I want to call it the Haubtbahnhoff, because that's what every main rail station is called all over Germany, and this one certainly feels solid and Germanic.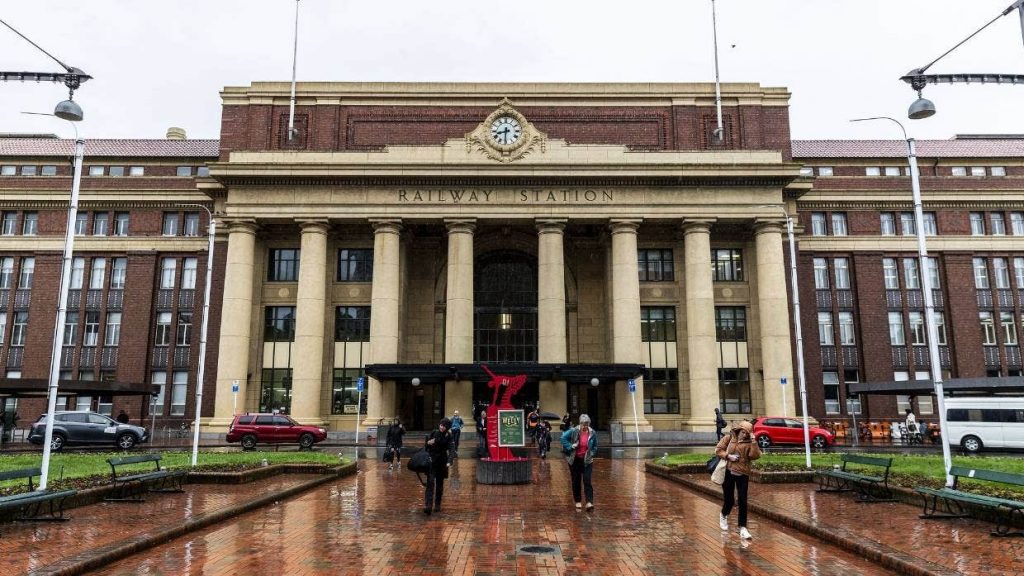 It was designed by Gray Young Morton & Young and built by Fletchers and the skin is just a brick or so thick – so, maybe not quite as solid as it may seem. The plaque at the station indicates that in July 1994 it was the largest and busiest rail station in New Zealand – a record that is probably up for grabs these days. Certainly nowhere else in NZ has got 9 platforms (or, 9 and 3/4) but I think we've been beaten on the numbers by Auckland's Britomart. They pump more passengers through each day now and once they complete the CRL they will rocket ahead even further.
Everyone has been going on about the outside this week, and yes, it does have a lovely outside, with that lovely row of Doric columns and the 30s style pediment. It's serious, and clearly an important public building by its frontage, but the tan columns and brown brick facade still look welcoming and have just the right amount of imposingness. Being from the same era as Battersea Power Station, there's something about the detailing of the brickwork that sings out to the world: "I am a child of the 30s!"
But inside it is arguably one of the weirdest, least successful railway stations of all time. Its not as weird and silly as Britomart in Auckland, where they tried to adopt the old Post Office into being a grand old station – but the Heritage people got in the way there too and so the floor was all weirdly up in the air. Possibly that has changed or is changing with the CRL – I honestly don't know, as due to Covid, I no longer get to go up to Auckland much any more.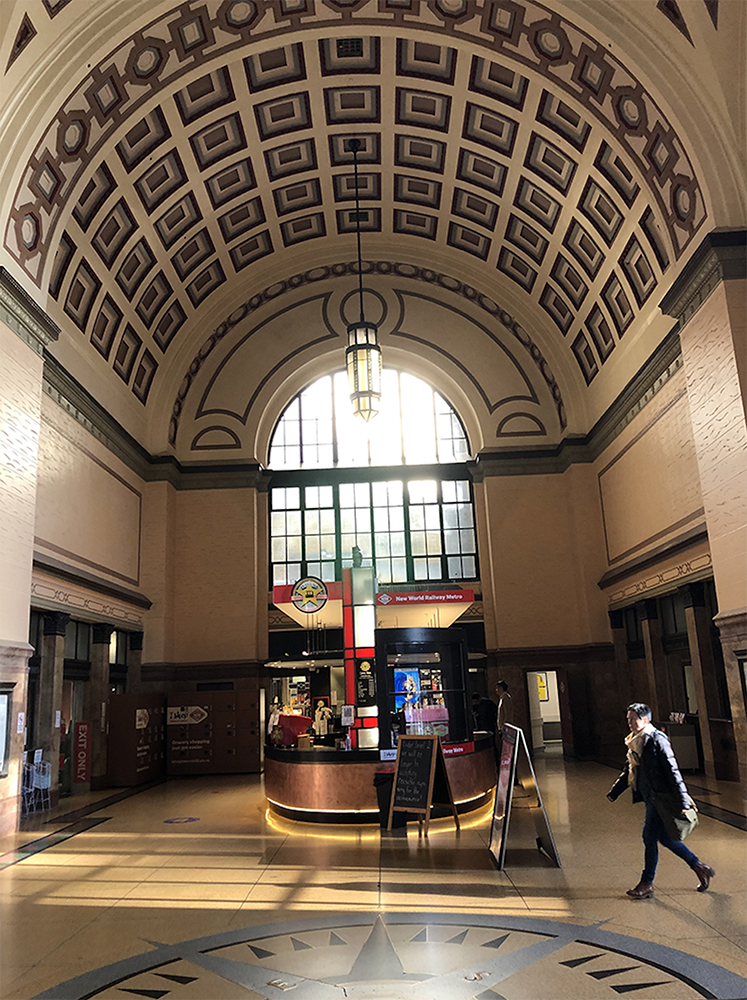 Anyway – where was I? Ah yes – just inside the front door, standing in the Great Hall, if we should call it that. I mean, it is rather tall and grand, isn't it? There's a coffered ceiling and an entrance to the Supermarket. But what happens in the Great Hall? Nothing much really, as it is really just a place to scurry through, on the way to somewhere else. So it is really more of a Great Vestibule, if truth be told. The Great Hall has some windows letting shafts of light inside and that vast coffered ceiling is very reminiscent of the grand McKim White design for Pennsylvania Station in New York: that's right, the one that got away (demolished by horrid property developers in the 60s and regretted ever since). Incidentally, in Penn Station this is called the Waiting Room – but with nowhere to sit down and wait. More of a Meeting Room perhaps.

Next to the Great Hall is another hall, but this one is not very Great at all. Instead, it is rather low and human scaled, looking a little like an over-sized garden conservatory with a row of giant curved concrete arching beams holding it all up. Although a bit too pedestrian and mundane for my liking, this Small Hall is always bustling with activity, as it includes the Ticketing Office, the Information Office, a dry-cleaners, the all important public toilets, entry to a long ramp to the buses, the old Railway Cafe, and of course the direct link to the trains, as well as an entry/exit to the Supermarket.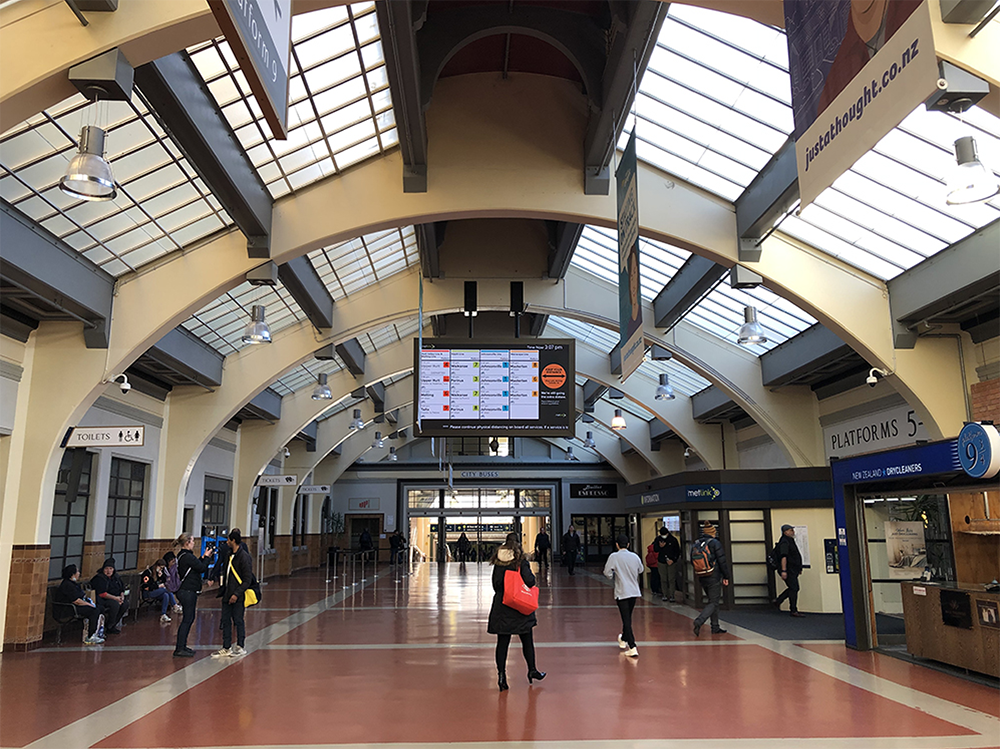 This is the more traditional, European-style of "train station" – a lower roof, vast amounts of glazing, but of course one crucial difference of course – no trains in here. Here's a picture of Hamburg Hauptbahnhoff – see any similarities? Not just the shape – its also the amount of commerce going on in the station in Germany. But for whatever reasons, Gray Young Morton & Young did not bring the trains inside as they do all over Europe.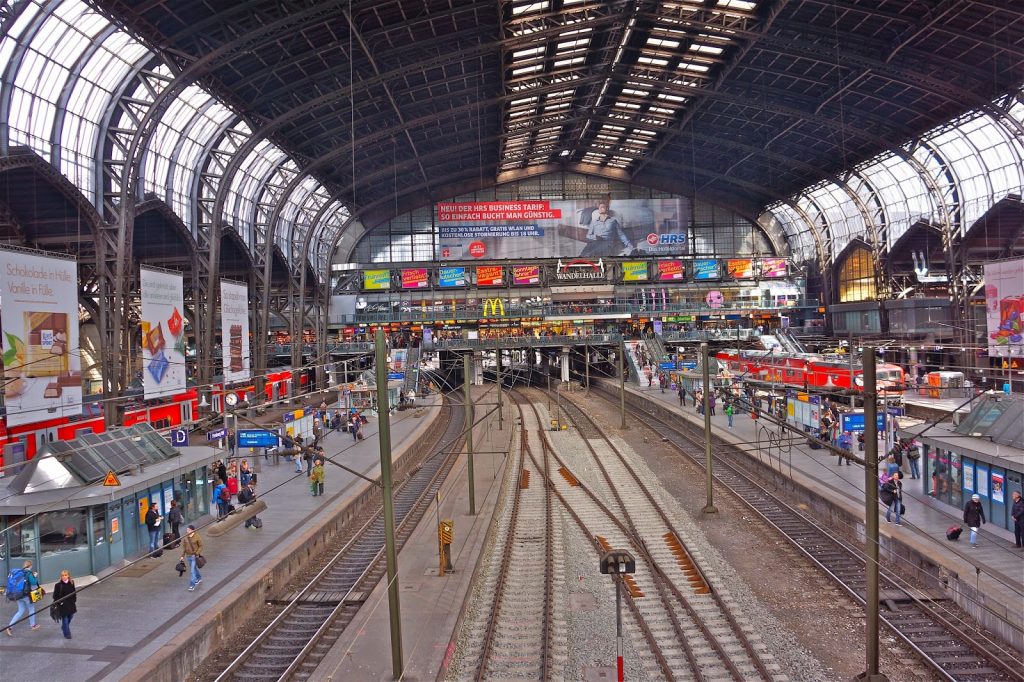 Instead, to catch a train you pass through to another area: the tracks themselves. In New Zealand, it appears to be the thing to do: to make the columns and roof structure out of old railway iron. I can't recall other counties doing that – perhaps it is common practice. I'm not sure.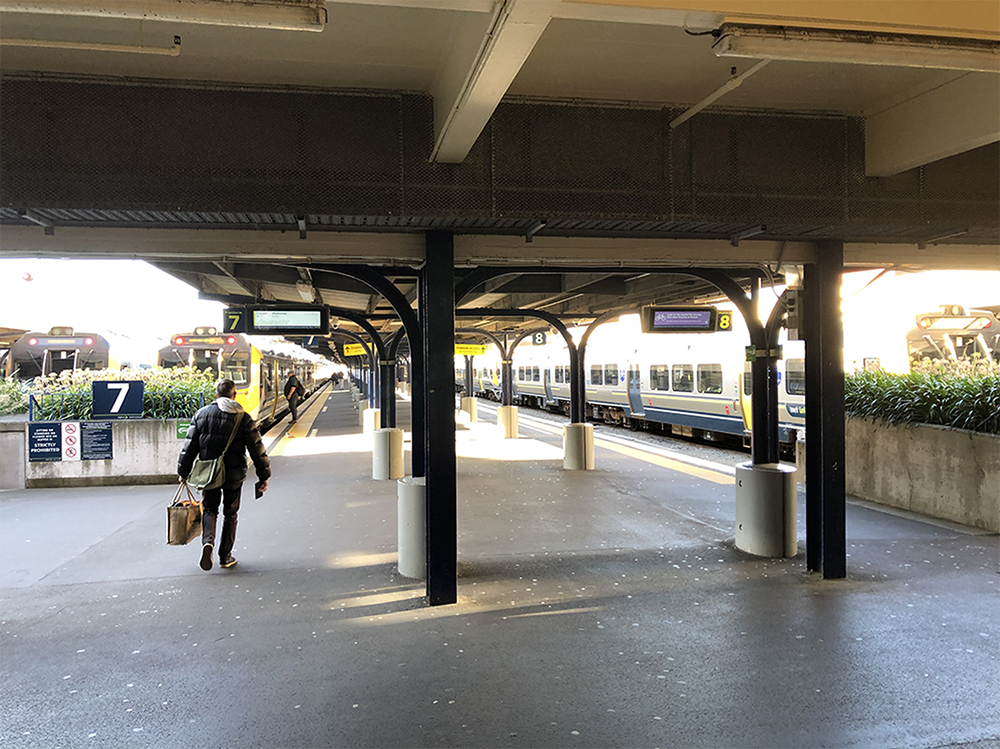 But let's get back to the spaces themselves – the grandeur of Penn Station (gone) and of course the (thankfully still remaining) Grand Central Station in New York, which in the days of steam-powered locomotives looked like this: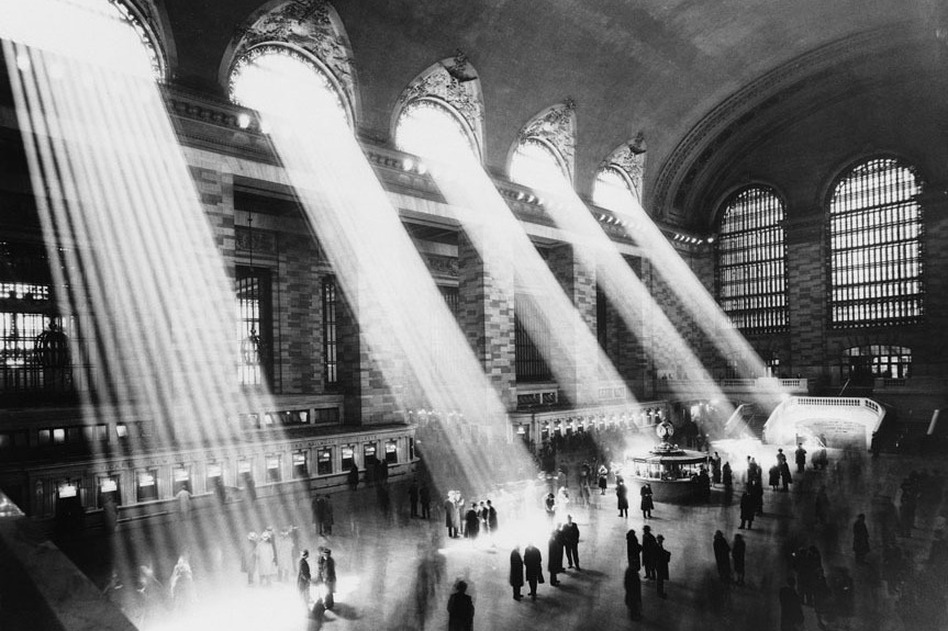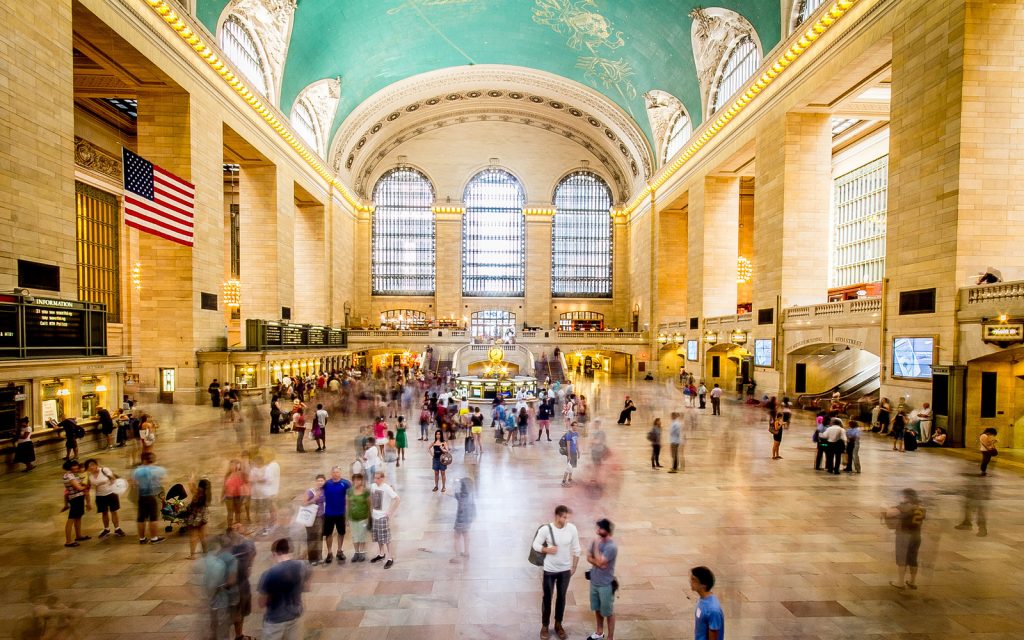 Last time I was there I met my girlfriend at Grand Central – just to see if you really can do that (corny but true: people and long-distance lovers do indeed meet at the clock in the centre) – no great streaming shafts of light though, possibly because of the lack of steam locos these days… It's still amazing, but the space feels different: not steamy and dusty, but still very busy. It's a true urban meeting space – great bar down the far end, an Apple Store just behind you at this end, amazing ceiling mural of the signs of the Zodiac, and of course what feels like a million different train lines converging on this single space.

I know we do not have so many people in our Hauptbahnhoff, but still, there is a disappointing lack of action. These photos were taken last year just after lock down, hence not many people, and although I've tried a couple of times, it just feels dreadfully intrusive to take photos of the streaming hordes of commuters at peak rush hour when it really comes alive. Rushing in and out of the front door (below) the journey from the station takes you across a windswept plaza straight to the dubious duo of McDonalds and the Inland Revenue. Death and Taxes, right there at the doorstep.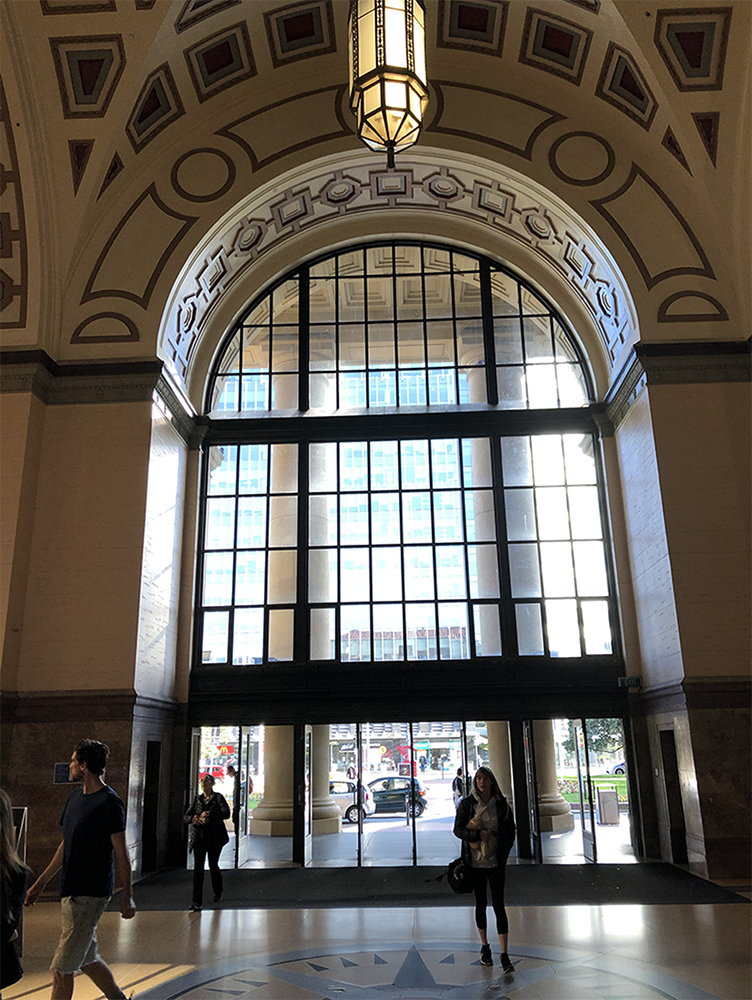 Turning round and looking the other way, we can see that this Grand Hall is used for just a short passage of time. Blink and you've missed it. Which is a real shame.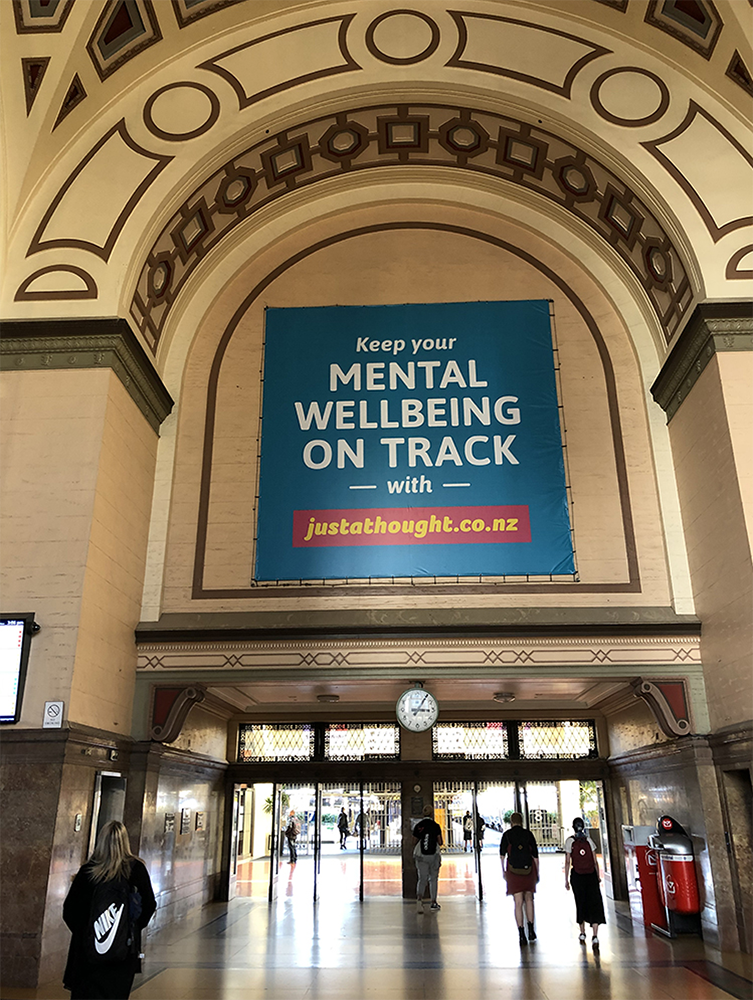 The area where this shows the most is at the other end of the hall (opposite from the New World), shown in the picture below. Perhaps we should call it the Old World. Those doors used to lead into the Ticket Hall, with the NZR / KiwiRail offices above. There's a lower ceiling height in the Ticket Hall to make it warmer and less draughty, but of course it hasn't been a usable Ticket Hall for years, as WRS has become just a terminus for a suburban network and the original purpose of serving the whole of New Zealand has long since evaporated. Do trains even go any further north than Upper Hutt any more? Once or twice a day to Featherston perhaps, and if we're lucky, once or twice a week to Auckland?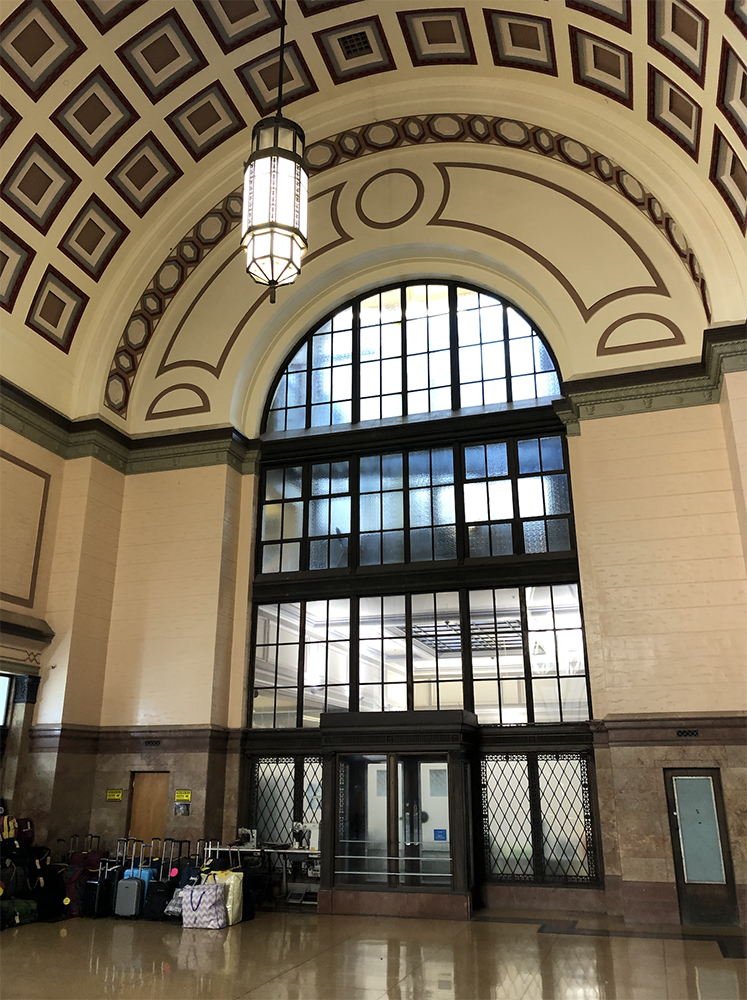 I used to feel a bit sorry for the Railway Station, thinking that they just simply could not get the tenants. There is just one sad, sorry, soulful, supplier of luggage – nobody buys any, as no-one is going on any long distance travelling from here. Perhaps a bag to carry the groceries.
But I realise now that it is probably not the fault of the building or of the KiwiRail owners. Getting right back to what I was thinking about at the very start of this exhaustingly long post, it is probably the fault of Heritage New Zealand. I'm sure that they have probably been putting their oar in, stopping any changes to the glazed frontages here, stopping any expansion of the retail areas, or the encouragement of more places to get a bite to eat. And shame on them for doing so. What the station needs is more: more trains, more people, more commerce, more life, more activity. It needs vitality – something is is sadly lacking.
I'm going to leave you all with a couple of pictures of the fantastic Hauptbahnhof in Berlin, constructed post-unification, with lines criss-crossing each other on multiple layers, most of them underground and consequently, under water. Outside it is a pure assembly of forms in steel and glass, but inside it is a riot of colour, of shopping, of escalators, encompassing the Underground, the Overground, long distance trains and nearby suburban routes. It is a piece of true heritage even if it is less than 20 years old – it is alive, which is what our station should be as well.