So today was the big day – the day that many of us have been waiting a very long time for. Of course, they must have lost my invite in the mail, as I wasn't invited to the launch party, but at 10am on Thursday the unveiling started. Politicos and councillors and others gathered next to Ghandi at the Railway Station, unveiling hope for a better world. Have we got what we wanted? What did we end up getting?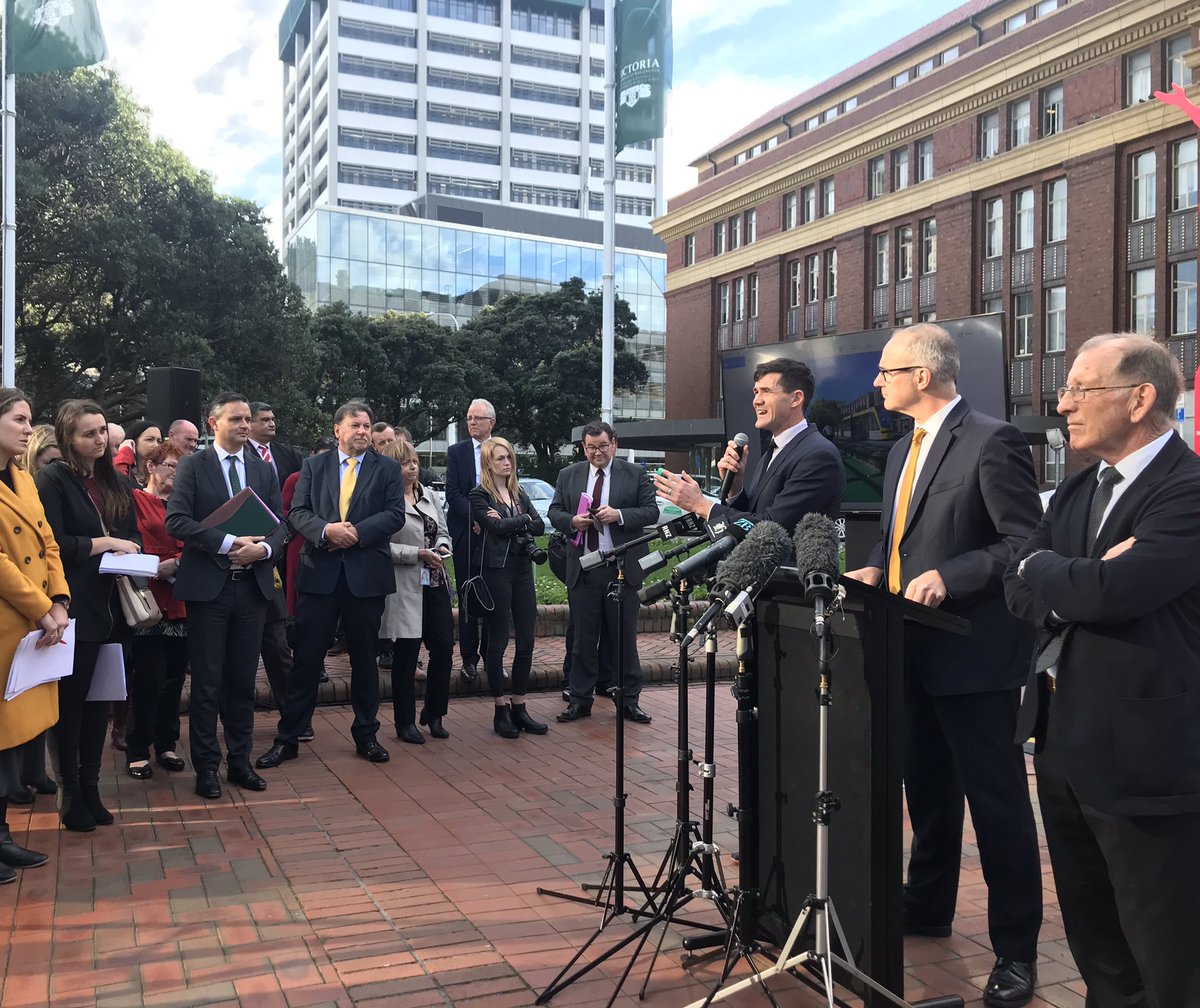 Well, curiously, despite after waiting for around 5 years, we've still got no detail, just some context. We've still got no route. We've still got no idea what sort of system it might be, what is planned, where it will go, when it will happen, who will run it, why it was chosen etc. So: a number of questions. But it is not just pie in the sky wish list – there are some very detailed render drawing "hints" and these have obviously had an experienced company produce designs and renderings. So this means that this is not just a curious image picked up along the way, but instead a carefully crafted media presentation.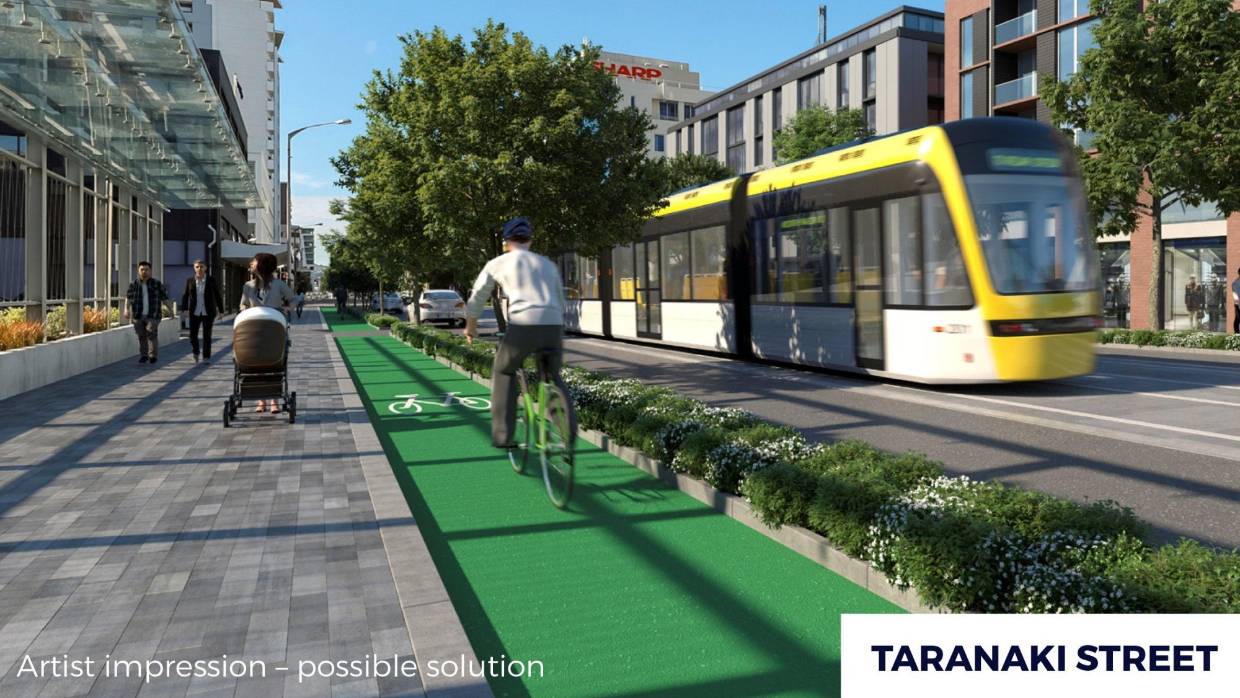 I'll not go on about as to what is on offer – details will hopefully be come clearer over time. But let's see what we can glean from the details at the moment. Starting with the image above – on Taranaki St, just outside Briscoes. Notice anything interesting about this image? Well yes, there is a protected cycle way protected by a nice little raised flower bed. It's also obvious that despite being set 10 years in the future, Briscoes have still not managed to get anything in their planter boxes to grow higher than about 6 inches (what's the bet that their consent application showed a verdant wall of greenery climbing up those wires?).
While what we are (i suspect) being asked to look at the yellow vehicle in the middle of the road (is it a tram? a train? a Light Rail vehicle? or a trackless tram that no-one has ever seen before?). I can see no tracks, other than some white lines on the road. Hmm, a mystery vehicle indeed, but the route is good. Light Rail or Clever Buses up Taranaki Street? Interesting indeed… But I confess that my attention is drawn to the five storey apartment building behind it, currently home to a Mazda / Ford showroom, and currently proposed to being a series of two level townhouses. Not Paddington Sydney, more Paddington London. Are we sure that the planned Paddington noddy houses have actually got planning permission yet?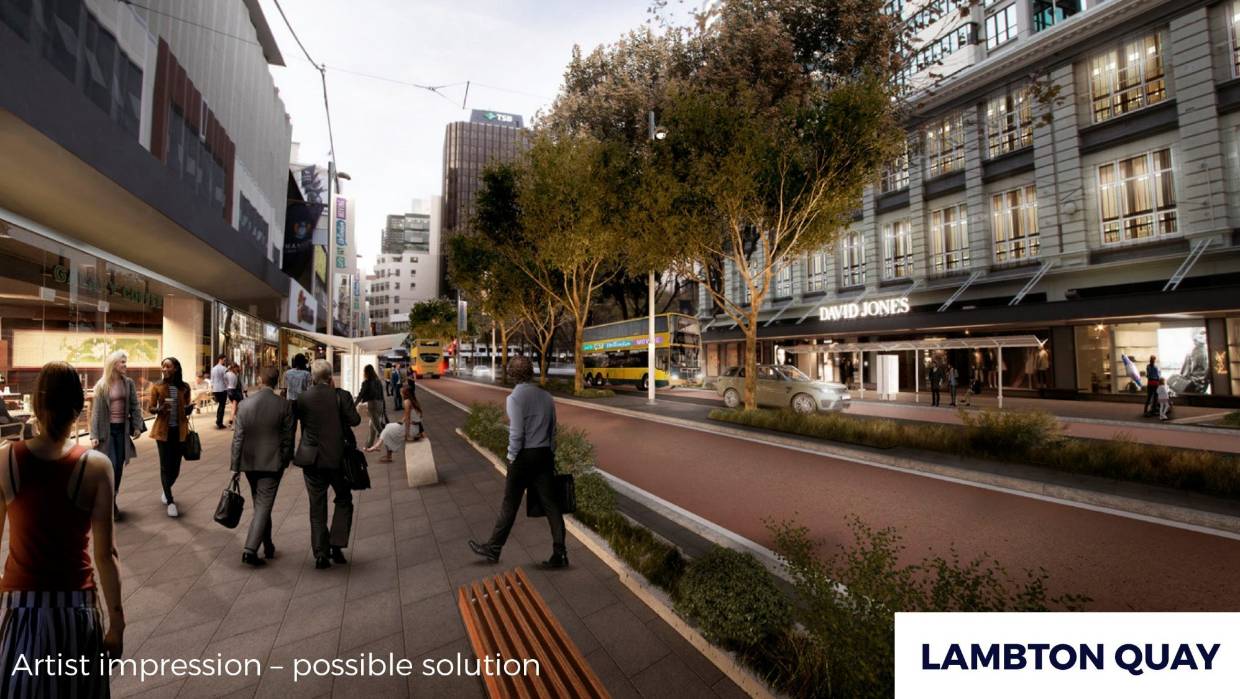 In Lambton Quay, things are a little different. No cycle lanes, in fact: no bicycles at all. Also – no trams, but instead buses coming and going. There's a RangeRover parked outside the David Jones building, which is either a reassuring statement that Life (and shopping) still go on. That all makes sense too – Lambton Quay really is the country's best pedestrian shopping destination, with no chance of being run over by cars. I like this one too.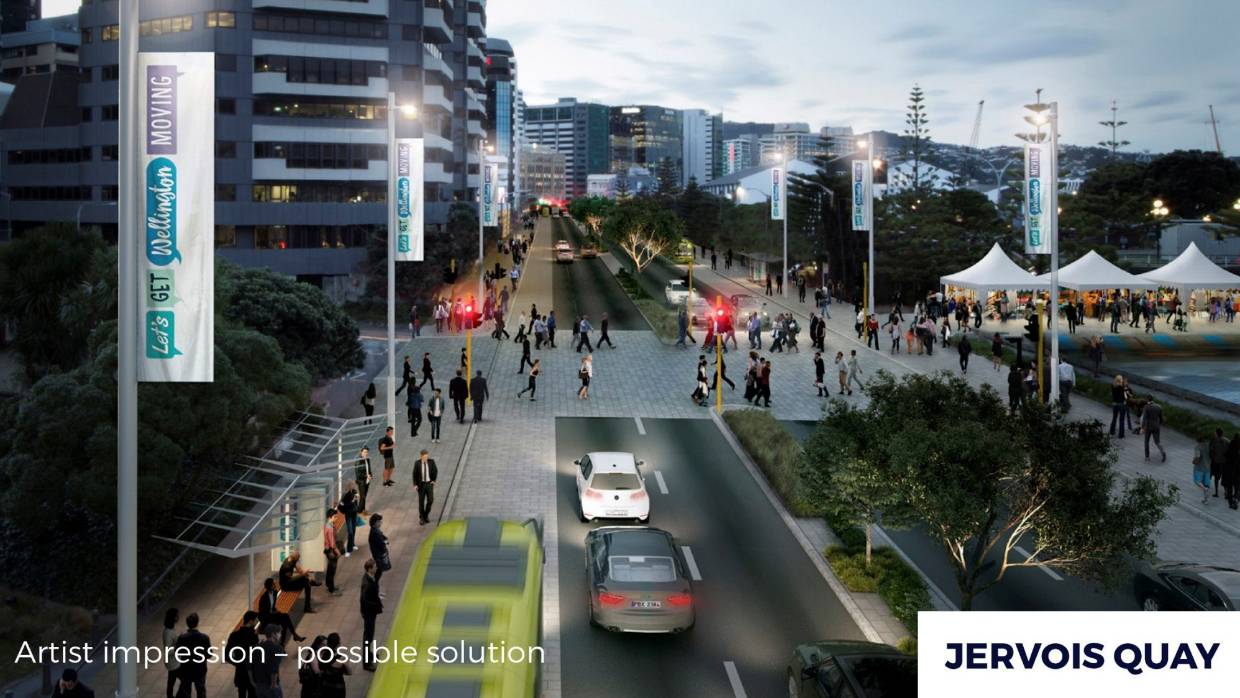 So it is Jervois Quay then where we really see some action. The trees down the median strip have grown, Frank Kitts Park still does not appear to have sprouted a Chinese Garden, and is that Illott Green still without a Music School building on it? But it is the traffic that we are meant to be looking at of course, with a dedicated bus lane each side (or is that a carefully blurred trackless tram instead?), and just two lanes of cars in each direction. At present it is three lanes of cars – so they are anticipating a slight reduction in numbers there. And of course, a massively wide pedestrian crossing, with loads of people happily crossing over to what looks like a festival of tents on the other side. Can't disagree with that either.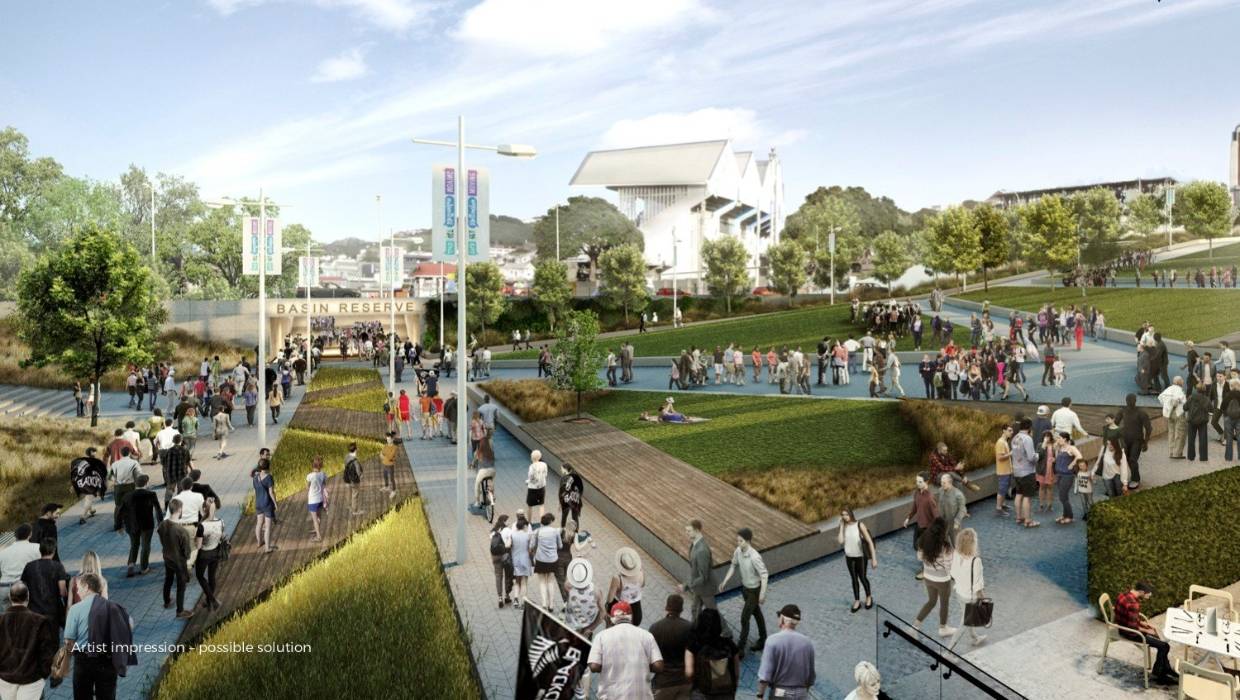 So far, so good. But what about the crunch points, the bane of everyone's lives: the Basin Reserve. Well, although there are no definite plans showing the solution, again we have a well-resolved visual by our mystery illustrators showing a massively popular day at the Basin, with literally hundreds and hundreds of people flowing effortlessly into the Basin through a new Pedestrian-only ground-level walkway. No flyover – tick. Nobody sunbathing under the flyover either – tick – although there is a young woman having a picnic on the grass while everyone else walks past. Judging by the attire, with at least three people garbed in All Blacks attire, in the future we will be playing rugby at the Basin.
Where has all the traffic gone? Well, just over the entry 'gate' we can see part of the answer: cars are driving west, working with the slope of the hill, up towards the Arras Tunnel. That's what this blog has been arguing for for years: work with the natural slope of the hill, then there is no need for a massive 250m long concrete flyover. I'm hoping that this means that the LGWM group have adopted most of the Option X solution proposed by the Architectural Centre, which did exactly this with the traffic and then proposed a big green connection from Pukeahu Park to the Basin. I'm still not sure where the Adelaide Road traffic has gone to – presumably underground somewhere near here? Let's look at that from another perspective: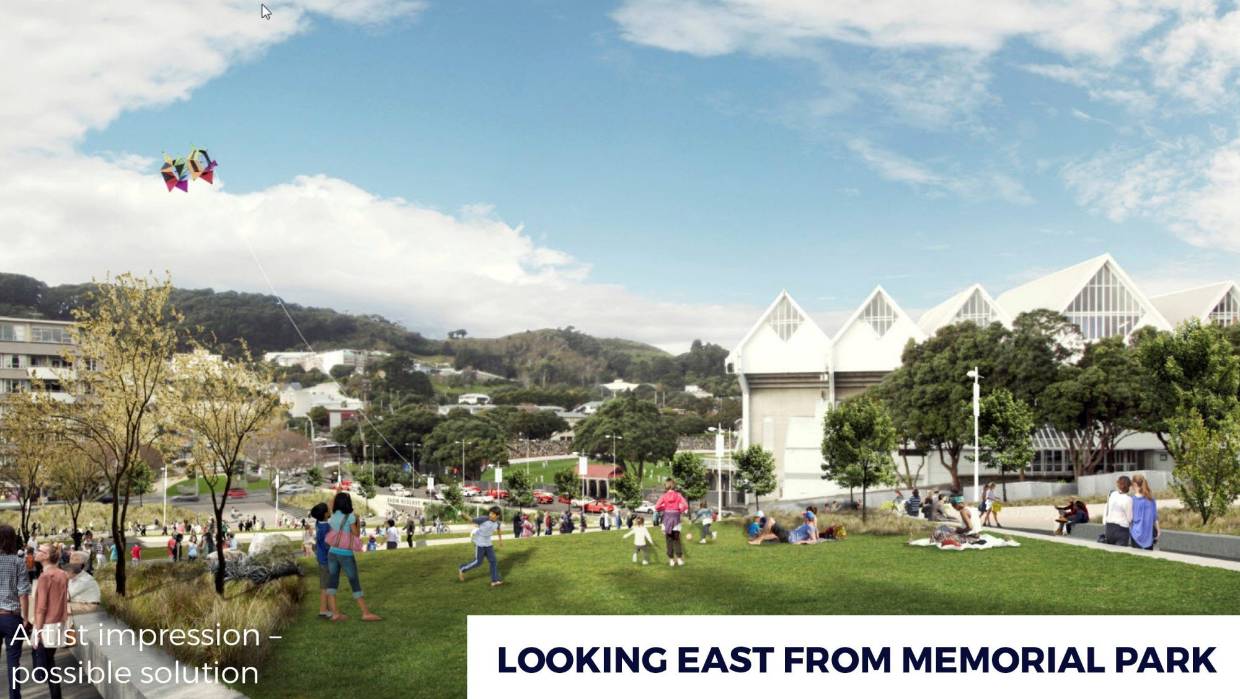 Here we can see that the traffic is indeed flowing two-way on the new route – good work. The Save the Basin group has raised its hackles a little, growling that this looks like another attempt at a flyover, but this is anything but that: it is a logical traffic solution that can be integrated into the local surroundings and will avoid the massive flyover solution from before. It is so popular with the locals that we can even see small girls flying kites, although perhaps here is a bit of artistic license: from the wind direction it seems to be a Southerly, and after the weather yesterday, I'm really not sure that anyone would want to fly a kite in one of those gales…
Overall then, I'm really pleased with the picture that has been painted. We've had the big launch day, at long over-due last, and now the politicians and the Treasury can argue over the costs and the details. Apparently it will take two years to even get the relevant Bills passed through Parliament, which seems agonisingly slow, but that does actually give us a chance to get those details sorted out. There may or may not be a second tunnel under Mt Victoria, and I really don't mind if there is, as the current tunnel is an appalling route for pedestrian and cycle. Apparently a second Terrace Tunnel has been ruled out already, but directional middle lane may be coming instead: makes sense I guess. There is a massive price tag on all this of course: $6.4 billion, give or take, and exactly how we pay for it is still being argued over. But I don't care how: I'm just hoping that indeed, with this big step forward, that we can indeed really and truly, Get Welly Moving again.