It's wonderful to see that the dreams of East by West Ferries have come true, with the launching of the Ika Rere, the brand new electric ferry that will ply its way from Wellington to Eastbourne and back. It is a striking design, with the twin prows of the catamaran almost vertical for chopping through the waves of the harbour, and a vibrant acqua / turquoise colour scheme all over, tying in with the branding of Meridian, electric company / weather forecast sponsor.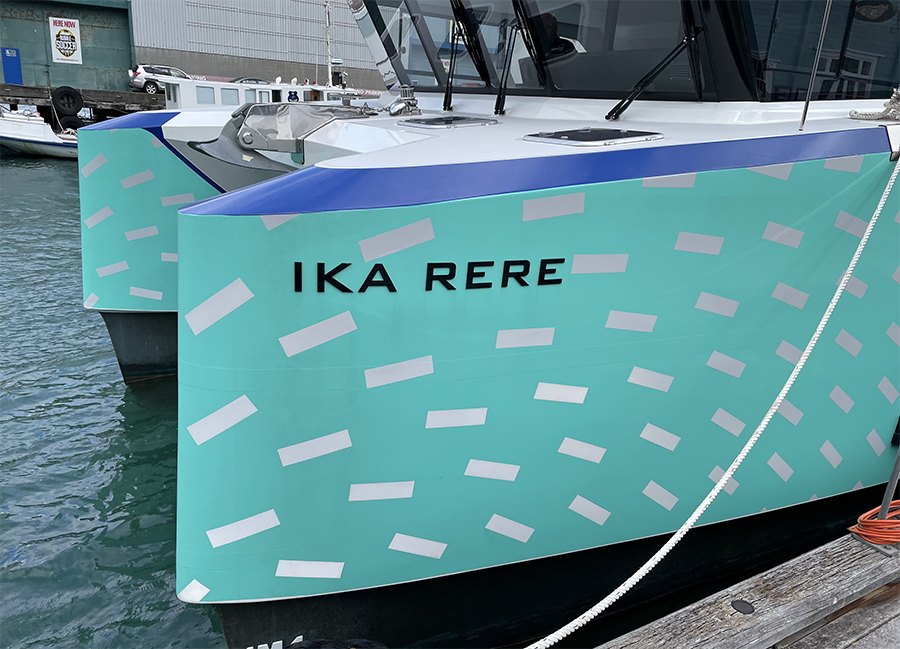 Scoop reports that it can transport 132 passengers at a time, at a speed of 20 knots, which is super fast for a ferry. The Wellington Electric Boat Building Company (or WEBBCo) is not letting much on at present about what it has under the hood / down in the hulls, but they are very pleased with themselves over this vessel – and so they should be, as it is believed to be the first electric Ferry in the Southern Hemisphere, according to East West.
Actually, that's not 100% true, as I remember that Zealandia had developed a tiny electric boat to, well, ferry people up the lake at the wildlife sanctuary, probably about 20 years ago. I think it is still there, but as they have been draining the lake recently to kill off the introduced fish like perch and carp, it may be currently out of action. But hey, still, isn't it technically a ferry? Even if it did only have a capacity for about 5 people… – and I've just managed to find it online – the Ara Kawau (or Pathway of the Shag), which is apparently a Duffy electric boat, made in the USA and recently refitted with new batteries. It is crazy small and also very cute, but in this photo, looks a little run down…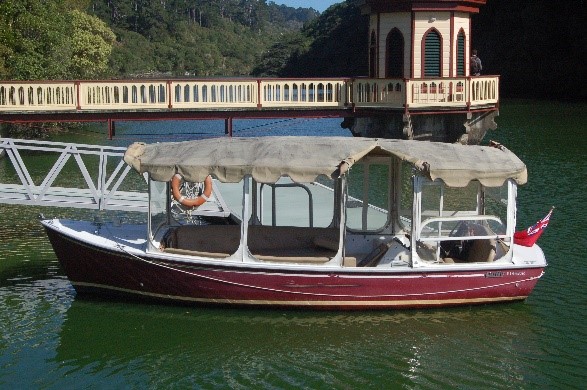 Anyway – the Ika Rere (great name Jeremy!) is not quite available for passenger use just yet as they are still doing sea trials etc, but apparently it will have a 15minute recharge after each return crossing. There's this electric recharge point on the wharf where they can just charge up and plug in – looks about as tricky as plugging your phone in to recharge.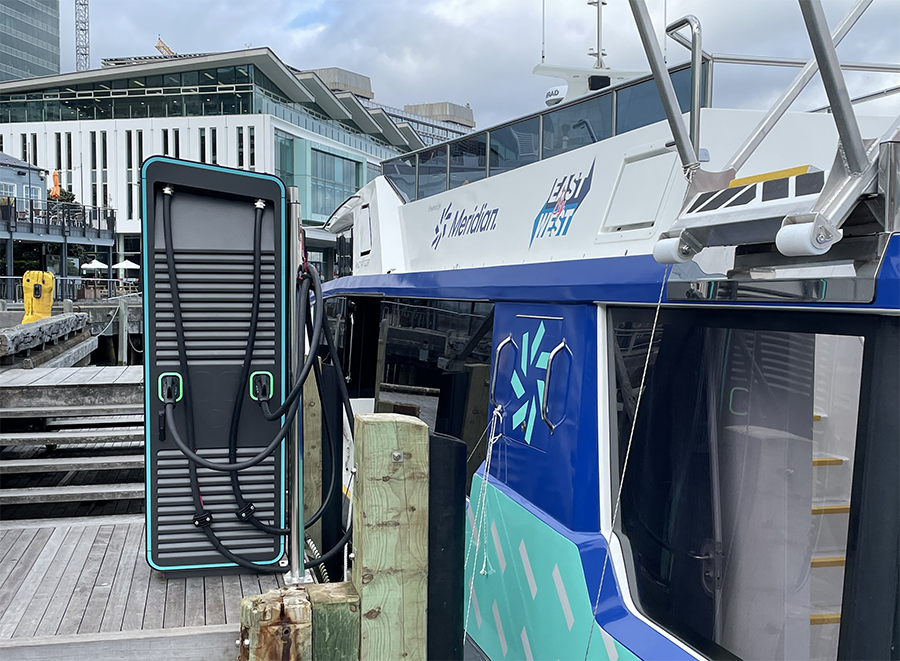 What is really cool about all this is that Jeremy Ward, the owner of East by West Ferries, set up a whole new company to build the Ika Rere (and hopefully, many more) called the Wellington Electric Boat Building Company, (and click on that link to see how fast their ferry goes – it's really shifting!) where they had to virtually invent the whole thing from scratch. The vessel is made from composites like the carbon fibre hulls of the America's Cup boats, so it should be super strong and super light. Well, presumably the body was super light, but now it must be heavier with some massive batteries in there. There's no word on the company pages about what the battery or motor technology is, but I gather they had to invent a lot of that as well.
"The electric propulsion and power management system was custom developed and designed to suit the route and charging infrastructure, and is the first of its kind in the southern hemisphere."
"The advanced battery management system provides constant system supervision, providing safety functions as well as real-time system capacity and health data. The VCAM virtual camera system provides the skipper with dynamic visual performance data – allowing them to make the best decisions in how to operate the vessel."
And that quote from their website tells me precisely nothing…. So, Wellington is watching and waiting! One day soon I hope !