So there we have it. After some 40-50 years of existence in the capital, the WCC accomodation tower at the Arlington site is coming down. We all know the story: designed by Ian Athfield, named after former Wellington councillor / mayor George Porter, the tower was a thoroughly quirky feature of Wellington, looming over the city with its slightly mad external appearance.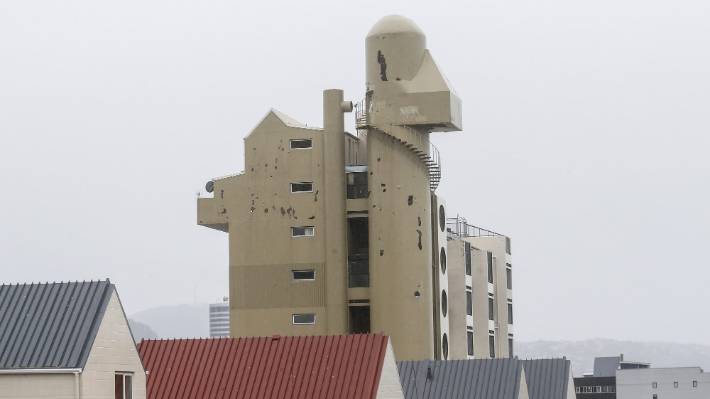 At one end was a bold stair / lift tower with a bald domed roof, at the other was a bizarre collection of cantilevered decks situated every few floors, supported with a whole fistful of support posts. In between there was a whole lot of people's lives, lived in little boxes. The building was one of the sites for the housing of recent immigrants and refugees, and so it always had an interesting mix of residents. Some were long term – measured in years, not months or weeks. Syrians, Ethiopians, Afghani, Iraqi: no doubt some more ordinary, less exotic residents as well. Homes for all – not housing, but homes. And now it has gone for good.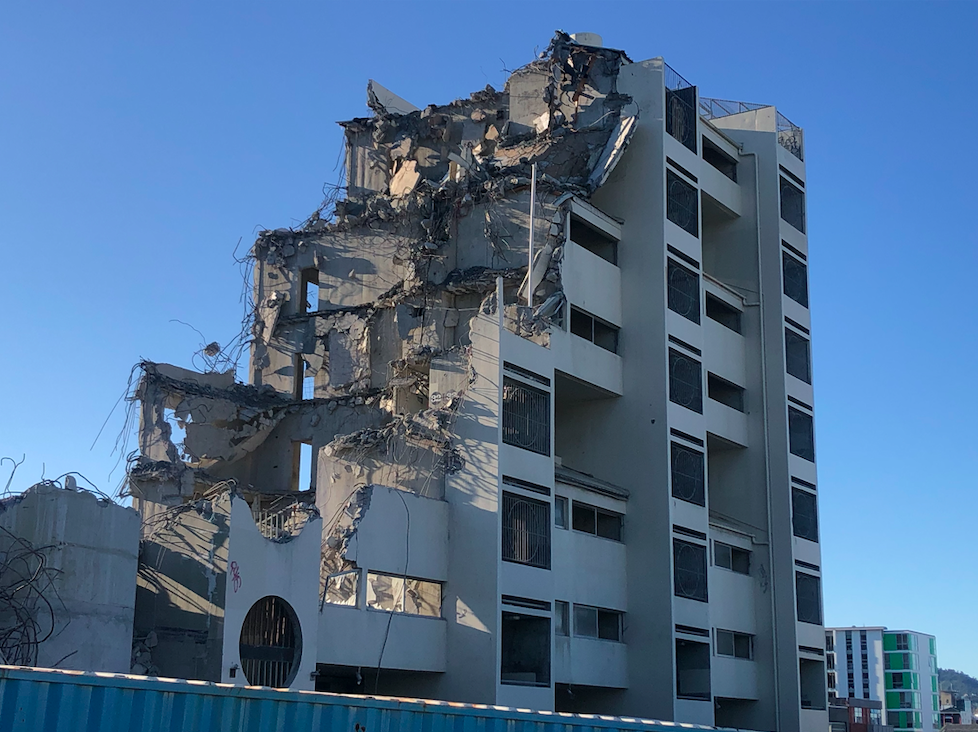 It's sad and deeply ironic that the subject of the current demolition was named George Porter Tower. Porter was a Ministry of Works architect and at one time President of the Architectural Centre, back in 1959, and was deeply passionate about saving worthy pieces of architecture. He advocated for the preservation of Old St Paul's church (now saved and grade 1 listed of course), he advocated for the Thistle Inn (saved), the old Public Trust building (saved), the Turnbull House (saved), historic sheds on the Waterfront (some saved), and no doubt many more. He would have been a prominent figure on the Council when Athfield was designing the tower, conceived of as a NZ version of the prize-winning slum-clearance housing scheme that Ath undertook for the Marcos. And so, proudly, his name was attached to the tower that Athfield produced to house the homeless.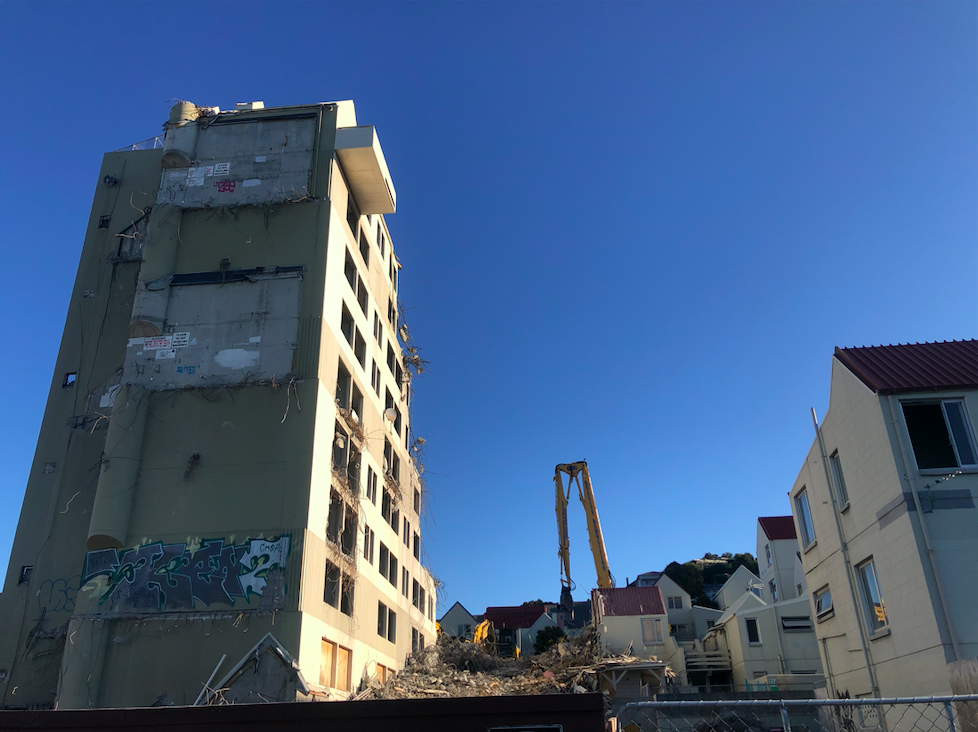 But there has not been a huge out-cry about the loss of George Porter tower. I've not been in it: it was never my home to enter into, but the building did have issues. We all know that 1970s building standards were severely lacking when compared to what we have now: concrete walls with no insulation, or waterproofing; "communal washing and laundry" facilities, cantilevered out the face of the building.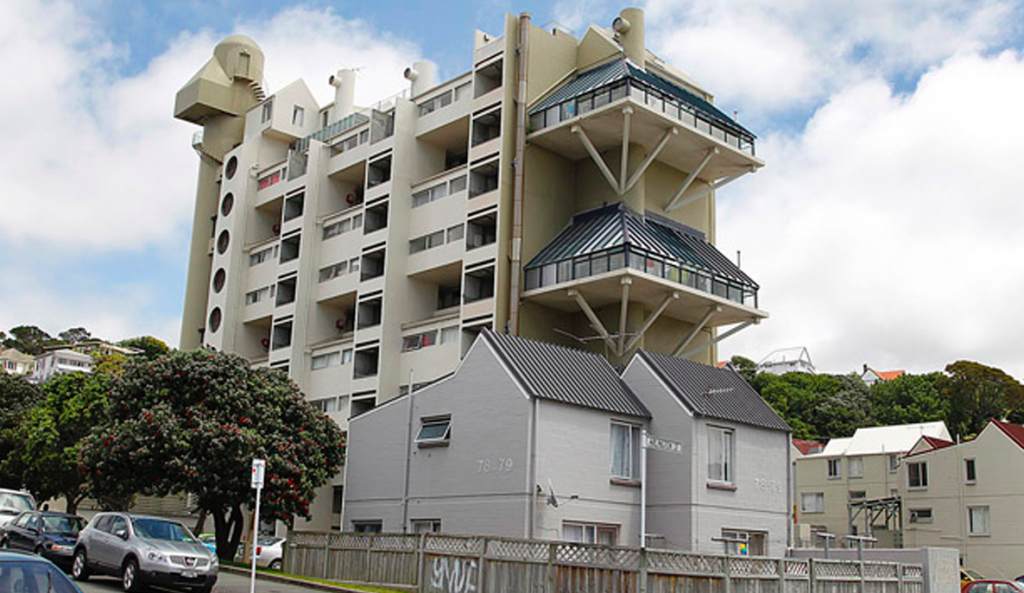 It was a fabulous idea at the time: produced from the brain of a fervent, excited young Athfield, the tower an authorised version of his own house in Khandallah, dribbling down a hillside in a glorious two-fingered salute to the authorities. Here, being built at the same time, was the house for the authorities as a client, a "house for the people", with communal spaces that doubled as drying areas and viewing decks, resplendently overlooking Wellington with million dollar views for two dollar tenants. Gloriously decked out with extensive overhead glazing to help dry the clothes, it was a nice idea but of course reality got in the way: too hot in summer, way too cold in winter, roof leaking (70s building standards and of course: Athfield detailing). Some Council tenants loved it: no doubt, as with every Council project, some tenants complained endlessly.
No doubt recently it will have been branded an "earthquake prone building" although the giant biting machine seems to be proving the opposite, making a mouthful of concrete into a string of steel spaghetti: but in truth the insulation requirements, the re-waterpoofing, the strengthening, those crazy, idiosyncratic roof design all conspired, behind George Porter's back, to its downfall. Farewell – we will never see your like again.