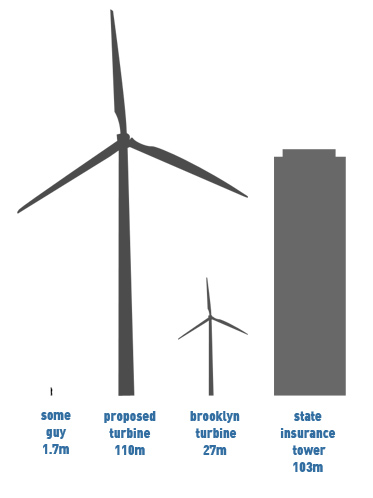 It has been confirmed that Meridian Energy plans to build a new wind farm in the Ohariu Valley, with 31 turbines across 4000 hectares. The proposed site is owned by 5 farmers, who banded together in 2002 to negotiate proposals with various energy companies. Talks had stalled over price issues in 2003, but recently an agreement has been reached.
Having met with the community last night, it is unclear whether the project will face significant opposition from the local residents. Unlike the Makara West Wind project – which is now under way after 2 years of opposition – it looks like they are aiming to take more of a sympathetic approach to local consultation.
At 111 meters high, the turbines certainly aren't diminutive. Hopefully some form of viewshed analysis will be completed soon; Im uncertain on what impact they would have on views from the greater Wellington region. Note: the diagram to the right assumes the height does not take into account the rotor radius at a peak.