Yet again the Dom Post is going all out for Click-Bait headlines, with front page news alleging that "Character homes may go". That's a title worthy of April 1st, not April 3rd. Perhaps a new boy on the news desk, trying to turn a few heads with spurious bullshit. Fonseka: back of the class for you mate! Time to grow up and write a serious, well-researched article, the sort of thing you are paid to do – the sort of thing I do for free, in my limited spare time.
So, with a view more to the truth, what really is happening?
Four different scenarios have been proposed to the Wellington City Council, by landscaping / planning practice Boffa Miskell:
THE FOUR SCENARIOS
1.INNER-CITY FOCUS
This would see the bulk of the tens of thousands of Wellington's extra people accommodated in denser living conditions in its central city.
That would include in high-rise apartments more than 15 storeys high in the CBD and six-storey apartments in central city suburbs such as Newtown and Adelaide Rd.
Part of allowing the development in those inner-city suburbs would involve paring back restrictions on re-developing and demolishing 1930s townhouses to allow apartments and townhouses to be built there.
2: BUILD IN EXISTING SUBURBS
Wellington's suburban centres are more resilient than its CBD and this scenario focuses growth in those areas.
A lot of growth would still take place in the CBD and inner suburbs, meaning "reducing or removing" pre-1930s character houses in favour of townhouses and six-storey low-rise apartment blocks.
3: GREENFIELD – NEW SUBURB: OHARIU VALLEY
Completely new greenfield developments would be more resilient but carry heavier costs.
Council envisages creating a completely new suburb on rural land in the Ohariu Valley accommodating 11,500 people in 4000 homes.
"Significant" infrastructure investment would be needed in everything from water to transport.
4: GREENFIELD EXTENSION (TAKAPU VALLEY, HOROKIWI, OWHIRO BAY)
Growing the city by extending and rezoning rural land next to existing urban areas.
Lots of infrastructure investment would still be needed but these areas would be closer to existing transport networks than a new suburb in Ohariu Valley would be.
I don't know about you, but the answer seems obvious to me: Not Option 4. Not Option 3. Neither of those are very good, sensible suggestions. Takapu Valley is patently completely inappropriate for building new housing in – have you ever been up that road? It's barely wide enough for a horse and cart in places, let alone another 4000 homes. Horokiwi is similar – inhospitable countryside, all over the windiest, rockiest outcrop this side of the Grand Canyon. Ohariu Valley is wonderful for people who like horses and leafy hectares of lifestyle block – but access would be a nightmare, as again there is only one road in and out. None of these can be done without an existing public transit infrastructure being in place first: something patently lacking at all of the above.
Owhiro Bay is a possibility – there is existing transport infrastructure, of sorts, in that it is at least already serviced by bus. And there are bare naked hillsides, just waiting to be caressed into shape by delicate strokes of a bulldozer's blade.
So the real options therefore are simple: Scenario 1 (already doing it) and Scenario 2 (time for the Suburbs to die!). Eighty thousand people is an awful lot of people, but we have fitted 10-20,000 into the inner city over the past two decades without too much of a problem – and we can easily fit another 20-30,000 in without too much problem as long as we have less bullshit development like this in the middle of the city: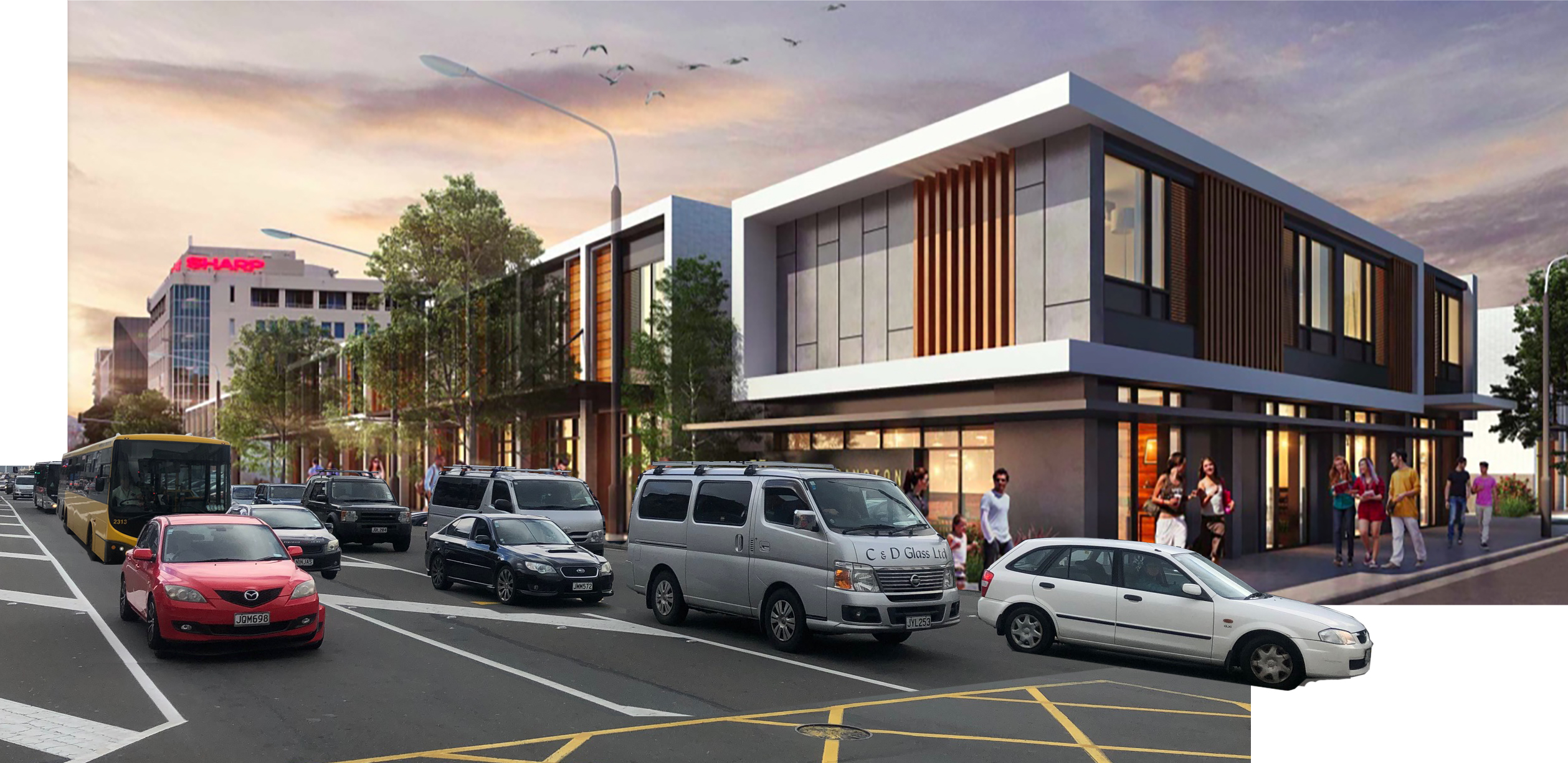 Shouldn't we be at least trying to mandate more schemes like the Sanctum, sitting right next door?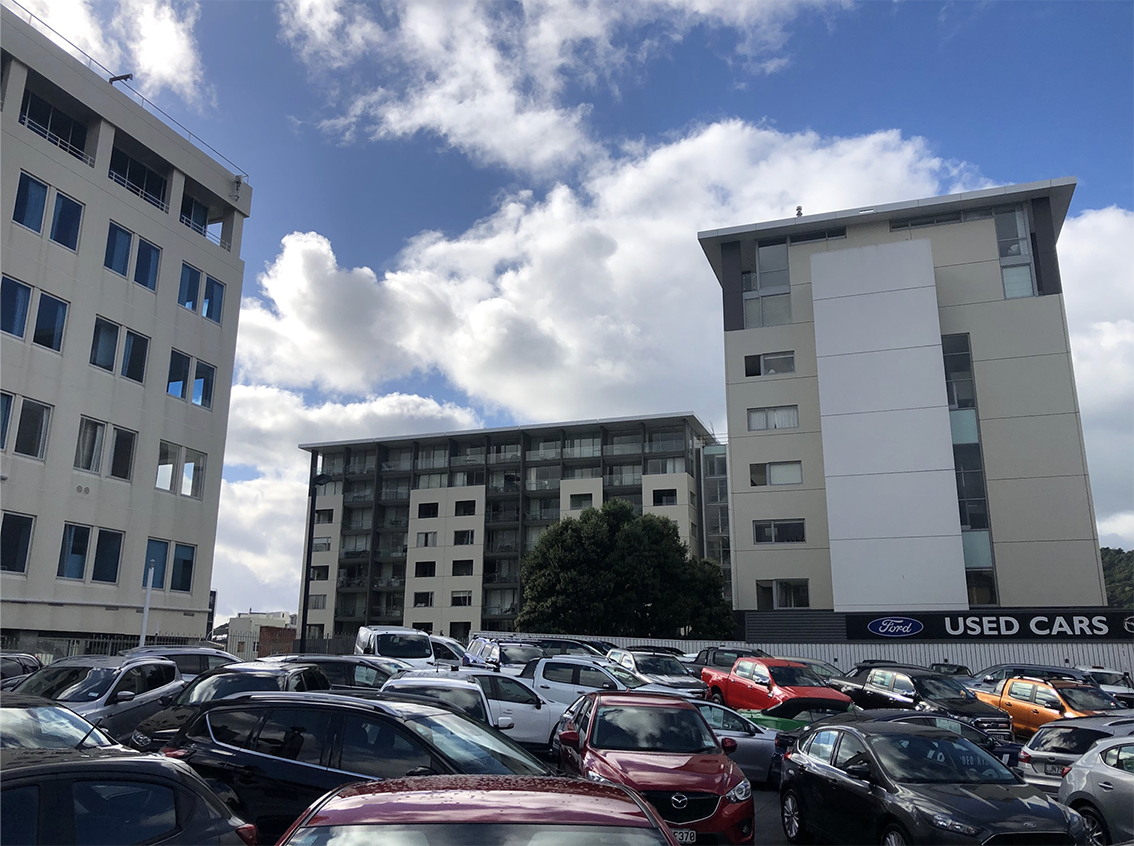 You can't see in the photo cos of all those damned cars for sale, but the two wings of Sanctum apartments are surrounding a floral garden at ground level, something the new hotel in the old office building has made swift and clever use of, as a centrepiece to look out onto. I'm not a fan of Corbusier's radiant city planning, but here the blocks on piloti and boulevards of green actually do really work. Everyone has a balcony and a decent view, average density is medium to high, and Fletcher Construction built it, so it should be well-made.
The other option is Scenario 2, namely building taller in the suburbs. Its easier said than done: most of our inner city suburb are built on the side of cliffs, so replacing a 2 storey Victorian villa with a 6 storey Elizabethan or Charlesian (or Ardernian) high-rise will take more engineering than it is worth. We're unlikely to see, despite what Mr Fonseka says, a demolition of timber weather-boarded turn of the last century beauties.
Instead, there is plenty more to tackle in the suburbs slightly further out, centred near a major transport hub already. Johnsonville, your time has come. Newtown, your derelict phase is over. Miramar and Rongotai: step up to the plate. Kilbirnie – time to kill the dullard reputation, and get with the programme. Mind the tsunami as you go! Karori – well, I don't know what to do with Karori, except that intensification there is long over due, but then so is a solution to their chronic "one road in, one road out" problem. But all of these existing suburbs have almost zero real character housing, have flat sections, or flattish, have existing traffic routes with well established public transport systems that can only improve from here on.
Or are the character suburbs of Thornton, Are Valley, Holloway, Mt Cook, Berhampore and Mt Vic really going to sweep away the old to make way for the new? 73-86% of the buildings in these suburbs are pre-1930s "character" properties – are they really in danger, or is Boffa and Miskell just having a Larf?